Zebrafish Facility
Zebrafish have been used as a model for embryogenesis for more than 100 years largely because fertilization and development are external, and embryos are optically clear and easily manipulated. Short generation times, ease of mutagenesis, and large clutches per mating make them a convenient model system for genetic work as well.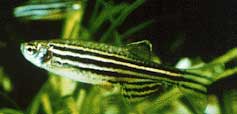 There are several highly homologous strains of zebrafish, and general methods for obtaining new strains and mutants have been established, largely due to the ability to artificially create and identify mutants in a single generation, to identify isogenic stocks, to cryopreserve gametes, and to generate transgenic fish.
A zebrafish genomics initiative is currently underway, the purpose of which is to create resources to facilitate the mapping and positional cloning of genes in the zebrafish, specifically the generation of a genetic map with a resolution of 0.3 cM or better, to develop of expressed sequence tags (ESTs) from existing and new cDNA libraries featuring specific developmental time points and tissues, and to create a physical or radiation hybrid (RH) map. The zebrafish genome project, in which the complete genome will be sequenced, is predicted to be complete by 2002.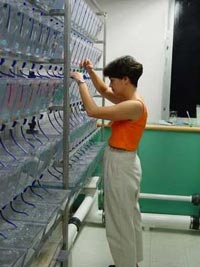 The Zebrafish Facility is located in Hitchner Hall and is outfitted with the Aquatic Habitats for Accelerated Bioresearch (AHAB) fish rearing system (Aquatic Habitats, Apopka, FL). This system is composed of five-foot wide, five-level, stainless steel racks using any combination of three tank sizes (9, 2.75, 1 liter). Water input lines deliver UV-sterilized water to each tank through an independent valve. The fish tanks have self-cleaning bottoms and the effluent system features a an optically clear design. The filter system requires minimal maintenance, and maintains high water quality, dramatically reduced disease and mortality.
The Facility contains 12 recirculating racks of tanks for genetics and development work, and one physically isolated flow through rack of tanks for disease and toxicology research for a total of almost 800 tanks, which permits facility capacity of more than 30,000 zebrafish.
Click Here for a QuickTime Movie of a zebrafish embryo.