Phi Kappa Phi
Established at the University of Maine in 1897, the Honor Society of Phi Kappa Phi is a nationally recognized, nonprofit organization dedicated to the recognition and promotion of academic excellence and integrity in all fields of higher education.
In 1897, a small group of seniors lead by Marcus Urann proposed the formation of an honor society whose members would consist of the 10 highest-ranking seniors at the University of Maine. Following discussion with UMaine president A.W. Harris and several professors, Lambda Sigma Eta was created.
In 1899, the name was changed to the Morrill Society, in honor of the U.S. Sen. Justin Smith Morrill who sponsored the Morrill Act which was signed into law by Abraham Lincoln in 1862, and established federal funding for higher education in every state across the country.
In 1900, the society expanded to other campuses and adopted its present name, Phi Kappa Phi.
Phi Kappa Phi now has chapters on more than 300 college and university campuses across the United States, Puerto Rico and the Philippines, and remains one of the oldest and most respected academic honor societies. For more information about Phi Kappa Phi at UMaine visit umaine.edu/phikappaphi-ch1.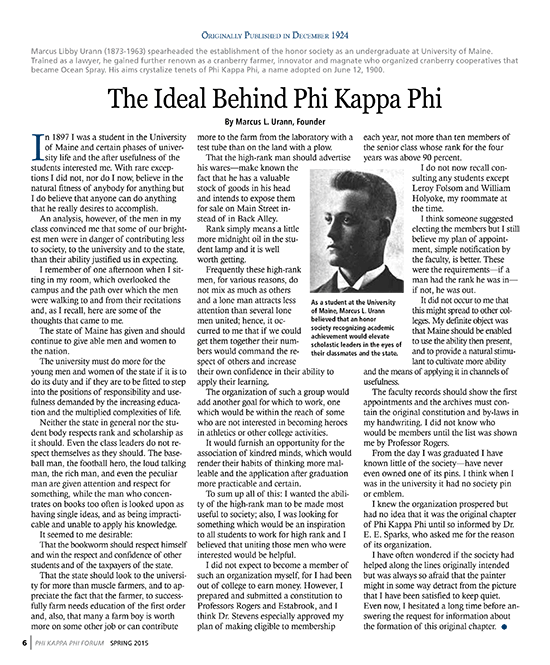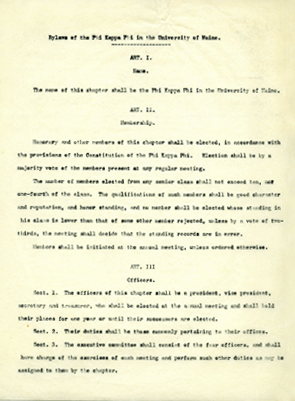 Original members of
Phi Kappa Phi in 1897:
William T. Brastow
Lindsay Duncan
Perley F. Goodridge
Andrew J. Patten
Howard E. Stevens
Stanwood H. Cosmey
Charles H. Farnham
William L. Holyoke
Joseph W. H. Porter
Marcus L. Urann
Faculty members:
President A. W. Harris
Professor G. H. Hamlin
Professor J. N. Hart
[SlideDeck2 id=27547]