Darling Marine Center
A former gentleman farmer's estate on the Damariscotta River in Walpole, Maine, has been home to world-renowned marine researchers for 50 years.
In spring 1965, when Ira C. Darling donated his 127-acre seaside property to the University of Maine for the development of an oceanography program, the campus included a farmhouse, tractor, and cow and horse barns.
Horse stalls were transformed into offices and the hayloft into a conference room. Over the years, a fleet of boats, as well as flowing seawater laboratories, biogeochemistry and marine culture labs, and a library were added to the idyllic coastal property. The Darling Marine Center now includes a 64-bed dormitory, dining hall, conference center complex and shellfish hatchery.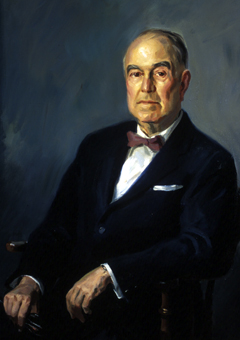 The mix of stunning scenery, pristine seawater, small-community friendliness and big-picture science at Darling Marine Center is distinctive, making the year-round facility a destination — for marine researchers and students from UMaine, as well as scientists from around the world and schoolchildren from more than a 20-mile radius.
UMaine partners with fisheries stakeholders, marine industries and coastal communities to help develop solutions for the broad array of issues associated with marine resources in the Gulf of Maine.
Faculty at the Darling Marine Center are fellows in the American Association for the Advancement of Science and Explorers Club, and National Geographic Society risk-takers. They solve mysteries about ships buried in lower Manhattan, and are real-life characters in Trevor Carson's book, The Secret Life of Lobsters. Professors and students are covered by media worldwide, from Science and National Public Radio to "The Colbert Report."
Darling Marine Center faculty members have been and are all over the map — literally and figuratively. On research vessels and in deep-dive submersibles they explore the Earth's oceans and inhabitants, with a priority focus on the Gulf of Maine as part of UMaine's land and sea grant mission. They lead and collaborate with international research teams, contributing to our understanding of marine habitats that make up the majority of our planet.
Half a century of research important to people and the world have roots at the marine center. A smattering of topics in which faculty and students have participated include starting oyster aquaculture in Maine, monitoring thermal effluent from Maine Yankee, predicting future lobster populations, tracing carbon dioxide movement into the deep ocean, documenting ecosystem flips and locks, studying cold-water corals and invasive species, and forecasting extreme weather and implications of climate change on seafarmers' practices and coastal water quality.
Discoveries have led to better understanding of all manner of marine life, as well as ocean carbon exchange and acidification, and have resulted in comprehensive ecosystem-based ocean management strategies.
In the past half-century, UMaine faculty members have inspired next-generation scholars worldwide. And for decades, Darling Marine Center alumni have advanced marine science.
Today's undergraduate students at the center rave about the inspirational, hands-on Semester-by-the-Sea program that immerses them in marine sciences, and summer internships that provide unparalleled opportunities to join graduate students and faculty in the field, including research cruises in the North Atlantic.
The estate has retained its family feel and hospitality. Commitment to go above and beyond is routinely praised; students are holiday guests at staff members' homes and, at least once a semester, chefs prepare everyone's favorite meal. There are kayaks to paddle to explore the bay and bikes to pedal to explore the trails. And at the height of summer, there's always the opportunity for a refreshing swim off the dock.
For 50 years, the center has been home base for big discoveries. And Ira C. Darling made it possible. After the Chicago insurance executive bought the Walpole property for $12,500 in 1939, he and his family summered there for years. The family and caretakers tended to vegetable gardens and livestock. They hayed and planted a tree farm.
And in 1965, when Darling and wife, Claire, could no longer travel to the farm, he gifted the estate to the university with the expressed intent of establishing a marine laboratory. He also created one of the largest trusts in UMaine history to help maintain and improve the property, and created two chaired professorships. Darling's vision and generosity enabled the University of Maine to launch a graduate program in oceanography in 1969, and later amalgamate a larger School of Marine Sciences.
Today, the Darling Marine Center is still mostly wooded acres with nearly 3,300 feet of saltwater frontage. And the travels and accomplishments of its scientists, alumni and students span the globe.
The Darling Marine Center celebrated its 50th anniversary with three days of activities, including an Alumni Day and open house, Aug. 6–8.