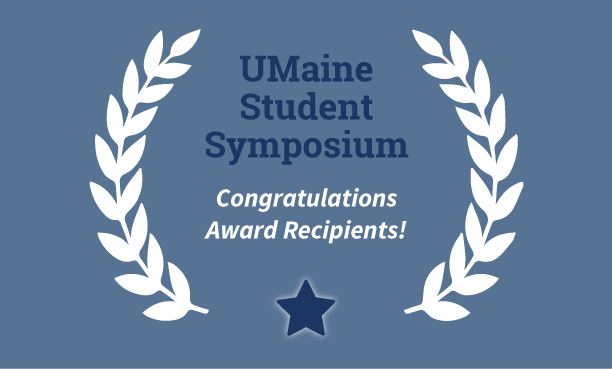 2013 UMaine Student Symposium (UMSS) Award Recipients
2013 UMaine Student Symposium (UMSS) List of Abstracts
2013 UMaine Student Symposium (UMSS) Program
2013 UMaine Student Symposium (UMSS) Final Stats
The 4th UMaine Student Symposium (UMSS)
was held on April 16, 2013, 8:00 am to 4:30 pm, at the Wells Conference Center.
Dr. Ali Abedi, Director of the Center for Undergraduate Research (CUGR), is pleased to announce the award recipients of the 4th annual UMaine Student Symposium (UMSS) held at the Wells Conference Center on April 16, 2013.The showcase was developed to highlight and encourage undergraduate students' involvement in faculty-supervised research.
This year, 117 students from 28 academic departments presented their projects in one of three formats: exhibits, posters, or oral presentations and performances. Eight students elected to present exhibits, 77 posters, and 32 oral presentations or performances. Awards were presented in each format for the presentations of the highest quality. Congratulations to all the showcase award recipients.
Exhibits:
1stPrize:Coralie Dapice (New Media), Study of Creative Storytelling, advised by Joline Blais
Honorable Mention:Carolyn Pugliano (Electrical & Computer Engineering), A Lateral Field Excited Gas Sensor, advised by John Vetelino
Oral presentations:
1st Prize:
Jing "Jacky" Deng (Molecular & Biomedical Sciences), Clinical Trial Comparing the Use of Intravenous Tranexamic Acid with Aquamantys Bipolar Sealer for Blood Loss Reduction in Primary Total Knee Arthroplasty, advised by Carol Kim
2nd Prize:
Emily Hinkle (Food Science & Human Nutrition), Cooking and varietal effects on potato in vitro bile acid binding capability, advised by Mary Camire
3rd Prize:
Valerie Smith (Chemistry), Detection of Aqueous Hg(II) with Infrared Spectroscopy, advised by Carl Tripp
Honorable Mention:
Alex Nash (Civil & Environmental Engineering), Green Composites: From Under Foot to Under Hood, advised by Douglas Gardner
Posters:
1stPrize:Conrad Rier (Physics and Astronomy), Habitability of Exomoons, advised by Neil Comins
2ndPrize:Joshua Jones (Molecular and Biomedical Sciences), Morphogenesis Mediates Candida albicans Dissemination, advised by Robert Wheeler
2ndPrize:Kendra Bird (Anthropology), Specialized Activities in the Middle Woodland Period: An Analysis of Feature 8, Holmes Point West, advised by Brian Robinson
3rdPrize:Lydia Drown, Brett Radosti, and Michelle Landry (Communication Sciences and Disorders), Effects of Mild-to-Moderate Traumatic Brain Injury on Speech in Adolescents, advised by Nancy Hall
3rdPrize:Paige Martin (Psychology), The Effect of Cataract Surgery on Depression and Vision-Related Quality of Life, advised by Lira K. Yoon
Honorable Mentions:
Christopher Young (Psychology), The Relationship Between High Behavioral Inhibition and Cortisol Reactivity, advised by Lira K. Yoon
The Center for Undergraduate Research is a member of the national Council on Undergraduate Research.