Maine Amphibians and Reptiles
Maine Amphibians and Reptiles
Edited by Malcolm L. Hunter, Jr., Aram J. K. Calhoun, & Mark McCollough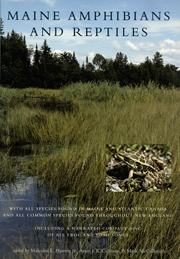 Frogs and toads, salamanders and newts, turtles and snakes… this may sound like a recipe for a witches' brew, but in truth these are fascinating creatures. Some of them number in the thousands per acre and form deafening choruses of songsters; others are rare ocean wanderers that are seldom seen; some weigh a fraction of an ounce; others weigh several hundred pounds. This book will introduce you to thirty-eight species of reptiles and amphibians, all of the species that occur in Maine and Atlantic Canada and all of the common species that occur in the rest of New England.
Maine Amphibians and Reptiles describes each species in prose that is substantial and authoritative, yet clear and engaging. Where does each species live? What do they eat and what eats them? When, where, and how do they reproduce? These and scores of other questions are covered in accounts for each species, along with detailed drawings showing them in their natural setting and range-maps based on the latest data from throughout the region. Tips for finding these species, conservation issues, exotic species, and other topics are covered in additional chapters.
Of particular note is the enclosed compact disc, narrated and produced by well-known naturalist Lang Elliott, that will make it easy to identify all the frogs and toads by their songs. The CD also includes a long un-narrated series of frog choruses that are a wonderful way to evoke a summer night.
272 pages (including a 16-page gallery of photographs), 7 x 10, with 56 drawings, 36 color photographs, 109 maps, Compact Disc
Paperback, 1999 (Reprinted several times); ISBN 978-0-89101-096-8;  $24.95