---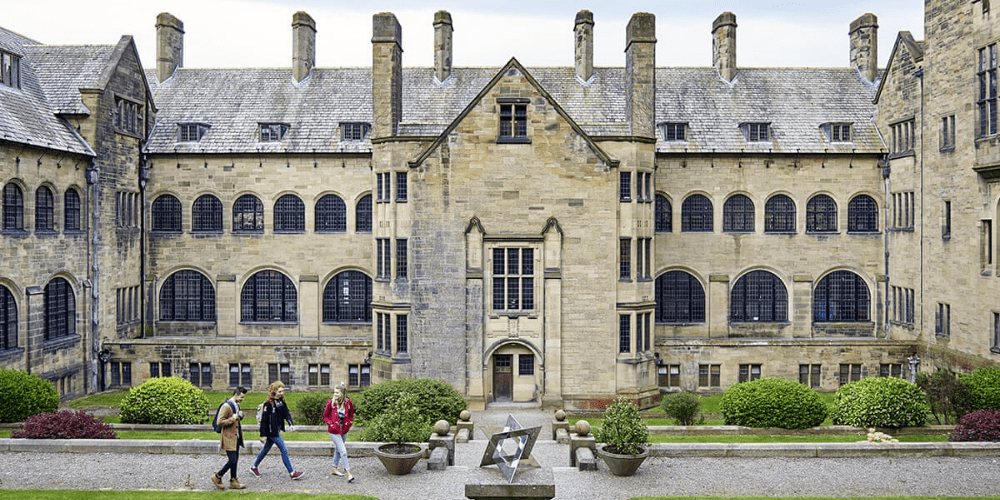 About the Program
As a student of the university, you'll be living in the cathedral city of Bangor. Situated between the nearby snowdonia mountains and the sea, you'll have no shortage of beautiful and spectacular places to visit.
You'll be studying at a university with a vibrant research community that is often conducting internationally recognized research programs. Work alongside intelligent peers and professors through the day and explore the city on the weekends!
Both city and university boast a thriving international community. As such, you'll be supported and welcomed in your learning environment the moment you arrive. You'll develop to your full potential through Bangor's range of high-quality well-founded and established study programs.
Requirements
Minimum GPA of 2.75
Subjects
Best Suited
Other Subjects
Undergraduate Courses
Animal & Vet Science
Biology
Biochemistry & Microbiology
Business
Chemistry
Child Development &
Family Relations
Communications
Computer Science
Ecology & Environmental Sciences
Economics
Education
Electrical Engineering
Computer Engineering
English
Food Science & Human Nutrition
Forestry
French
History
International Affairs
Journalism
Kinesiology & Physical Education
Marine Science
Music
New Media
Philosophy
Psychology
Sociology
Spanish
Sustainable Agriculture
Theater
Wildlife Ecology
 
Graduate Courses
| | |
| --- | --- |
| Biochemistry @ Microbiology | Chemistry |
| Child Development & Family Relations | Computer Science |
| Ecology & Environmental Sciences | Economics |
| Education | Electrical Engineering |
| Computer Engineering | Food Science & Human Nutrition |
| Forestry | French |
| History | International Affairs |
| Journalism | Kinesiology & Physical Education |
| Marine Science | Music |
| New Media | Philosophy |
| Psychology | Spanish |
| Sustainable Agriculture |   |
---
---
Academic Calendar
Fall semester 2023:
Arrival date:  September 13 (

Manchester Airport Pick-Up Service

)

Welcome Meeting and International Orientation:  September 14

Welcome Week:  September 18

Classes begin:  September 25

Christmas Break begins:  December 16 

[fall-only students must make arrangements for taking final exams!]
Spring semester 2024:
Arrival date:  January 15 (

Manchester Airport Pick-Up Service

)

Welcome Meeting:  January 16

International Orientation:  January 16

Classes begin:  January 22

Easter Break:  March 16 – April 07

Classes resume:  April 08

Final Exams:  May 06

Semester End Date:  May 31
Visit the Semester Dates page for more information.
Full-Time Enrollment
UMaine students must be registered for 50-60 Bangor credits credits each semester.
Academics
Exchange students can take a combination of "modules" (modules at Bangor are what we call classes/course; courses at Bangor are our majors) from different schools, regardless of their course of study at home. Students are strongly advised to research online for the choice of modules available and create a draft timetable well before arriving in Bangor. Module (course) registration takes place during Welcome Week and further guidance is provided during the Welcome & Orientation Meetings each semester.
Exchange students are required to enroll in a full load of credits. Full-time enrollment is 60 credit units per semester (or 120 credits for an academic year), with most individual modules, or courses, valued at 20 credits. Generally, students enroll in 3 modules per semester. It is not possible to enroll in more than 60 credits in a single semester. Some modules (courses) may not be available to exchange students. 
https://www.bangor.ac.uk/study/undergraduate – view all areas of study at Bangor University, and further explore them. The interactive search tool allows you to search for specific courses (Majors) that Bangor University offers. From there, you can break down those courses into their specific modules.
Transfer credit information:
20 credits at Bangor University = 10 ECTS credits = 5 UMaine credits
10 credits at Bangor University = 5 ECTS credits = 2.5 UMaine credits
Undergraduate programs at Bangor University are made up of three levels:
Level 1 – first year introductory modules (100- and 200-level courses at UMaine)
Level 2 – second year intermediate modules (300-level courses at UMaine)
Level 3 – final year advanced modules (400-level courses at UMaine)
Level 4 – graduate courses (undergraduate students are not allowed to take them)
---
Grading Scale
| | | |
| --- | --- | --- |
| Bangor grade | ECTS grade | UMaine grade |
| 70-100% | A | A |
| 65-69% | B | A- |
| 60-64% | B | B+ |
| 55-59% | C | B |
| 50-54% | C | B- |
| 40-49% | D | C |
| 0-39% | F | F |
Housing
On-campus housing is guaranteed for UMaine exchange students. Students will receive a housing application once they are accepted as an exchange student by Bangor University. Accommodation at Bangor University is within walking distance of the city center, the libraries, lecture theaters, seminar rooms and other academic buildings.
University accommodation is of a basic nature:  single-study bedrooms equipped with bed, desk, chair, and wardrobe.  Standard rooms in self-catered blocks have shared bathrooms and kitchen facilities, and all halls are mixed-sex.  Most upperclassmen, and many international students, choose to live in privately owned accommodations in the city, making individual arrangements with landlords after arrival in Bangor.  The Student Housing Office maintains a list of hotels and guesthouses for temporary accommodation.
---