Meet the Dean!
Robert Dana is the Vice President for Student Life and Inclusive Excellence and Dean of Students at the University of Maine. He has direct responsibility for the out–of–class experience including Greek Life, Student Activities, LGBT Services, First and Second Year Retention Services, Pre-professional Advising, Student Organization and Leadership Development, Alcohol and Drug Education Programs, Campus Recreation, Volunteer Programs, Public Safety, Veteran's Services,  Residence Life, Multicultural Student Affairs, the Career Center, Student Services, Conduct Programs, the Counseling Center and campus wide crisis management services.
Vice President Dana is primarily concerned about creating a sense of involvement in campus life and providing support services to students to help them succeed at the University of Maine. His efforts are intended to create an engaging, exciting and safe campus where students are empowered to fully develop their capacity as change agents. He works deliberately to involve students in the life of this community and in rounding out their college careers so that their impact in the world can be maximized. He is a problem solver and an advocate who cares deeply about students and the quality of their lives.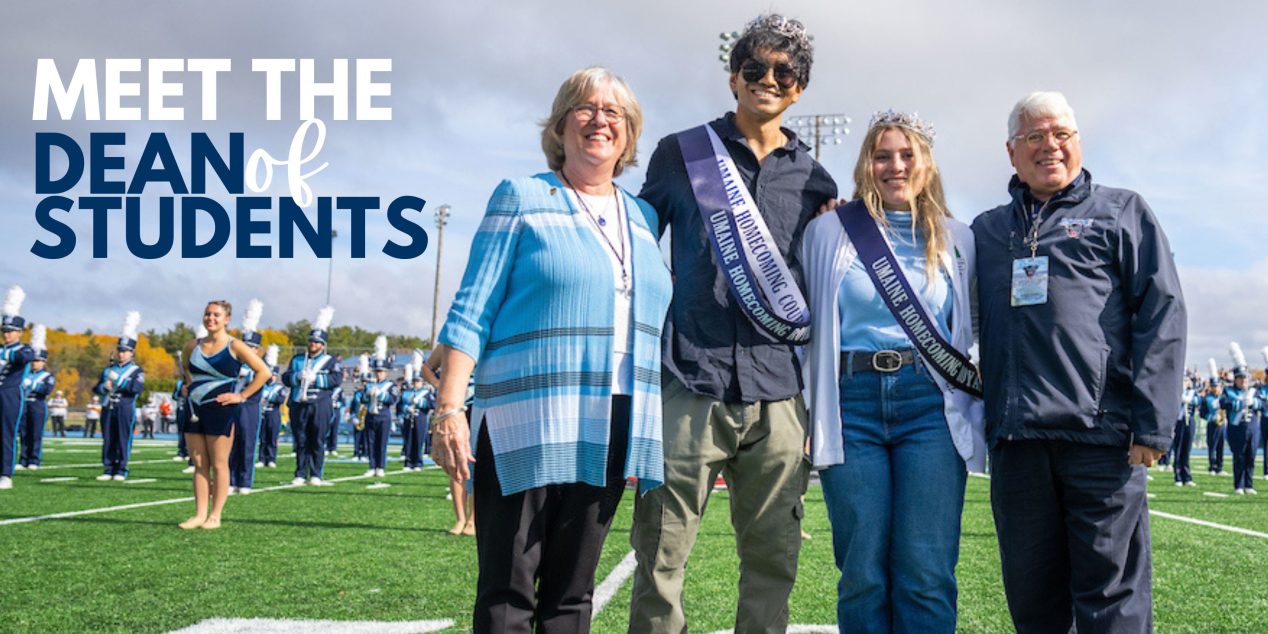 What is your favorite thing about UMaine? 
My absolute favorite time of year is when students return at the end of summer and then again when students emerge from a long winter. Seeing the slack lines on the Mall fills me with joy. A favorite place inside is the Bryand Global Sciences Center where I am able to witness the brilliance of Alan McKee's paintings of rocks. I'm a big rock hound! An outdoor place that is off the beaten path but really cool is the Littlefield Ornamental Gardens near the Versant Astronomy Center. A wonderful place to connect with nature and enjoy the solitude of a pond and beautiful plantings.
How do you spend your free time? 
I'm a big reader so I try to get through a couple of books every month and I love to cook too. Sometimes those two worlds collide in a nice way but I like the act of figuring out a dish and then making it my own. I'm not a great baker and I have a hard time following recipes so you never know what could happen!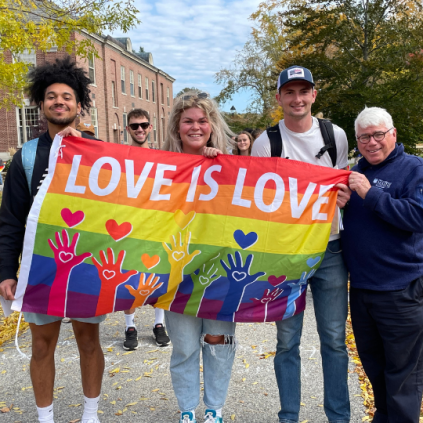 What is a hidden treasure about UMaine that you wish more students knew about? 
The Lord Hall and Hudson Museums on campus. They are fun places to visit, really interesting collections, and a good place to bring someone special.
What is your favorite time of year in Maine? 
September and October are perfect temperature times, the air is invigorating, the leaves are beautiful. 
Where is your favorite place you have ever traveled to?
 We love all of Italy and sometimes I think I must have been Italian in another life. The food, the language, the cultures, the landscapes and architecture – in and out of cities – just grabs me.
If you could only eat one meal for the rest of your life what would it be? 
We were privileged and blessed to get seats at the Lost Kitchen in Freedom Maine. The Chef, Erin French, and her farmers, friends, and family who run the place are amazing and what they cook is , for me, beyond description, but believe me it is the best 5 hour dinner you will ever have. You have to send in a post card and have it selected to get a seat, but believe me it's wonderful! 
If you had to do any job other than work on a University campus, what would it be? 
Rock Star ( but I can't sing or play an instrument ) or Chef, though I might like my food more than it would be liked by others.
Do you have a code to live by?  
Three things come together to keep me focused: Be kind, caring, and compassionate, and then I add always open your arms to the sun.