Information for Faculty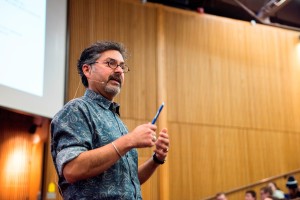 Student Accessibility Services is dedicated to working with the UMaine Faculty to facilitate an atmosphere of inclusion and cooperation in the classroom.
Resources for Faculty
Common Questions and Concerns About Accommodation Requests
We are always available to answer any questions or concerns you may have.  Please contact Student Accessibility Services at 207.581.2319
---
Accommodations for Students with Disabilities, Important Reminders
Disability Statement for Course Syllabi: Faculty members are required by the Undergraduate Program Curriculum Committee (UPCC) to include an accommodation statement in their syllabi. The following is an example of a possible statement:
If you have a disability for which you may be requesting an accommodation, please contact Student Accessibility Services, 121 East Annex, 581.2319, as early as possible in the term. Students who have already been approved for accommodations by SAS and have a current accommodation letter should meet with me (the instructor of the course) privately as soon as possible.
---
Keep it Confidential. Make every attempt to discuss the student's disability accommodations and needs in private.  The student may choose to disclose their disability to you in a public location (such as the classroom after class has finished) but the accommodation process is best facilitated in a private setting.  As a faculty member, you should be mindful of disclosing a student's disability without their expressed permission.
What should I do when asked for an accommodation?
The University has designated Student Accessibility Services (SAS), as the office coordinating accommodations and services.  Please refer the student to SAS where:
1) Medical and psychological documentation can be reviewed and stored
2) Appropriate accommodation alternatives are explored
3) Accommodation Request Letters are prepared for the student to deliver to Faculty
Can I grant an accommodation without referring to Student Accessibility Services?
When a student requests an accommodation, which you are comfortable with, such as tape recording the class, you may certainly comply.  It is crucial however, for the student to understand that you are making a negotiated "arrangement" with them, which only extends to your class.  An official accommodation for disabilities is only granted through SAS after the student:
1) Self-identifies as having a disability
2) Provides current appropriate documentation of disability and need from a qualified medical or Licensed professional
3) Specific accommodation or service is requested and reviewed
Don't Just Say "NO".  Remember that legally and ethically your actions toward a student requesting a disability accommodation need to be a reflection of the University's policy and procedures.  Denial of a request represents a decision with potential legal implications. Consultation with Student Accessibility Services or Equal Opportunity must take place prior to a decision to deny, assuring that the decision will be in compliance with the Americans with Disabilities Act.
---
When implementing disability accommodations, faculty frequently raise questions about legal and ethical issues. We have provided a sampling of those questions and answers below. If they do not address your concerns, please contact us at Student Accessibility Services for further discussion and clarification.
An accommodation is any change in the learning environment or in the way things are customarily done that enables a person with a disability to have equal educational opportunities. An accommodation is not meant to change the essential nature of a course but rather alter the environment or mechanics of the learning situation For example, in an Art History course, student evaluations may traditionally be done via essay testing. If the essential goal is to determine the student's knowledge about Art History rather than technical writing then an accommodation of oral testing would not alter the evaluation goal.
2)  Do I need to change my curriculum or expectations for a student with a disability?
Accommodating students with disabilities does NOT mean changing the curriculum or setting different standards for them than the rest of your students. Students with disabilities are required to complete, the same course "tasks " as all your other students. For example
,
students who are blind or have a learning disability such as dyslexia should be required to take the same exams as their peers but could need an accommodation of a reader or an enlarged print copy to complete the exam.

3)   Do accommodations such as extra time on tests give students with disabilities an unfair advantage over other students?
Current research does not support this concern. In essence, accommodation 'levels the playing field' for students with disabilities. It is only when we remove barriers created by the disability that the person's academic performance can be fairly evaluated and compared with fellow students.

4)   Who determines that the student has a disability that requires an accommodation?
Students are required to provide the University with current specific documentation of disability and need. After reviewing the documentation and often consulting with the diagnosing psychologist or medical provider, a Student Accessibility Services professional meets with each student to develop a plan for their academic accommodations. It is not appropriate for faculty members to be reviewing disability documentation to determine eligibility for accommodation.

5)   Can I refuse to give a student an accommodation or alter the accommodation requested?
If you have received an accommodation letter prepared by Student Accessibility Services from a student you cannot deny the accommodation. If you have any concerns with this accommodation, please contact SAS.  The law requires that the University first determines whether the student is disabled by obtaining appropriate medical documentation and then determines through an interactive process whether the requested accommodation is "reasonable." Student Accessibility Services will include the faculty member in that interactive process so that you can suggest creative alternatives if you feel the requested accommodation is inappropriate or unreasonable. Please remember that the student does not have to use the words "accommodation " or "disability" per se, but does have to indicate that the request is based on a documented disability, whether mental, physical or psychological.
---