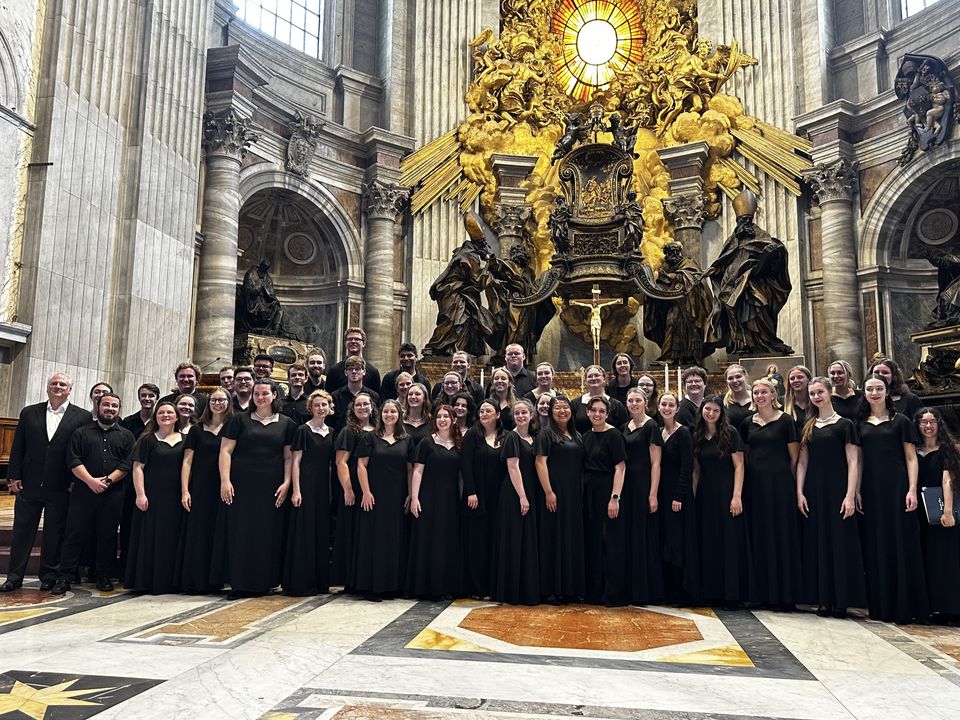 University Singers sing their way through Italy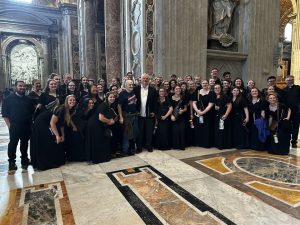 The University of Maine Singers have recently returned from a whirlwind trip across the Atlantic, seeing sights and singing songs all across Italy.
The trip, which took place from May 26 to June 7, was a return to tradition for the choral group; the annual excursions went on hiatus for several years before roaring back with a vengeance this year.
Over the course of their journey, this talented group made beautiful music in beautiful venues across Italy. They performed on their own and with other groups, in dedicated concerts and general participatory experiences alike. Truly, the opportunity of a lifetime for these student singers – one that had been put off for some time due to the circumstances of the pandemic.
"Traveling to a different part of the world is one of the greatest mediums of education, and our Italy tour was bountiful in this regard," said University Singers director Francis Vogt. "In addition to touring the Roman Forum, the Vatican Museum and Sistine Chapel, and the cities of Florence and Venice, the University Singers performed during Masses at two of the world's most significant places: St. Peter's Basilica in Rome and Basilica San Marco in Venice, the latter being particularly important in the history of Western music."
While preparations for tours such as this are complex and require a lot of time, the unique circumstances of the situation meant that everything unfolded over a LONG period.
Zachary Fisher was an undergraduate music student when he started coordinating this tour. By the time it actually came to pass, his own situation had changed.
"I was the coordinator for this tour starting with an email in October of 2018," said Fisher. "Little did I know it would be a five-year commitment! Even so, I am overjoyed with the tremendous success of the trip.
"As this tour was supposed to happen in my last year at UMaine, in May of 2020, I feel as though I have finally just received the long-delayed closure to this wonderful chapter in my life," he continued. "Even though I'm now in graduate school out of the state, part of me was still a current Black Bear, waiting for this incredible experience to finally happen."
Fisher wasn't the only one who embraced the chance to reconnect with his fellow Singers, even after their undergraduate career had ended. Other former Singers joined the trip, turning it into something that, according to Vogt, "felt, in part, like an alumni reunion."
Unsurprisingly, Singers both past and present responded to the experience with an overwhelming degree of positivity, stressing the life-changing nature of such a trip.
"This tour of Italy was an amazing culmination of all the hard work we've put in this year," said Ryan Murray. "Being able to display what we've been working on to a completely different group of people was a very rewarding experience. Doing all this, while also being able to connect more with my fellow singers and explore such an amazing country definitely made it an experience I will always cherish."
"The tour was an incredible experience where we shared our music in some of the most beautiful churches across the country," said Katie Mooney. "I especially loved singing in the Basilica Santa Trinita, where people roaming the streets of Florence gathered at the church's entrance to listen to our set. Sharing this captivating experience with some of my closest friends led to stronger bonds and unforgettable memories that we will all reminisce on for years."
In the end, this was a powerful and rewarding experience that will stay with every single participant for the rest of their lives. So many like-minded people, brought together by a love of music and gifted with the opportunity to share that love in a place far from home. And all the while, they represented the University of Maine with grace and joy.
"This sharing of music across cultures is a truly extraordinary experience that the students and I will never forget," said Vogt. "I am so proud of the excellent work they did as musical ambassadors of the University and the State of Maine."