How Lauren Crane '17 uses Sociology in Her Work Every Day
We recently heard from Lauren Crane '17 that in her work as a nurse she finds that having a sociology degree comes in handy every day. We asked her to expand on this and here is her response: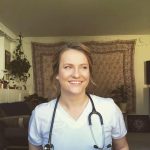 "My name is Lauren Crane. I was fortunate enough to graduate from the University of Maine with a Bachelor's Degree in Sociology in May of 2017, and two years later graduate with my Associates in Nursing from Central Maine Community College. I have recently begun my nursing career at Eastern Maine Medical Center in Bangor. When looking at my career it looks like I took six years and wasted tens of thousands of dollars to get to the same place that two years and less than half the price tag would have gotten me. While true in the bureaucratic sense, it could not be farther from the truth.
I was drawn to sociology for the same reason I was drawn to healthcare: The people. Over the years degrees in the humanities became less valued, seen as a waste of four years and even more tragically, a waste of thousands of dollars. Roll-focused degrees (Engineering, Nursing, Construction, etc) became perceived more advantageous due to their job prospects and plentiful wages. My interest in the humanities seemed to be somehow misguided because I couldn't "do" something with it. "I just don't get what you do with a Sociology degree". "What job are you going to get with that degree?". "How is that going to get you anywhere?". My answer was always the same: "I use my degree every single day."
    The classes I took in Sociology focused on studying the human experience: How racism and social class affected the quality of education you had access too, the healthcare you had. The role quality of education plays in crime and incarceration rates. Ultimately it lead me to develop a perspective focused on determining why someone was the way they were, specifically, how factors outside of the individual's control had shaped who they had become. I really bought into this process going into the fall of my Junior year and as time went on what originally was just a variety of college classes had molded who I was as a person.
These are skills that I use every day in my interactions with others, and they are what guide my philosophy as a health care provider. My job as a nurse yields a steady stream of new people every single shift. The knowledge I have gained through sociology allows me to maximize the time I have with my patients by building a strong, functioning relationship over a relatively short period of time. It has allowed me to form deeper connections with my co-workers and contribute the team-oriented work environment I'm immersed in. Most importantly it enhances my quality as a nurse by allowing me to better identify the wide array of factors that could be inhibiting a patient's healing process, and guides my actions in mitigating them.
Everyone in the hospital shares a common goal. Doctors, nurses, CNA's, patients, and family members are all doing what they feel is in the best interest of the patient's healing. Sociology has allowed me to provide comprehensive, high quality care by taking into account the human element. Spending the time and money to pursue a Sociology degree was one of the best decisions I have ever made because it has given me the ability to maximize my potential as a healthcare provider. I feel grateful for the opportunities Sociology has given me, the doors it has opened up, and the positive impact it will play in shaping my future."