Michael Rocque '05 co-PI for NIJ Grant on Mass Shootings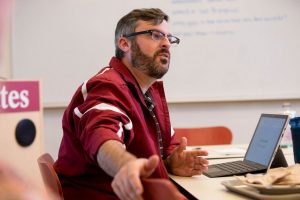 UMaine Alum Michael Rocque '05 in the News
Michael Rocque continues to dominate the alumni news for the UMaine Scientology Department. Mike, who is now a professor at Bates College, has become a co-PI (Principal Investigator) for a National Institute of Justice grant titled "The Nature, Trends, Correlates, and Prevention of Mass Public Shootings in America, 1976-2018."
Here's an except from the Bates College News article:
by Doug Hubley:
"The response to mass public shootings such as those in Parkland, Pittsburgh, and Las Vegas has become depressingly predictable.
"Every time there's a mass shooting, we say the same things, and people argue past each other, and then we do nothing," says Michael Rocque, a criminologist and an assistant professor of sociology at Bates. "And then the next one comes along."
Part of the problem with the public conversation around such shootings, says Rocque, is that it's fueled by politics and perceptions, both poorly supported by data.
"I see all kinds of research that uses slightly [divergent] terms, or you're not really sure where the data come from," he says. "There is no systematic, comprehensive data set that we can all draw on."
But that will change during the next three years, and Rocque is one of three researchers who are making it happen, thanks to a nearly $499,000 grant from the National Institute of Justice, the research arm of the U.S. Department of Justice."