Basic Scuba- Get Certified!
GET SCUBA CERTIFIED!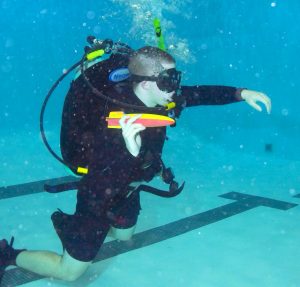 The UMaine School of Marine Sciences hosts a Basic Scuba certification course each year during the Spring term.  The course is intended for marine science students who wish to truly immerse themselves in their studies.  Academic and pool sessions are taught on-campus in Orono; Open Water Dives are conducted during a week-long stay at the Darling Marine Center in late May/early June.  This is a non-credit bearing (no tuition) course; however, certain course fees apply.
*NOTE- This course is not listed through the MaineStreet registration process. Please read the course syllabus for registration instructions.  
***COVID-19 Update–  plans and schedules for Basic Scuba 2021 are still developing.  If you are interested in enrolling in Basic scuba for 2021, please read the Basic Scuba Course Documents listed below.  After you have done so, please email crigaud@maine.edu to be placed on the list of interested students.  Stay tuned for more information coming at the end of the Fall-term 2020.  Thank you for your understanding.  
Basic Scuba Course Documents
Follow Up Registration Letter-Basic Scuba (2020)
Basic Scuba Forms (2020)
Equipment Liability Form (UMaine)