Maine's Research University at Work
We are delighted to present the 2022 Research Report for the University of Maine. This year marked the realization of a historic accomplishment by Maine's land, sea, and space grant university. In January 2022, UMaine ascended to the highest tier of national research universities by earning a Carnegie R1 classification and joining the ranks of the nation's top doctoral universities with very high research activity.
The R1 designation is a well-recognized standard of excellence for top-tier research universities. Earning it is a significant endorsement of UMaine's advancement as a premier modern 21st-century research university, with nationally and internationally recognized programs of global impact and local relevance that address the workforce needs and advance the social and economic development of Maine and beyond. It comes on the heels of the university's research enterprise for the third consecutive year achieving all-time high record levels in growth and impact, as measured by multiple indicators, including R&D funding and graduate enrollment.
Specifically, in 2022, externally sponsored R&D funding generated and expended reached $147.8 million and $225.1 million, respectively, and which as compared to the previous year correspond to 11% and 25.5% increases, respectively. Moreover, over the past three years the university has set all-time high records for graduate enrollment, including an all-time high record of 553 doctoral students in 2022.
Currently, there are only 146 R1 institutions out of 3,982 post-secondary, degree-granting institutions in the U.S., placing UMaine in the top 3.7% of universities in the nation. Additionally, of the 146 R1s, only 55 have no medical schools out of 3,790 institutions in the U.S., placing UMaine in the top 1.4% of universities in the nation that are R1s with no medical schools. As part of this, UMaine per number of faculty, has elevated itself to be among the highly productive universities in the nation in conducting externally funded research of great social and economic impact, in awarding graduate degrees in nationally and internationally recognized master's and doctoral programs, and in providing bachelor's degrees in a comprehensive set of undergraduate programs, which are uniquely distinguished by their research-based features and taught by outstanding faculty researchers.
This annual report provides examples of the latest achievements by our university research community. We hope that you will enjoy reviewing it. Moreover, to obtain additional information about the impactful research and scholarly achievements realized at the University of Maine, we invite you to visit our research webpage or contact us at research@maine.edu.
Joan Ferrini-Mundy, President
Kody Varahramyan, Vice President for Research and Dean of the Graduate School
---
A 21st-Century Research University – Serving Maine and Beyond
---
$147.8M
Total research and development funding
88%
Increase in federal funding over 5 years
75%
Increase in awards greater than $1M over 5 years
150+
Research institutes, centers and labs
Researching and innovating into the future
Maine's research and innovation reputation takes a monumental step forward as the state's public research university earns the R1 Carnegie Classification. The University of Maine joins the ranks of the nation's top 146 doctoral research universities engaged in very high research activity.
Early in 2022, the University of Maine was designated an R1 university by the prestigious Carnegie Classification of Institutions of Higher Education. The R1 designation signifies "very high research activity" in recent years and it is the highest possible tier a doctoral research university can achieve in the Carnegie Classification. There are currently only 146 R1 institutions out of 3,982 post-secondary degree-granting institutions in the U.S., placing UMaine in the top 3.7% of universities in the nation.

"The research enterprise at the University of Maine is a vital state economic and educational asset," said University of Maine System Chancellor Dannel Malloy. "The R1 designation is the world standard for research universities. With it, we will attract more talent, investment and innovation to Maine. Thanks to the dedication of our research faculty and staff at our flagship university, and the strategic leadership of President Joan Ferrini-Mundy, Vice President for Research Kody Varahramyan, and their teams, Maine is becoming a global destination for discovery and innovation."
Read about UMaine's R1 achievement
Rising to the challenge
The University of Maine's Climate Change Institute celebrates its 50th anniversary in 2023, marking a half-century of research and education related to climate change in Maine, New England and across the planet.
The Climate Change Institute fosters learning and discovery through excellence in graduate academic programs, addresses local and global needs through basic and applied research, and contributes research-based knowledge to make a difference in people's lives. It is dedicated to improving the quality of life for people in Maine and around the world, and promoting responsible stewardship of human, natural and financial resources, now and in the future.
Read full story on the CCI's 50th anniversary
Graduate School sets new records for enrollment
The University of Maine's graduate enrollment has consistently increased over the past few years. Of the 2,457 graduate students enrolled this fall, 554 are in doctoral programs, a record high for UMaine. This is the third consecutive year that UMaine has established a new mark for doctoral enrollment.

In addition to the record doctoral enrollment, the University of Maine also set a new high for international graduate student enrollment, topping 300 international graduate students for the first time, driven in large part by an increase in applicants from West Africa.

This fall's enrollment records follow an all-time high number of graduates degrees conferred during the previous academic year. The Office of Institutional Research and Assessment (OIRA) reported that a record high 84 doctoral degrees and 695 master's and specialist degrees were conferred during the 2021-22 academic year.

Vice President for Research and Dean of the Graduate School Kody Varahramyan notes the importance of these achievements. "Now that UMaine has attained ranking as a Carnegie R1 research university, the record doctoral enrollment and international graduate student enrollment are both important in terms of the University's research, graduate, and DEI goals." Read more about Graduade School enrollment
Safeguarding Maine's wild blueberries
Spotlight: Rafa Tasnim receives Janet Waldron Doctoral Fellowship
Like many crops across the world, wild blueberries face several threats posed by climate change, including rising temperatures. Rafa Tasnim from Dhaka, Bangladesh, is trying to pinpoint new ways growers can protect one of Maine's most iconic crops by using resources from the state's backyard. Since joining the University of Maine in 2019, Tasnim, a Ph.D. candidate in ecology and environmental sciences, has led studies that revealed that wild blueberry fields in Down East Maine are warming faster than the state as a whole, and that fields experience warming differently, depending on their location, the season and the time of day, among other factors. Her work has garnered state and national media attention. Read more about Rafa Tasnim
Transformative solutions for PFAS pollution
UMaine PFAS+ Initiative lays foundation for interdisciplinary collaborations.
Linking space to Maine's economy
UMaine Space Initiative establishes pathways for enhanced partnerships.
Meeting student demand and employer needs
New Ferland Engineering Education and Design Center ushers in a new chapter.
With the grand opening of the E. James and Eileen P. Ferland Engineering Education and Design Center (Ferland EEDC) at the University of Maine, a new chapter begins in engineering education to better meet the needs of students and employers, including the innovation to advance research and economic development.
Ferland EEDC is home to the Department of Mechanical Engineering and the Biomedical Engineering Program, and includes teaching laboratories for the Mechanical Engineering Technology Program. Read more about the new Ferbland EEDC
advancing the future through 3D Printing
The University of Maine Advanced Structures and Composites Center (ASCC) achieved groundbreaking milestones in composite manufacturing in February 2022 with the production of two 3D-printed prototype logistics vessels for the U.S. Department of Defense and again in November when it unveiled BioHome3D, the first 3D-printed house made entirely with bio-based materials. The Center also helped replicate a 19th-century clan helmet, developing new protocols for replication projects of historical significance.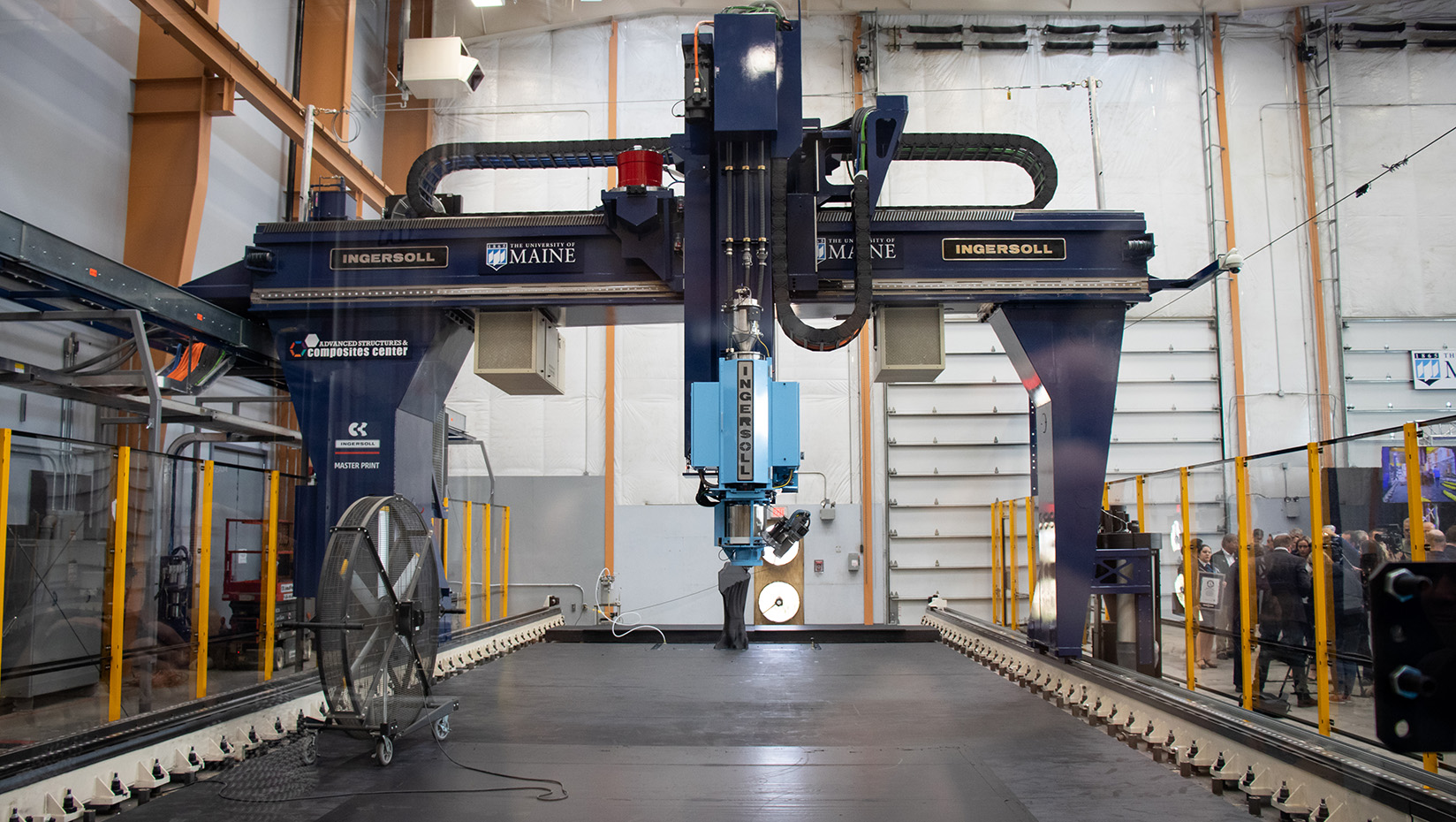 Logistics Vessels for the Marine Corps Systems Command's Advanced Manufacturing Operations Cell
Using traditional materials and methods, landing craft utility vessels can take over one year to produce. The ASCC printed and assembled one in a month.
BioHome3D funded through the U.S. Department of Energy's Hub and Spoke program
The milestone 600-square-foot prototype is fully recyclable and highly insulated with 100% wood insulation and customizable R-values.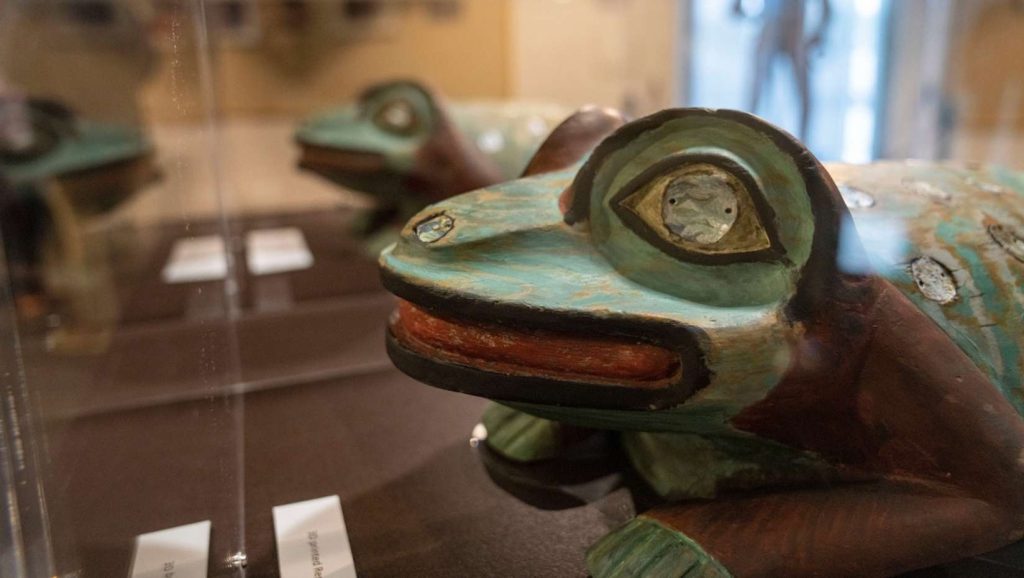 Hudson Museum project replicates 19th-century artifact using 3D printing and intermedia techniques
A 19th-century clan helmet in the Northwest Coast collection of UMaine's Hudson Museum has been introduced to 21st-century 3D printing technology.
2022 NSF Career Award Recipients
The year 2022 marked a first for UMaine, as five faculty members were selected in the same year for the prestigious National Science Foundation (NSF) CAREER Award, a premier early career funding mechanism, which is intended to support enduring success in scholarship, teaching, and public service.
This prominent award recognizes the exceptional potential of the faculty and their research. In 2022, UMaine's Justin Dimmel, Salimeh Yasaei Sekeh, Babak Hejrati, Qian Xue, and Yingchao Yang all received awards.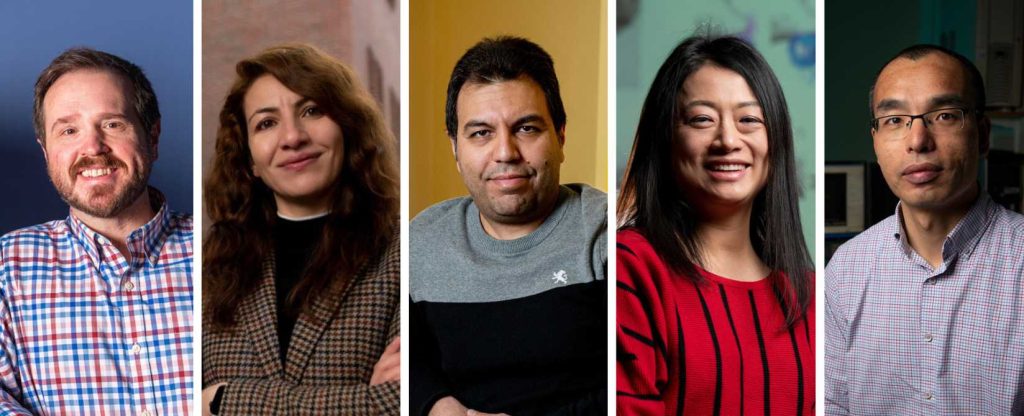 Preventing and treating disease in humans
Researchers at UMaine study the anti-inflammatory benefits of broccoli sprouts.
Researchers are investigating whether broccoli sprouts can help prevent and treat inflammatory bowel disease in humans.
Through multiple studies, Yanyan Li, assistant professor of human nutrition; Sue Ishaq, assistant professor of animal and veterinary sciences; and researchers from other institutions will explore how human gut microbes could use a compound from broccoli sprouts to generate a new one that prevents and reduces inflammation.
Read full story on UMaine News
Leading collaboration and building partnerships in health and medicine
Institute of Medicine hosts first statewide symposium on biomedical research and engineering. Maine's First Annual Research Symposium on Biomedical Science and Engineering drew over 225 researchers from across the state. The event was organized by UMaine's Institute of Medicine in collaboration with The Jackson Laboratory, MDI Biological Laboratory, MaineHealth, the University of New England (UNE), the Roux Institute, Northern Light Health and the University of Southern Maine.
Enhancing the quality of life of older adults
In March 2022, UMaine achieved full membership to the Age-Friendly University (AFU) Global Network. The AFU initiative aims to expand age-friendly inclusiveness throughout higher education. The new designation is a culmination of two decades of extensive work and progress, brought about by the Center on Aging.
The Center on Aging (CoA) at the University of Maine is dedicated to improving the lives of older adults. Led by Director Lenard Kaye, a professor of social work and UMaine Trustee Professor, the center conducts research, offers services, and provides educational opportunities to tackle the various challenges faced by aging populations, including healthcare, housing, isolation, and loneliness. These issues have been further exacerbated by the COVID-19 pandemic. Read more about the COA
Modeling change to an iconic industry
Researchers investigate climate-induced changes in lobster abundance and distribution.
Testing lobster shells to thwart potato soil pathogens
The shell-to-spud combination may connect Maine's food system and enhance the state's circular economy.
Interested in reading previous year's reports?