Annual Report

Maine's Research University at Work
We are happy to present the 2021 Research Report for the University of Maine. This has been a remarkable year for research and scholarly achievements at Maine's land, sea, and space grant university, despite the continuation of a global pandemic and the significant difficulties that have resulted from it. Through this annual report, we celebrate the great achievements of our talented and resilient faculty, staff, and students. Their high level of accomplishments has been exemplary and has enabled the university to reach new heights as Maine's flagship research university of global impact and local relevance.
In fiscal year 2021, among the major accomplishments, the university community set a new record by generating $133.6 million in external funding in support of research and development activities, as compared to $56.9 million in fiscal year 2017, corresponding to a 135% increase over the given five-year period, and an all-time high record by the university. In fiscal year 2021, research and development expenditures also reached a new all-time high record of $179.3 million as compared to $99.5 million in fiscal year 2017, corresponding to an increase of 80.2% over the given five-year period. Moreover, with respect to graduate enrollment, in spring 2021 doctoral student enrollment for the first time in the university's history exceeded 500, and in fall 2021, both overall graduate student enrollment and doctoral student enrollment reached new all-time highs for the university at 2,542 and 532, respectively.
These accomplishments stem from the university's pursuit of growth and advancement in research and graduate studies, as part of a strategic roadmap that has been pursued for the realization of a modern 21st century research university, with close alignment and connection between academic and research programs, removal of barriers to collaboration, and investment in people and infrastructure. Through these efforts and as shown by the examples highlighted in this annual report, major university-wide programs and initiatives have been realized in diverse areas, ranging from artificial intelligence, marine sciences, and forest economy, to visual and performing arts, health and life sciences, and medicine.
To learn more about the impactful research and scholarly achievements realized at the University of Maine, we invite you to visit our research web page or contact us at research@maine.edu.
Joan Ferrini-Mundy, President
Kody Varahramyan, Vice President for Research and Dean of the Graduate School
Advancing as a modern 21st Century research university, with nationally and internationally recognized programs that have global impact and local relevance in diverse areas, ranging from the energy, environment, advanced structures, marine and forestry sectors, to human health, food and agriculture, community revitalization, and cultural preservation.
---
A 21st-Century Research University
Serving Maine and Beyond
---
Portland Gateway Open for Business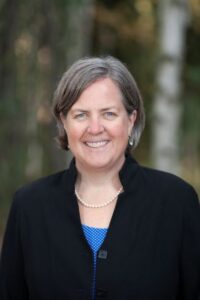 A new Portland Gateway for the University of Maine has been established to provide a one-stop connection and point of access to the vast array of innovative research, education and outreach resources, programs and services at the state's research university headquartered in Orono and its facilities statewide. The Portland Gateway offers opportunities for tailored partnerships to advance specific business or corporate needs, outreach and community engagement opportunities, and professional careers in connection with the UMaine Research enterprise.
Alice "Pips" Veazey is the inaugural director of the Portland Gateway. She joins UMaine from the University of Alaska Fairbanks, where she was the principal investigator and project director of the Alaska National Science Foundation Established Program to Stimulate Competitive Research (NSF EPSCoR).
---
Graduate School Sets Records
In spite of the continuing pandemic, the University of Maine's graduate enrollment has consistently increased over the past few years, setting records in the 2020-21 academic year, and then breaking those records this fall term. A total of 2,542 graduate students were enrolled in classes for the 2021 fall semester, surpassing the previous record enrollment in the spring 2021 semester by about 100 students. Enrollment increases were seen in all degree categories (certificate, master's and doctoral) with doctoral enrollment also setting an all-time high of 532 students. The reasons for success in graduate enrollment differ by degree type. In doctoral programs, the University of Maine's success in attracting more external funding as it strives to attain Carnegie R1 status has greatly contributed to UMaine's doctoral numbers. At the master's level, the enrollment growth has been focused in online programs with the MBA and IT-related master's and certificate programs, demonstrating significant growth.
A common contributing factor to the graduate enrollment growth at all levels is the Graduate School's success in attracting more applicants. Between 2019 and 2021, total graduate applications increased from 1,789 to 2,659, nearly 50% increase. Three new graduate initiatives have helped to increase the number of students entering UMaine graduate programs, including waivers for application fees and GRE, and the use of a holistic application review process rather than employing hard cutoffs. This has increased access to graduate education and presented opportunities to a wider group of candidates.
The progress in improving access to graduate education has strengthened UMaine's research and graduate mission, and helped advance the university's diversity, equity and inclusion goals. This is reflected in the number of applications from students of color, which increased from 331 to 750 (127%) between 2019 and 2021, while admission and enrollment of minority students in graduate programs also demonstrated significant increases of 97% and 64%, respectively in the same time period. Associate Vice President for Graduate Studies Scott Delcourt says the work of the Graduate School team and graduate program coordinators over the last year and a half has been extraordinary.
---
Advancing Research Learning Center for Undergraduate Research

The Center for Undergraduate Research's primary mission is to increase, improve, and enhance undergraduate student participation and experiences in research, scholarship and creative activity. Undergraduate research allows motivated and interested students to become critically engaged in a culture of independent learning and participate in the creation of new knowledge. Through student-faculty collaborations and mentoring partnerships, students develop the tools and resources needed to achieve an authentic understanding of the research endeavor, the pinnacle of an educational experience. Undergraduate research, broadly defined and understood, incorporates current students into the fabric of UMaine and attracts prospective students who want to be active participants in their education. Undergraduate research also provides an opportunity for faculty to expand their own research programs and enhance mentoring skills through training new members of their disciplines.
CUGR achieves its mission by providing leadership, coordination and support for research activities across campus. It builds upon UMaine's strengths and strategic goals as the state's leading research university, taking advantage of the hundreds of faculty and graduate students involved in research and creative projects who can teach and mentor undergraduate researchers and scholars.
Record Number of Undergraduate Student Award Winners

The University of Maine's Center for Undergraduate Research (CUGR) has reported a record number of student project awards this year. Despite the challenges related to the COVID-19 pandemic, this year continues to be an outstanding one for research and scholarly achievements at Maine's land, sea and space grant university.

Supported by the Office of Vice President for Research and Dean of the Graduate School, CUGR provides several fellowship programs in collaboration with the UMaine Institute of Medicine, UMaine Artificial Intelligence and Maine Space Grant Consortium (MSGC). This year CUGR named seventy-five undergraduate award winners, with projects spanning various disciplines, including history, art, new media, climate science, biochemistry and various fields in engineering. Each undergraduate proposal was awarded $1,500.

Four winners of MSGC graduate research fellowships were also announced. The purpose of the MSGC fellowship and scholarship programs is to provide research opportunities to undergraduate and graduate students in aerospace technology, space science, human exploration/space development, Earth science and other science- or engineering-related fields. The focus of proposed projects must be aligned with the research priorities of NASA's Earth and space science strategic enterprises. Each MSGC project was awarded $6,000. Read more
---
UMaine Arts Initiative
Enriching lives through the arts
The University of Maine Arts Initiative (UMAI) brings together faculty, administrators, staff and students committed to the principle that the arts play an integral role in public research institutions. The primary purpose of the new initiative is to increase resources and support for the arts, reinforce their significance, and enhance visibility on campus and beyond through strategic collaborations.
UMAI is founded on the principle that the arts play a fundamental role in public research institutions. The new initiative will advance this role of the arts in enriching the lives of individuals and communities through the creation, experience, research and enjoyment of art. Through innovative and interdisciplinary collaborations, UMAI seeks to build a diverse, inclusive, sustainable, and equitable community of art researchers, practitioners, supporters and promoters. The new initiative is dedicated to societal well-being and enriching the lives of individuals and communities in the state of Maine and beyond
"The UMaine Arts Initiative is part of a series of recently launched university-wide initiatives that are strategically linked to University of Maine System's Research and Development Plan, and are supporting the realization of an innovation-driven Maine economy for the 21st century and, as part of this, addressing the workforce, and social and economic needs," says Kody Varahramyan, Vice President for Research and Dean of the Graduate School. 
---
Creating an Impression in Machias and Beyond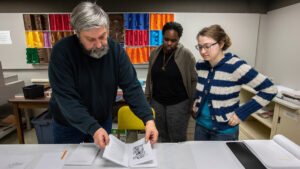 Bernie Vinzani's love of teaching the art of printmaking began when he delivered a hands-on lesson to his peers in an undergraduate speech class at Indiana State University. He demonstrated how to make a print using a piece of cardboard and a potato. Now, Vinzani is a professor of art and book arts at the University of Maine at Machias, where he continues to teach, as well as conduct research and refine his papermaking and printmaking skills. And, while at home on sabbatical during the pandemic, he added building a printing press to his repertoire.
Vinzani moved Down East in the early 1980s. He was ready for a change in scenery after earning a bachelor's and a Master of Fine Arts in printmaking at Indiana State University, setting up a printmaking program at Vincennes University in Indiana, and working as a papermaker at Twinrocker Handmade Paper
"I had two places that I really wanted to live; that was upper Minnesota and Maine. It was one of those things as a kid, I just loved the North Woods, everything about it," he says. According to papermaking legend, if fireflies float around a water source, it's a good omen for papermaking. Vinzani saw fireflies while looking at property near Machias, so Maine won out
---
FORest Economy, Sustainability and Technology (FOREST) Initiative
Advancing the forest-based economy in Maine and beyond
The University of Maine has established the FORest Economy, Sustainability and Technology (FOREST) initiative, a university-wide multidisciplinary effort to bring together university, industry, government, and community collaborators for the advancement of the forest-based economy in Maine.
Composed of representatives from more than two dozen departments, colleges and organized research units within UMaine, FOREST is working to coordinate, communicate and collaborate across the University of Maine System (UMS) with local, state, federal and international partners to develop and deliver integrated research, education and outreach solutions that enhance the economic and ecological sustainability of forest-based communities.
---
Marine Aligned Research, Innovation, and Nationally-recognized Education (MARINE) Initiative
Advancing the Blue Economy in Maine and beyond
The state of Maine has 3,500 miles of beautiful coastlines and many other inland waterways. And thriving spaces for outdoor recreation and tourism. Maine's marine environment is also home to an essential fishing and aquaculture industry. The UMaine MARINE Initiative pulls together researchers from across the University of Maine System, industry, government, and community collaborators to engage in innovative and interdisciplinary research, education, and outreach related to the marine area. These efforts are designed to enhance the social, environmental, and economic well-being of the state of Maine.
The initiative was started with regular convenings of the leadership of the School of Marine Sciences, Maine Sea Grant, the Lobster Institute, Aquaculture Research Institute, Center for Cooperative Aquaculture Research, Cooperative Extension, Darling Marine Center, and UMaine Machias, among others. These schools, centers, and institutes are working on a diverse array of marine-related topics, including lobster populations and marine ecosystem responses to climate change, assessments of collaborative models to enable fisheries and climate change action partnerships, and the social dimensions of aquaculture. Read more
"I look at the UMaine MARINE initiative as an opportunity to make people on campus who are doing this kind of scientific research or education in marine-related activities more available to the people of Maine," says Gayle Zydlewski, director of the Maine Sea Grant and chair of the UMaine MARINE Steering Committee.
Sustainability in Land-based Salmon Aquaculture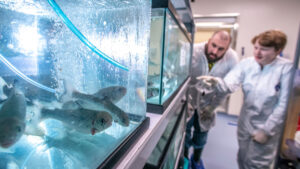 The University of Maine Aquaculture Research Institute (ARI), in collaboration with the University of Maryland Baltimore County (UMBC), has been awarded a $10 million U.S. Department of Agriculture (USDA) grant to research land-based salmon aquaculture. The Sustainable Aquaculture Systems Supporting Atlantic Salmon project, or SAS2, brings together several academic and federal research institutions and nine industry partners from the U.S., Iceland and Norway as part of a National Institute of Food and Agriculture (NIFA) program, which provides funding to advance sustainability in agricultural sciences.
The project builds on the Sea Grant-funded RAS-N Network, a three-year project designed to network stakeholders and develop a strategic roadmap for Atlantic Salmon RAS in the U.S. UMaine plays a leadership role in both projects. Read more
The Blue Economy
At the core of Maine's coastal communities is the Blue Economy, but in a warming climate, the state of Maine faces difficult challenges. The Gulf of Maine has and will continue to change rapidly. This change threatens the Blue Economy and the communities that rely on it. How the University of Maine harnesses and directs its research and development capabilities will be crucial to the state's future in the Blue Economy. Through driving workforce development and research, and cultivating new opportunities, UMaine supports the sustainability of the state's marine resources.
A flourishing working coast is vital to Maine's being and initiatives like UMaine MARINE are essential to maintaining them. By connecting and working with government, industry, the public and other stakeholders, UMaine is able to provide the necessary resources and expertise to cultivate thriving coastal communities that engage with the Blue Economy.
---
Experiential Programs Innovation Central (EPIC)
Cutting-edge student-centered undergraduate education is the key focal point of the University of Maine Experiential Programs Innovation Central, or UMaine EPIC. EPIC takes experiential learning to new heights. It is indicative of UMaine's commitment to excellence in undergraduate education, where learning goes beyond the classroom, and undergraduates from their first year through senior year have the opportunity to experience a unique and highly effective student-centered learning environment, getting in-depth learning and gaining highly desirable skills and experiences, which prepare them well to succeed after graduation.
EPIC students create affordable crop monitoring system for small farms
A team of students making up the first cohort at the UMaine Experiential Learning Innovation Central (EPIC) engineered a low-cost monitoring system for local farmers. Guided by mentors Peter Schilling, Sean Taylor, and professor Ali Abedi, the multidisciplinary team included junior in civil and environmental engineering Kettie Cormier, first-year mechanical engineering student Camden Sawyer, and Walter Lange, a junior studying finance.

According to the students' research, current crop monitoring systems are catered toward larger industrial farms. But for start-up farms and small business owners, these systems are costly and not suitable for their scale of production. The team is solving the need to have low-cost systems as the "locally grown" movement highlights the importance of small agriculture businesses. The demand for locally sourced agricultural products is likely to increase as the environmental impact of shipping long distances continues to grow.
---
EPSCoR's Impact on the State of Maine
In 2021, Maine EPSCoR continued its mission to enhance the state's research and development capacity and competitiveness through execution of the NSF EPSCoR RII Track-1 grant, Maine-eDNA.
The Maine-eDNA project is a statewide, multi-institutional initiative aimed at establishing Maine as a national leader in environmental monitoring, ecological understanding and sustainability of coastal ecosystems. Maine-eDNA executed a successful field season in 2021, collecting thousands of water samples along Maine's coastal ecosystems, and developing new bioinformatics pipeline analysis capabilities to process these samples, leveraging national supercomputing resources. The project continues to gain momentum, exhibited by securing more than $15.8 million of follow-on funding. Serving to develop workforce capacity in Maine, this grant supported 30 faculty, 22 graduate students and 20 undergraduate students in 2021.
EPSCoR programming engages stakeholders and develops partnerships through public outreach, including workshops and conferences. For example, Maine-eDNA led an eDNA session at the 2021 Maine Sustainability and Water Conference, involving diverse academic, agency, non-governmental organization and industry participants.
Maine Innovation Economy Advisory Board (MIEAB) oversees EPSCoR activities in Maine to ensure that project activities align with the specific needs of the jurisdiction. With guidance from MIEAB, Maine EPSCoR provides support and resources that enable researchers to engage the complex questions that face the state, such as climate change resilience of the Gulf of Maine ecosystem.
Harsh Environment Wireless Sensor DOE EPSCoR Award
The next generation of harsh environment materials and wireless sensor techniques are the focus of a $2.34 million Department of Energy (DOE) EPSCoR award for research led by University of Maine researchers Mauricio Pereira da Cunha and Robert Lad. The DOE award was one of nine initiatives funded nationwide for a total of $22 million. The UMaine research project received a DOE EPSCoR implementation grant in 2019.
Pereira da Cunha, professor of electrical and computer engineering, and Lad, professor of physics, will lead an interdisciplinary, multi-institution team of researchers. They include eight UMaine faculty members and other researchers from the University of New Hampshire, Bates College and the University of Southern Maine. The research will employ the Frontier Institute for Research in Sensor Technologies (FIRST) facilities and equipment, which is the university's premier research center for conducting nanotechnology and advanced sensor research.
---
Innovative Media Research and Commercialization Center
Intersection of Arts and Humanities, Sciences, and Technology
The Innovative Media Research and Commercialization (IMRC) Center is an interdisciplinary research and experiential learning facility located in Stewart Commons at the University of Maine. The Center builds and supports emerging projects and programs that reflect intersections among the arts and humanities, sciences, and technology. The IMRC Center workspaces encompass research and prototyping laboratories, maker spaces, adaptive presentation environments, and classrooms. The high-performance research, design, media production, and prototyping tools offered in these spaces, along with access to in-house technical training, mentorship, and vocational guidance, are available to welcome, support, and engage all learners.
Over the past year, IMRC Center has worked to provide increased support to the research and academic initiatives of the university. It has also established new stakeholder onboarding strategies, increased transparency, consistency, and accessibility for services. The center has updated diversity, equity, and inclusion practices into operating guidelines, support and showcase opportunities for diverse and interdisciplinary experiences, and applied and navigated successful change and relationship management alongside affiliate constituencies to strengthen the alignment of IMRC Center processes and goals with those of the greater university body.
The IMRC Center is a unit under the Coordinated Operating Research Entities (CORE) and a University Academic Center, with strong integrations with the Center for Undergraduate Research (CUGR), Foster Center for Innovation, the Intermedia Master of Fine Arts Program, and the Office of Research Development. This positions the IMRC Center in a thriving community of research, art, media, commercialization, entrepreneurship, and creative innovation.
Supporting Research Innovation
Since transitioning to a unit under the Coordinating Operating Research Entities (CORE) in 2020, the IMRC Center has embraced new opportunities to support research initiatives, academic curricula, and external commercial projects with access to resources and services. The 2021-22 academic year, has seen a 100% increase in IMRC Center lab and resource access by undergraduate and graduate students, as well as faculty, staff, and community members.
---
Examining Health Factors on Cognitive Function
Maine is the country's oldest state and has been for years. The median age in Maine is 44.6 years old, over six years older than the nation-wide average of 38, according to the U.S. Census Bureau. Maine also has the largest percentage of people over the age of 65.
UMaine's Fayeza Ahmed is trained in clinical neuropsychology and is particularly interested in how cardiovascular health and modifiable health behaviors impact the risk for developing dementia and Alzheimer's disease in middle-aged and older patients. Clinical neuropsychology, a subspecialty of clinical psychology, is the study of brain-behavior relationships that includes diagnosis and treatment planning among psychiatric and neurologic populations. Ahmed, an assistant professor in the Psychology Department, runs the UMaine Health, Aging and Lifestyle Lab, or HAL Lab. Along with her graduate students, she is studying how health behaviors, such as exercise, impact cognitive function.
---
Advancing Understanding of Marine Microbiomes
Lee Karp-Boss and Emmanuel Boss, professors at the University of Maine School of Marine Sciences, completed a month-long research cruise in the western South Atlantic Ocean as part of Tara Ocean Foundation's Mission Microbiomes project. Tara, a French nonprofit that conducts ocean expeditions using its titular research schooner, launched the project in December 2020 to learn more about how marine microbiomes, or assemblies of microorganisms in a given ocean environment, function.
The organization also aims to understand how climate change and plastic pollution affect marine microbiomes. Microbiomes make up two-thirds of marine biomass, support an extensive food chain and play important roles in biogeochemical cycles, yet little is known about their inner workings, according to Tara. Boss and Karp-Boss joined the Tara schooner in early November for part of the two-year, 40,000-mile voyage along the African, South American and Antarctic coasts.
Together with fellow researchers from Brazil, they designed and sampled diverse oceanographic regimes in undersampled regions in Brazilian waters.
---
Fostering Peacebuilding and Conflict Resolution Around the World
Bill Farrell looks at the dynamics of conflict and violent extremism. He has conducted field research in countries across Central Asia, the Caucasus region, and Africa. He has met with government officials, community leaders, stakeholders, and an array of people who have had family members and friends mobilize to violent extremism.
Farrell is an assistant professor in UMaine's School of Policy and International Affairs, where he teaches and conducts research on issues of stability and violent extremism, with a particular interest in Salafi jihadi organizations. His doctoral research comparatively examined mobilization patterns and orientation of local violent extremist organizations in the countries of Central Asia and the Caucasus, noting the change in their focus, once engaged in external jihadi theatres, such as Afghanistan and Syria.
---
Improving Access to Bioinformatics Research Tools through Cloud Computing
Ben King is building a genomics training module in the Cloud for biomedical researchers. The National Institute of Health (NIH) asked the assistant professor of bioinformatics at the University of Maine to lead the development of a training module on cloud computing for genomics.
King is a faculty member in the University of Maine Department of Molecular and Biomedical Sciences and the Institute of Medicine. The Institute of Medicine is a transformative and coordinated community of collaborating researchers and educators that in partnership with health care providers and other stakeholders are dedicated to the advancement of human health and wellbeing in the state of Maine and beyond, through discovery and learning in health and life sciences, from basic and translational research, to clinical practices and healthcare workforce development.
The goal of the project is to develop training materials for biomedical researchers to be able to utilize high-performance computing systems for bioinformatics research using the Google Cloud platform. Bioinformatics applies computational methods to extract knowledge from biological data. King developed a proposal for the project with his colleagues at MDIBL, Joel Graber and Jim Coffman, that was funded by the National Institute of General Medical Sciences (NIGMS) in August.
---
2021 NSF Career Award Recipients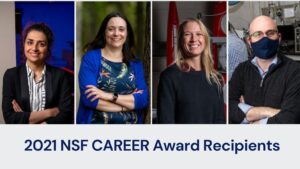 The year 2021 marked a first for UMaine, as four faculty members were selected in the same year for the prestigious National Science Foundation (NSF) CAREER Award, a premier early career funding mechanism, which is intended to support enduring success in scholarship, teaching, and public service.
This prominent award recognizes the exceptional potential of the faculty and their research. In 2021, UMaine's Sheila Edalatpour, Danielle Levesque, Lauren Ross, and Thomas Schwartz all received awards. These outstanding award recipients are highlighted below.
---