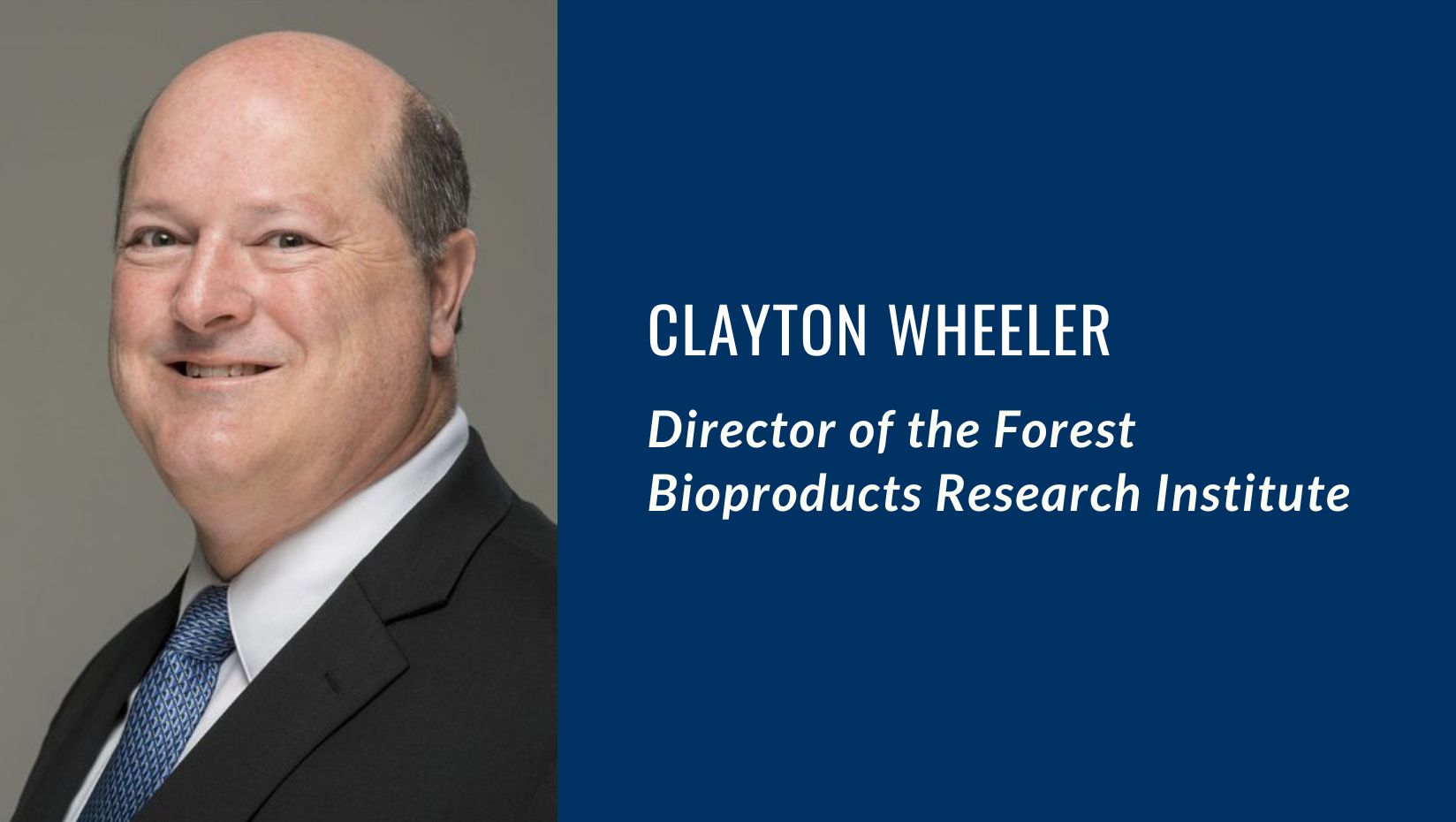 Forest Bioproducts Research Institute welcomes Wheeler as Director
Clayton Wheeler has been appointed as Director of the Forest Bioproducts Research Institute (FBRI) effective July 1, 2023.
Wheeler, a distinguished figure in the field, is a Professor of Chemical Engineering at the University of Maine. He received his Ph.D. degree from the University of Texas at Austin. Prior to joining UMaine, he gained industrial process experience with Texaco, Inc. and sensor design experience during his tenure as a National Research Council Postdoctoral Fellow at the National Institute of Standards and Technology.
His current research interests include thermochemical pretreatment of biomass, applied and fundamental catalysis, and chemical engineering process design. He has integrated creative teaching methods into core process engineering courses at UMaine and a unique, simulation-based, capstone course for pulp and paper technology programs.
In 2011, Wheeler made a significant breakthrough in the field of biofuels. Together with his research team, he developed a revolutionary new type of biofuel using a process called thermal deoxygenation (TDO). The TDO method allows for the transformation of forest residues, municipal solid waste, grasses, and construction waste into hydrocarbon fuel oil, offering a promising solution for sustainable energy production.
Unlike other biofuel processes, Wheeler's TDO process efficiently removes almost all the oxygen from the resulting oil, making it highly suitable as a drop-in fuel for various applications, including gasoline, diesel, heating oil, and kerosene mixtures. Furthermore, the versatility of the TDO process allows it to utilize different cellulose sources, even those that may be contaminated, reducing costs and complexity in the production process.
"I'm honored to succeed Hemant Pendse as Director of the Forest Bioproducts Research Institute whose faculty, students, and staff make significant discoveries in the areas of fuels, chemicals, and advanced materials that impact Maine's, and the world's, bio-economies," says Wheeler. "As the Founding Director, Dr. Pendse grew the FBRI from an 'initiative' comprised of professors and students in laboratories around campus with an analytical laboratory in Jenness Hall into a university-wide Research Institute. Dr. Pendse leaves an impressive legacy."
The Institute now has more than fifteen research staff who operate a 40,000-square-foot Technology Research Center that houses two biomass-to-chemicals-and-fuels pilot plants, along with many other chemical and physical process development units. "I am looking forward to engaging with researchers around campus to develop and implement a plan for not just sustaining but also expanding the impact of FBRI research," says Wheeler.
FBRI was launched by the 2006 NSF EPSCoR Track-1 grant Investing in Maine Research Infrastructure: Sustainable Forest Bioproducts. An important goal of the nearly 7.5-million-dollar grant was to create FBRI "to advance understanding about the scientific underpinnings, system behavior, and policy implications for the production of forest-based bioproducts that meet societal needs… in an ecologically sustainable manner." Since the initial NSF EPSCoR grant, the Institute has been awarded over $64 million dollars in external grant funding and other contracts. 
Read more about FBRI's history and recent developments in the March edition of the Maine EPSCoR Newsletter.
Contact: research@maine.edu
Written by Tilan Copson