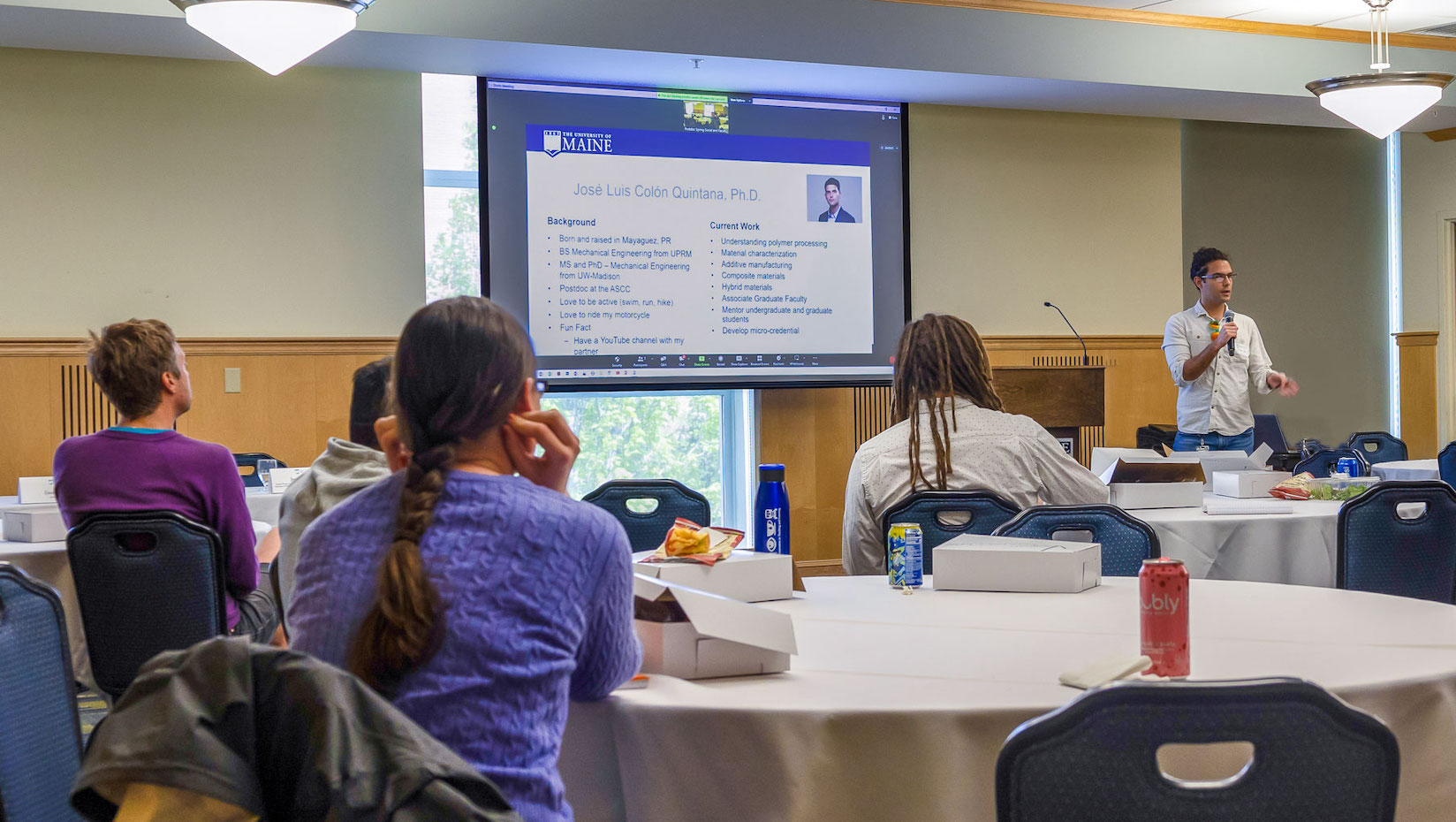 UMaine hosts Postdoc Spring Social and Faculty Panel
On May 19, 2023, several University of Maine postdoctoral research associates, faculty, and other members of the broader UMaine community gathered at the Wells Conference Center in Orono for a Postdoc Spring Social and Faculty Panel, sponsored by the Office of Research Development and the Office of the Vice President for Research and Dean of the Graduate School.
The purpose of the event was to provide an opportunity for UMaine postdocs to gather as a community and engage in professional development as well as informal socializing. Nine postdocs attended in person and three participated virtually. Currently, 31 postdocs are affiliated with UMaine.
This half-day event began with opening remarks from Senior Advisor to the President and Executive Director of Research Development Jason Charland, and Assistant Vice President for Research and Associate Professor of Nature-Based Tourism Sandra De Urioste-Stone. While participants enjoyed lunch, guest speakers shared tips and ideas for exploring Maine. Nearly half of UMaine postdocs are international scholars, so the event was designed in part to inspire postdocs who are newer to the area to explore all that Maine has to offer. After lunch, five faculty panelists shared their insights and advice, drawing on their own experiences as postdoctoral research associates.
Faculty panelists included Emmanuel Boss, Professor of Oceanography; Kristina Cammen, Assistant Professor of Marine Mammal Science; Vikas Dhiman, Assistant Professor of Electrical and Computer Engineering; Cindy Isenhour, Associate Professor of Anthropology and Climate Change; and Jessica Jansujwicz, Assistant Director for Research, Maine Sea Grant College, Research Assistant Professor, Department of Wildlife, Fisheries, and Conservation Biology, and Faculty Fellow, Senator George W. Mitchell Center for Sustainability Solutions.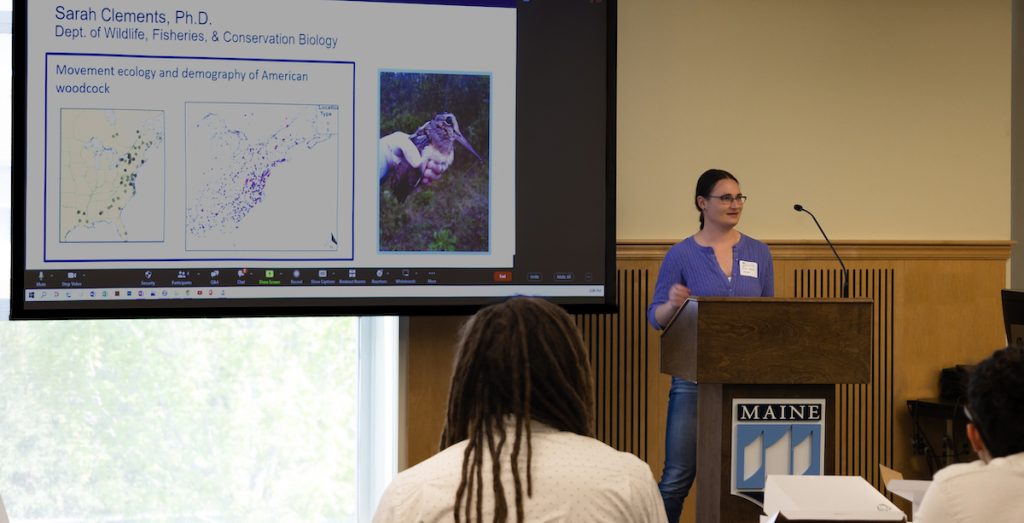 After an insightful and thought-provoking faculty panel discussion, the postdocs who were in attendance spoke for three minutes each about their research in a series of lightning talks. The talks included topics such as "The Movement Ecology and Demography of the American Woodcock" (Sarah Clements from the Department of Wildlife, Fisheries, and Conservation Biology), "Impacts of forest management practices on tick density and tick-borne pathogen prevalence" (Andrés M. Urcuqui Bustamante from the School of Forest Resources), "The Rules of Life Engine (RoLE): A Predictive Model for Biodiversity Genetic Data" (Isaac Overcast from the School of Biology and Ecology), "The Role of Personal Epistemology in Student Reasoning" (Drew Rosen from the Department of Physics and Astronomy), and "National Survey of the US Direct Seafood Sector" (Sahir Advani from the School of Marine Sciences).
The afternoon wrapped up with a casual and celebratory coffee hour. This was the second major postdoc-specific event held at UMaine this spring, following a Postdoc Funding Workshop in March co-sponsored by Fogler Library.
The Office of Research Development hopes to continue to offer programming and resources to celebrate and enhance the postdoctoral research experience at UMaine.
For more information or program details, please contact Proposal Development Associate for Special Projects Jennifer Swalec, jennifer.swalec@maine.edu.