Hughes uses research and innovation skills to show: How much can you do with a cranberry?
Alumni Spotlight: Brianna Hughes
"How much can you really do with a cranberry?"
University of Maine alumna Brianna Hughes answers this question every day as an Innovation R&D Manager for Ocean Spray Cranberries.
Finding ways to develop new products from cranberries could be daunting – but it's a fun challenge for Hughes, who earned her Ph.D. in Food and Nutrition Sciences in 2014.
Her background with the dairy industry taught her that possibilities are endless if you have the creativity and determination to implement them.
"I mean, how much can you do with milk?" she asks.
As it turns out, a lot. And the same is true for the tiny, mighty, super fruit.
Hughes' job is to understand why the cranberry is so amazing in order to share that story with consumers – as Ocean Spray transforms the fruit into products such as juice and snacks loved around the world.
Ocean Spray, a farmer-owned cooperative, has been around for almost 90 years. Hughes credits its global recognition and success on the company's innovative spirit and determination to stay relevant.
"It's highly competitive," says Hughes. "We have to be agile and always looking forward."
Graduate study experience proves invaluable in her career
Hughes' graduate studies and involvement in leadership roles at UMaine contributed to her successful career. She believes the university prepares students for careers by emphasizing interdisciplinary collaborations and working with people with varied styles and personalities.
"It's not just about having an idea; it's thinking through the idea. What makes it meaningfully unique? How can you use a systematic approach to create, communicate and commercialize?" she asks. "Having these skills makes a real point of difference when you go to compete in the job market."
She honed these skills in the Innovation Engineering program and at the Foster Center for Student Innovation. Resources like this are invaluable for students interested in research and development of new products and ideas.
Hughes says it's not just enough to be creative – you have to put muscle behind it, too.
She exercises those muscles frequently each day as the Ocean Spray innovation team continuously looks to meet global demands and understand what different demographics want.
One unique challenge: How do you develop products for places where there isn't even a word for cranberry?
By listening to your consumers and getting input from cranberry farmers who know their fruit best, she says.
Supporting local entrepreneurs with cutting-edge research and innovation
Hughes, originally from New Gloucester, Maine, has experience helping farmers become successful entrepreneurs. Her master's research project focused on developing goat cheese enhanced with Omega-3s to differentiate a local goat farmer's product on a national scale.
After learning how to make goat cheese, she brought the process to the lab and researched ways to incorporate fish oil, a common seafood byproduct, into the cheese to make it unique in the market.
Undergraduate students working with her learned about the research process and grant writing. The project eventually morphed into working with the USDA Agriculture Research Service in Alaska on seafood byproduct utilization – including using salmon oil when making cream cheese.
Hughes believes UMaine is uniquely positioned to be a resource for the many independent Mainers with entrepreneurial spirits. She appreciates the "I wouldn't have thought to do it that way – but let's try it" attitude of innovative community members.
She harnessed that passion for innovation in her doctoral project with the Aquaculture Research Center. She explored ways that abalone, a marine delicacy that sells for roughly $120 per pound, could be grown and processed in Maine by combining cutting-edge research and food science knowledge.
Because of this project, Hughes partnered with the U.S. Army on new ways to process food – in order to provide healthy, efficient meal options for servicepeople.
Inspired to stay connected and give back
She enjoys staying connected with UMaine and using her expertise to mentor and support others in the food science industry. She gives guest lectures, serves on graduate committees, coordinates tours of Ocean Spray. She also is a past chair of the annual product development competition, which UMaine participates in, and which has produced innovative ideas from students.
"Every year we get amazing out-of-the-box ideas from the students," says Hughes. "Two that stand out in my memory are cranberry-dusted popcorn and cranberry-marinated jerky."
Her inspiration for giving back comes in part from Marcus Urann, a UMaine alum and founding father of Ocean Spray. As an undergraduate he helped organize and create the Phi Kappa Phi honor society in 1897. He believed that everything done in life should be for others — a philosophy she shares.
Hughes also believes in driving change by being involved in the community. At UMaine, she served as the Graduate Student Government representative on the Board of Trustees.
The drive to do work that is meaningful is what initially drew her to study at UMaine. After meeting with faculty and hearing how they connected their work to Maine's economy and provided work experience in an applied environment, she knew it was a good fit.
"I wanted my work to have an immediate and impactful purpose," says Hughes.
She is grateful for her experiences at UMaine and respects the deep connection between the research and agriculture, aquaculture and communities – locally and beyond.
"You can't spend six years here and not have it be part of your blood and the way you think and treat people," she says. "There's a deep respect and civility here that I love and I think that is something to carry with you when you leave."
Endless possibilities for "How much can you do with a cranberry?"
Hughes and the Ocean Spray innovation team are interested in developing healthy products that embrace the "food is medicine" mantra and that support Ocean Spray's mission to connect its farms to families for a better life.
With the abundance of agriculture and aquaculture in Maine, there is plenty of opportunity for UMaine researchers to support farmers. They can focus on food safety, food quality or product development to give them an edge – which, in turn, helps the state and its economy.
Hughes' success proves that with determination and support, there is a lot you can do with a cranberry.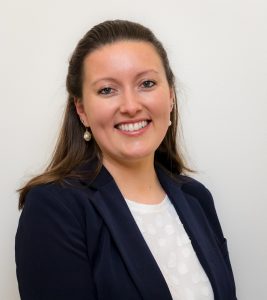 Brianna Hughes lives in Johnston, Rhode Island. She enjoys tending her beehives and gardens when she isn't answering the question: how much can you do with a cranberry? She has a full freezer of cranberries and loves to combine them with blueberries to bake "Downeast Pie."
More information on the Innovation Engineering program and the Foster Center for Student Innovation can be found in this UMaine Today article and on the Foster Center's website.
Media Contact: Christel Peters, 207.581.3571