Eating seaweed is popular, so researchers investigate if it stands up to the hype
Seaweed food products are trending – but do consumers know what they are buying?
Search "eating seaweed" on Google and you'll get pages of headlines promoting health benefits of consuming the ocean-dwelling algae.
"Packed full of vitamins!"
"Low in fat and full of fiber!"
"Seaweed is a superfood!"
In its raw state, seaweed does, in fact, contain beneficial bioactive compounds, including minerals, vitamins and antioxidants.
However, what happens to these compounds during processing, preservation and packaging, and, most importantly, during digestion, isn't known.
Researchers in the University of Maine's Food Process Engineering Laboratory are focused on finding answers.
The majority of lists of up-and-coming popular foods in 2019 overwhelmingly agree: the touted superfood of the sea will appear on more grocery shelves, restaurant menus and local markets in the U.S. and Europe.
But, do consumers know what they are buying? And what should lawmakers know before passing seaweed regulations and setting trade standards in the U.S. or European Union?
University of Maine researchers aim to find out.
An international collaboration is born
Balunkeswar (Balu) Nayak, associate professor of food processing, has been studying seaweed for over six years.
At the 2016 International Seaweed Symposium in Copenhagen, he met biologist and event organizer, Susan Løvstad Holdt, now an associate professor at the National Food Institute, Technical University of Denmark, Copenhagen.
That meeting was the beginning of a significant seaweed research collaboration between the experts from Maine and Denmark.
Three years later, the two work in closer proximity – Holdt is a visiting faculty member at UMaine. Holdt appreciates the opportunities to network in-person, learn directly from other researchers and to share her expertise.
Nayak mentors students working on various seaweed projects in the lab.
One project tests what happens to seaweed as it breaks down in the digestive system.
Another studies the effects of various seaweed processing methods and how seaweed can be used as a as a bioplastic to package other food products.
Other research in the lab focuses on utilizing seaweed compounds as protective coating for medication capsules.
"Collaboratively, we want to know what happens to the properties of seaweed once it has been boiled, dried by heat, packaged and consumed," says Holdt.
"Are the vital nutrients eliminated? Damaged? And what about the bioavailability of the compounds?"
These questions can be challenging to answer. Researchers must analyze multiple species of seaweed while noting the environment, including the temperature, in which the seaweed grows and which season it was harvested. Seaweed collected in spring may different properties than those collected in the winter.
Different species have different chemical make-ups. Some grow in water with high concentrations of heavy metals.
But this doesn't deter the enthusiastic researchers.
Students excited to work on ground-breaking seaweed research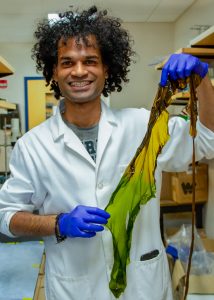 Students who work in the lab say seaweed is underutilized and has potential to become an even more valuable product in the global food market.
In particular, they seek to find the optimal temperatures, treatments and timing conditions to process seaweed for food products and applications while retaining its beneficial bioactive compounds and increasing its shelf-life.
Students are excited for opportunities to do research that can directly impact the local aquaculture industry, farmers and economic development for coastal regions around the world.
"Seaweed is awesome," says Praveen Sappati, a graduate student studying food and nutrition sciences in Nayak's lab.
"There is so much good in it; it's exciting to study how we can make it a safe product for human consumption and improve the health of people."
In the age of climate change, students say seaweed could help feed people. It requires no land, no pesticides, no soil maintenance, or fresh water to grow.
But will consumers find it edible?
So, could seaweed soon become a pantry staple world-wide?
Seaweed has been used for centuries in Asia in food preparation. Product developers now envision endless possibilities for creating food products beyond raw salads and sushi rolls.
There are already a variety of seaweed-flavoring options, snacks and salads on shelves in Europe and the U.S – but they are not regulated or held up to specific standards.
"The food is trending quicker than the laws can be written," says Holdt.
Not everyone finds the taste and texture of raw seaweed appetizing. Nayak and Holdt hope their research helps innovators create products that retain the beneficial bioactive compounds that raw seaweed offers.
The uses of seaweed are endless, and companies are innovative. Possible uses include as a powdered supplement for smoothies, bread enhancer, salt replacement and beer ingredient.
Nayak and Holdt hope data that they collect in their research about benefits and risks of seaweed compounds will inform the setting of seaweed regulations by food safety experts on a worldwide scale.
Perhaps their research collaboration will help transform seaweed from a trending food product to a regulated international food staple.
The researchers attended the 23rd International Seaweed Symposium from April 29 to May 3 in Jeju, South Korea. The symposium is organized once every three years and is well attended by major seaweed players in the world from research and industry.
Nayak's research started with support from a National Science Foundation (NSF)-funded Maine EPSCoR sustainable aquaculture (SEANET) project. He's currently the lead for a $908,015 NOAA grant project with Maine Sea Grant, and researchers from food science, chemical and biomedical engineering, economics and mechanical engineering who are interested in sustainable processing of aquaculture seaweed and value-added products.
Read more about Balu Nayak's work in this online article.
Media Contact: Christel Peters, 207.581.3571