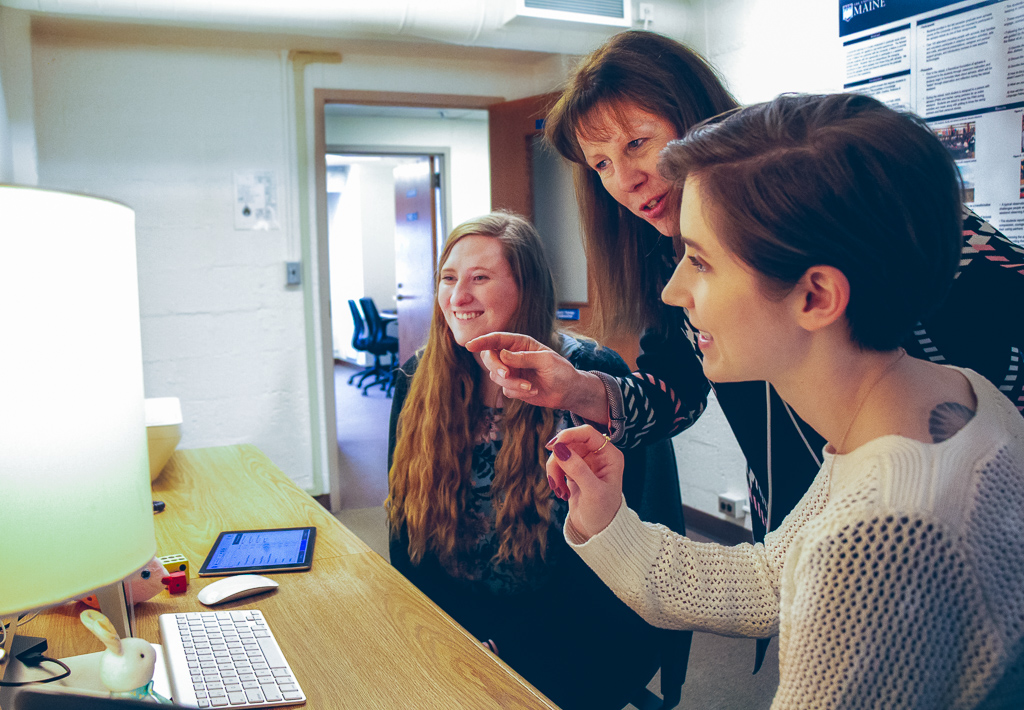 Cutting-edge speech therapy for rural populations fills need around the world
Judy Walker travels to a lot of places during a typical day: several spots in Maine, Canada and even Fiji. All without leaving her lab.
Walker is an associate professor in Communication Sciences and Disorders and coordinator of the University of Maine Speech Therapy Telepractice Program. She oversees services provided by students and faculty to clients around world in need of speech therapy, such as those with language disorders or brain injuries. Most of these clients live in rural areas and do not have easy access to health care services.
The telepractice method, conducting therapy online, is cost-effective and allows sessions to take place with minimal technology. To attend, users must only have a device that can connect to high-speed internet.
Before Walker developed the telepractice program, as department chair she received numerous calls asking her to train more speech pathologists to cover the shortage of providers. But she knew that just training more providers would not solve the problem of servicing people in rural areas around the state, and the world.
She determined that telepractice services would be a work force multiplier by improving accessibility to services over computers through high-speech internet​. ​So, she developed a speech therapy telepractice training program to train future speech-language pathologists this service delivery model.​
Walker says there is more to using this method than simply setting up video chats with clients and pathologists. Curriculum must be developed and infrastructure must be in place.
And she should know. The program is the only one in the state of Maine that trains speech pathologists and continues to expand and evolve to meet demand.
"We are cutting-edge," says Walker. "And we do some of the most creative speech therapy for our clients."
To date, the program has provided one-on-one services to individuals ranging in age from 4 to 85 years old in convenient locations, including schools and their own homes. A powerful advantage of telepractice is that parents or other caregivers can join the sessions to observe from anywhere – allowing the client's support system to become more engaged in therapy and track progress.
UMaine students also benefit from the clinical practicum experience while learning the telepractice model of medical service delivery. They provide a tremendous service for the state – and beyond.
"It's a win-win situation," says Walker, who wants to expand the opportunity for all those in need of these services by admitting more students to the program and performing more research and outreach. The program currently has a waiting list of clients.
Other areas of the world in need of speech pathologists are exploring this novel approach to therapy. Walker publishes her research findings, training manuals and book chapters so other practitioners can have the information needed to begin similar programs in their locations.
One study by Walker's lab found people diagnosed with aphasia, the loss of ability to express or understand speech, who participate in online telepractice communication groups show an increase in friendships and are less socially isolated.
Which is really significant. Not only do these folks have a communication disorder, they're also rurally and geographically isolated – leaving them prone to feeling disconnected from the world.
Walker's research shows that group members feel connected to others in the group – even though they have never met in person – and they can benefit from improved language and decreased loneliness.
The treatment techniques for telepractice are unique. "In working with people with aphasia, telepractice has literally changed the way I do therapy," says Walker.
Practitioners can provide real-world scenarios during a session. For example, they can have a client "drive" through their neighborhood using local 3D maps to gauge how they would react to situations encountered on the road – reading signs, following directions and more.
Walker is proud of the program and enjoys teaching students while caring for people with speech challenges.
"We are helping people every day. Each day brings joy in some capacity," she says.
More information about the UMaine Speech Therapy Telepractice Services can be found on the website. umaine.edu/telespeech
The Albert D. and Madelyn E. Conley Speech, Language and Hearing Center offers clinical education, research, and services. Information can be found on the website. 
*Those in need of clinical services for speech disorders should discuss options with their health care provider.
Media Contact: Christel Peters, 207.581.3571