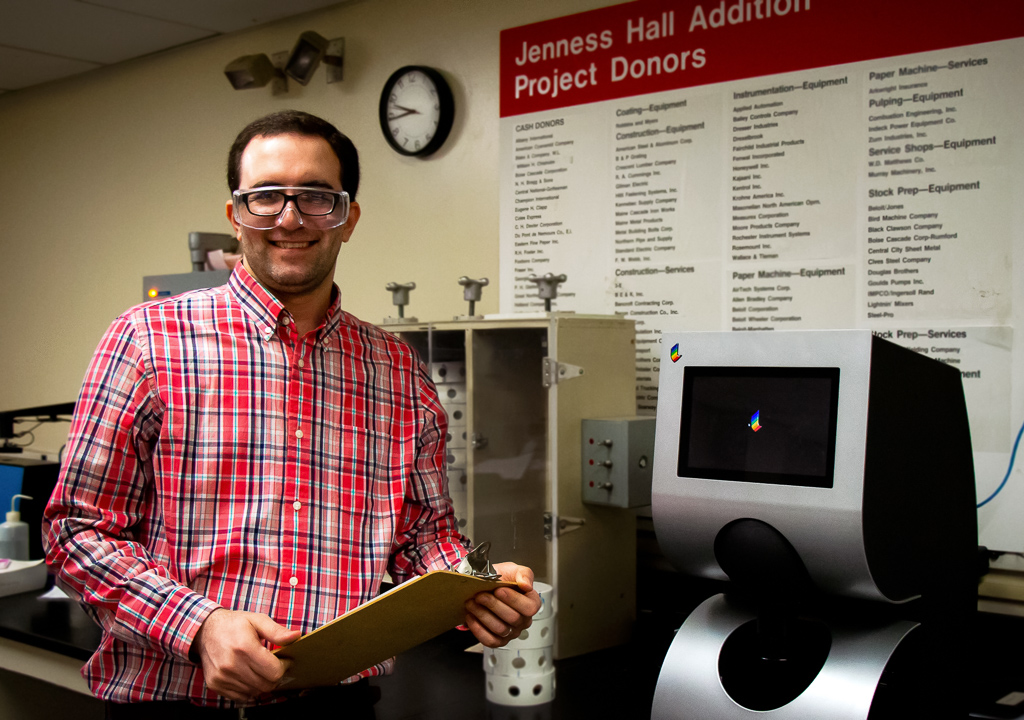 UMaine research goes global with support from OIP
International students at the University of Maine add diversity and enrich the learning experience for all students. They come from a multitude of backgrounds and are some of the best resources in campus to understand a foreign land and its culture. International researchers also richly contribute towards the growing global impact of UMaine research.
Anwesha Sil is a third year doctoral candidate in the Department of Chemistry. She came here in 2016 from India, excited to research the synthesis of photoswitchable organic molecules in Michael Kienzler's lab. When complete, her research will help modulate a dysfunctional ion channel in a cell that is responsible for immunodeficiency disease.
The UMaine research experience has greatly contributed to Sil's research career development. "I have definitely become more independent in terms of research and that has been enriching," she says.
Sil is happy at UMaine and candidly expresses her gratitude towards the facilities in place to support international citizens in campus.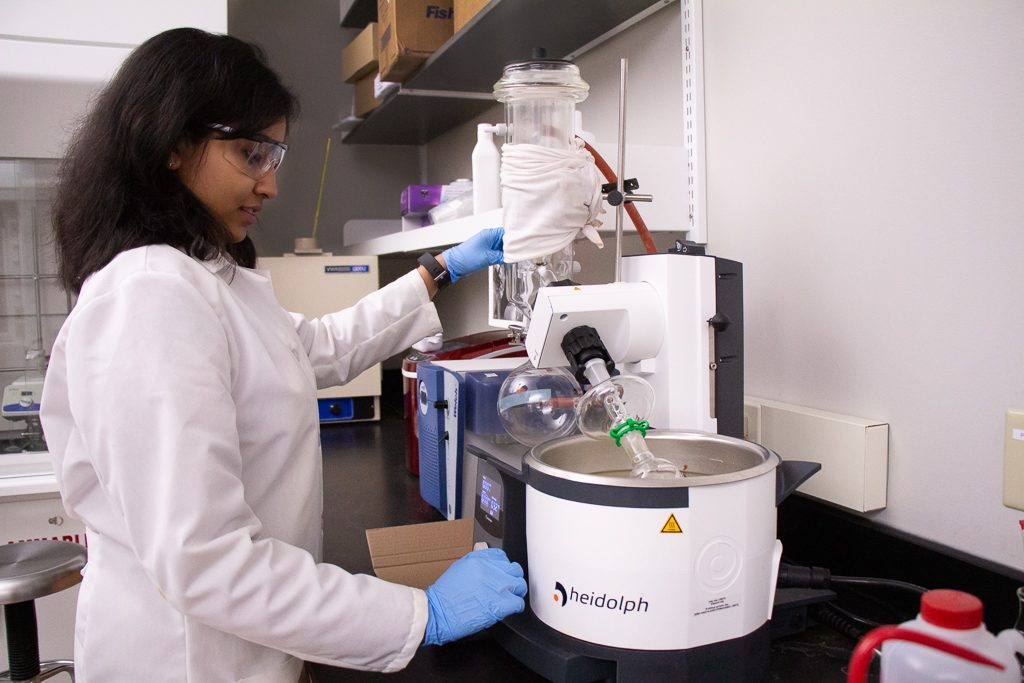 "OIP (Office of International Programs) is by far the most helpful and understanding department at UMaine. They are the best. They'll address your concerns with utmost care and be as understanding as they can."
She enjoys the diversity of the UMaine campus and never felt uncomfortable as a foreigner.
Global awareness of the power of UMaine research.
Seyyed Mohammad Hashemi Najafi is also an international doctoral candidate in the School of Forest Resources, set to graduate in May 2019. Mohammad works in collaboration with advisors from two departments (Forest Resources and Chemical Engineering) at the Advanced Structures and Composites Center (ASCC) and Paper Surface Science Program (PSSP).
Najafi's research aims to improve the quality of paper coating by analyzing the mechanical properties and minimizing "the cracks that appear in the coating of papers at the fold."
The ASCC is a national leader in cutting edge and impactful research in his field and plays a pivotal role in diversifying the forest product market in Maine. Najafi emphasizes the cross disciplinary, stakeholder-driven and market-oriented research structure there. The center organizes many research outreach activities for members of the public, making them aware of the power of UMaine research. This creates a beneficial platform for entrepreneurs and scientists to collaborate and formulate ideas for the future – which impacts Maine's economy and job creation.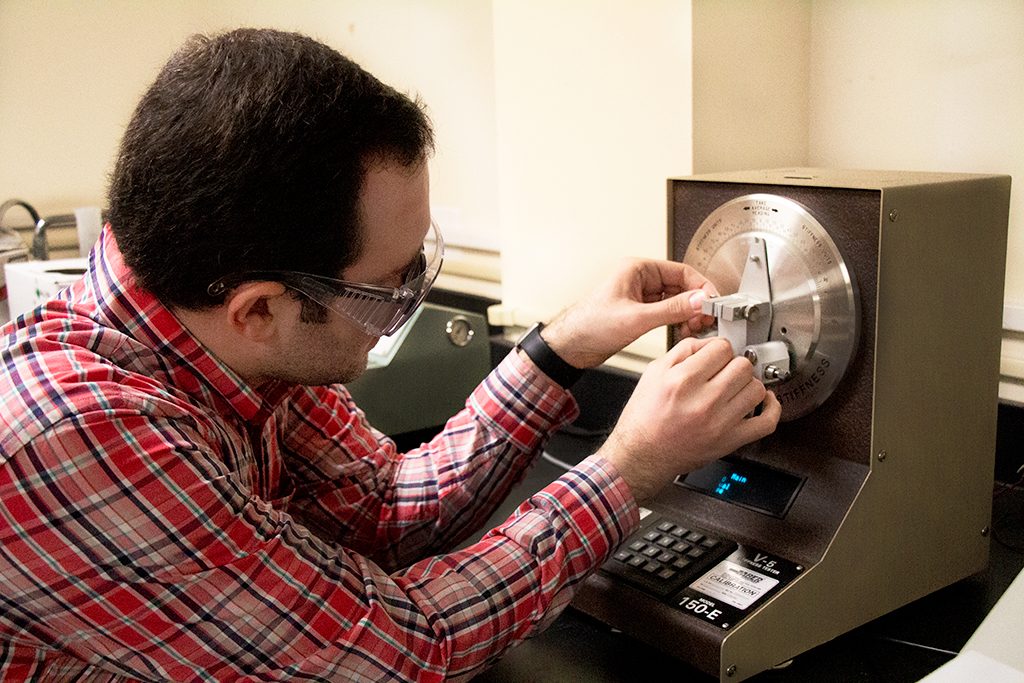 Najafi is from Iran, a country which features very regularly in a controversial light in US media. However, international students from Iran like Najafi feel at home at UMaine. He says his favorite memory will be the friendly smiles of people who welcomed him without prejudice and is overjoyed to have worked with world class research faculty and a research infrastructure second to none.
"I have worked with people [at UMaine] that are very genius and very well known – even in Europe when they hear their name, you know, that's a big guy."
World class faculty are not created in a day.
UMaine puts effort and infrastructure in place to support its faculty members, thereby enhancing their research and teaching experiences. The global experiences of UMaine faculty elevate them to become better researchers and teachers. They add a new dimension to UMaine's fast expanding global presence.
Amy Blackstone is a professor in the Department of Sociology. She has been at UMaine since 2003 and currently divides her time between Sociology and the Margaret Chase Smith (MCS) Policy Center. This policy center "informs public policy processes and societal decision-making through timely research and applied public policy activities focused on critical issues facing Maine and the nation."
As part of her responsibilities in the MCS Policy Center, Blackstone directs Maine NEW Leadership, a residential institute for undergraduate students interested in women's political and civic leadership.
Her broad research interests focus on "sociology of gender, work, food, and families." An avid traveler, Blackstone had always wanted to extend her teaching and research experiences abroad. During her sabbatical in 2016-17, she completed her book, Childfree by Choice, and began to develop a new focus on understanding various interlocking aspects of food, culture, society and sustainability.
Motivated by the Slow Food movement, she took the opportunity to teach a course on sociology of food in Italy. Given that Maine has such a great food culture and sustainability issues are very important here, Blackstone believes that results from her Italian experience can be translated into comparable research for Maine.
Blackstone acknowledges the role of the OIP in her successful trip abroad. "The Office of International Programs is amazing and so supportive. I thought that I would have to convince them of my value or worth as a candidate for teaching abroad. But what I discovered was the second you express an interest in international teaching, they're going to support you every step of the way and be your advocate for helping you find the right fit for you. I can't speak highly enough about OIP."
Being in Italy has given her food for thought as a researcher, especially when she attended a conference there and had great networking and collaboration opportunities with like-minded academics. These networking opportunities have given her new ideas for research collaborations as she returns to Italy in 2020.
Apart from being a great inspiration for faculty to utilize UMaine's wonderful infrastructure to go global with research and teaching, Blackstone also encourages students to explore the world.
"I've always thought that there's no more doable time to do it than when you're an undergraduate student. But I discovered there are opportunities for people even after they've left their undergraduate career. And I'm so grateful for that because I thought that time had passed."
Media Contact: Christel Peters, 207.581.3571
Authored By: Baidehi Roy
---
The Office of International Programs helps UMaine faculty and students go global with their research and teaching. They provide assistance regarding any international venture and immigration concerns of all international citizens on campus.
Please visit their website for further details.