Undergraduates gain hands-on Maine marine experience
Student researchers collaborate between campuses – and beyond
The Interdisciplinary Undergraduate Research Collaborative (IURC) has funded nine projects in 2018. These projects involve teams of two or more faculty members from different disciplines who mentor undergraduate researchers.
The goal is to enhance research through collaborative work and to prepare students to become successful professionals and lifelong learners as they experience invaluable experience learning outside the classroom.
One project taking the ultimate interdisciplinary approach is "Coastal ecosystem science for Maine's marine economy and coastal communities," led by principal investigator Heather Leslie, director of the UMaine Darling Marine Center and Libra Associate Professor in the School of Marine Sciences.
"We want students to experience research as it comes together, and to learn to ask questions that integrate different knowledge domains and the perspectives of individuals inside and outside of the academy," Leslie says.
Leslie co-founded the SEA Fellows Program two years ago with Brian Beal, professor of marine sciences at the University of Maine at Machias (UMM). Their joint vision was the beginning of what is now a multi-institutional collaborative supported by the UMS Research Reinvestment Fund (RRF) through the IURC.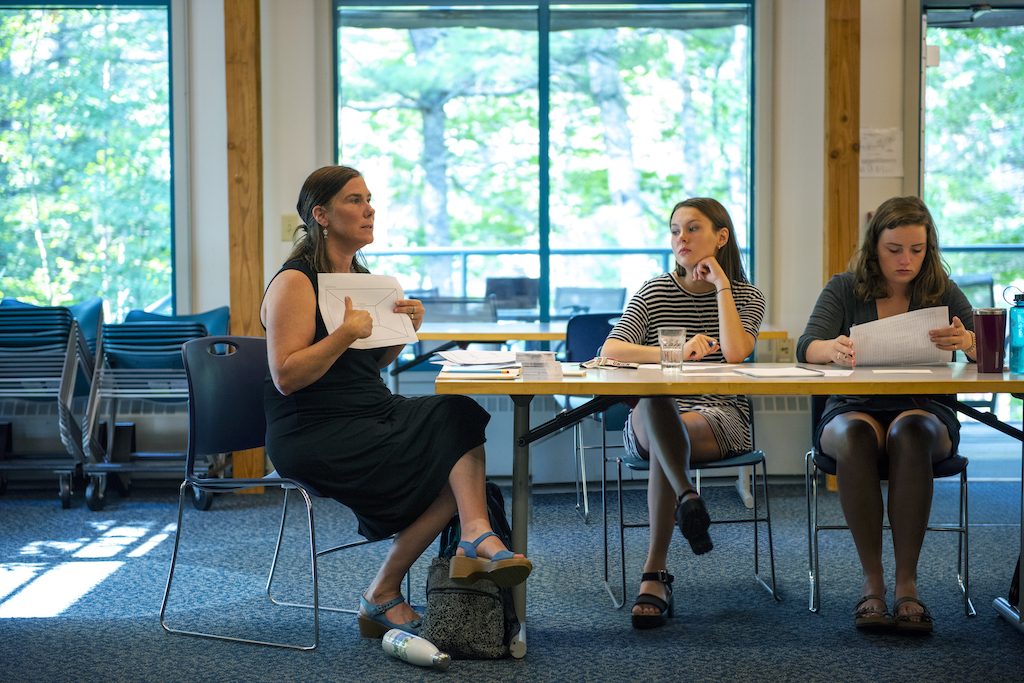 Interdisciplinary research collaboratives catalyze research-industry partnerships
SEA Fellows builds on growing connections among marine scientists at multiple University of Maine System campuses, and includes faculty with expertise in biogeochemistry, ecology, physiology, oceanography and interdisciplinary conservation science.
Faculty mentors engaged in the project, in addition to Leslie and Beal, include Damian Brady, Kristina Cammen, Paul Rawson and Jeremy Rich from the UMaine School of Marine Sciences, and Rachel Lashley-Rasher from the Department of Biological Sciences at University of Southern Maine (USM).
This summer, undergraduate researchers on the project worked around the state. Their projects focused on different dimensions of coastal ecosystem research with the goal of advancing knowledge of how coastal ecosystems work and contributing to sustainable use and conservation of these valuable systems.
In addition to collecting ocean data (Katie Raffier) and exploring the potential for developing a new fishery for the invasive European green crab (Emma Ober), 2018 SEA Fellows studied: culture methods of the Atlantic razor clam (Brianna Desoto and Jessica Lindsay); changing seal populations in Maine water (Emma Newcomb); and microbial and shellfish ecology in the Damariscotta River Estuary and other coastal Maine waters (Dory Freeman and Maggie MacMahon).
Undergraduates receive support, gain knowledge through interdisciplinary, team-based experience
Cammen says undergraduate participants learned how to better communicate across disciplines and with diverse stakeholder groups by working as an interdisciplinary team.
The students' work culminated at the SEA Fellows Science Symposium Aug. 7 at the Darling Marine Center. Students presented research posters and engaged with more than 80 attendees, including industry professionals, resource managers and interested citizens.
The undergraduates mentored by Brian Beal had not conducted their own research prior to this summer. He says the information generated by the projects will provide data that can be used in a larger research project proposal.
"The proposal could have a significant impact on coastal communities along the Maine coast," says Beal.
The project exemplifies interdisciplinary methods by bringing together researchers at UMaine, USM and UMM. It encompasses biotechnology, aquaculture and marine technology, and environmental technology sectors as students were immersed in research from Casco Bay to Eastport.
---
The SEA Fellows Program, now in its third year, is supported by the Darling Marine Center, the Downeast Institute, SEANET and Maine EPSCoR, and the UMS RRF.