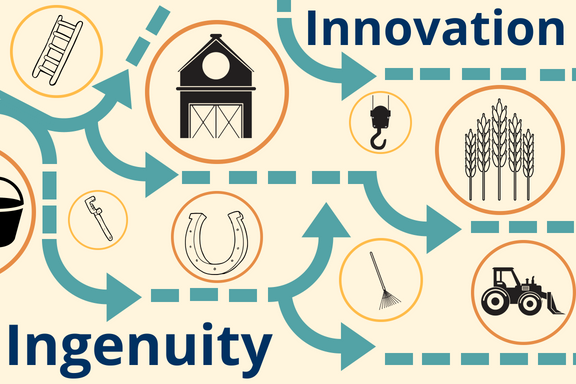 DePoy's passion fuels research about aging Maine farmers
The unique aspects of Elizabeth (Liz) DePoy's horse farm, Chapter Three Farm, in Newburgh, Maine are not immediately noticeable. Equipment is lined up neatly along the walls. Hay is stacked in convenient locations. There are the usual sounds of shovels cleaning stalls and horses chomping their mid-day meal. DePoy and her husband, Stephen Gilson, exchange witty banter as they perform the daily activities of keeping a horse farm running. As eyes adjust to the dark, cool interior of the barn, the slight adaptations in the barn and the equipment begin to emerge.
Tools have been adapted to tasks different than those for which they are typically used to avoid injury and added stress. The dustpan has an extra-long handle, an electric winch is used to raise and lower the hay conveyor, and the John Deere tractor has easy-to-change attachments for various tools. Wheelbarrows (one with a motor for self-propelling) and other equipment have easy-to-maneuver wheels and specially-installed handles. Ramps are located throughout the barn.
If not for their ingenuity and determination, the Chapter Three Farm – which is their home – would not exist. DePoy and Gilson conceptualized the multitude of adaptations to equipment in order to live their dream and independently operate the farm as they age.
Adapting to "Age in Place"
As a professor at the University of Maine, DePoy's passion for farming and interest in the farming community led to her current research project, "Aging Maine Farmers: Investigation of Their Aspirations, Needs and Ingenuity." The study aims to discover the needs and problem solving strategies of independent farmers and how services could be made more relevant and utilized as farmers "age in place", or remain in their home and work as long as they choose.
"I'm interested in this because it's my life," said DePoy. "I live it, I love it – and it has become a passion for me."
Farmers have always had to adapt tasks and chores to maintain their farms. However, with the population of aging farmers growing each year and fewer young farmers entering the field, home-grown adaptations may not be enough to keep farms operating on a large enough scale. If a farm cannot be maintained, it must be shut down – or even sold, which means losing not only the farm, but homes as well.
DePoy seeks to inform the development of relevant services with the data obtained from her research, which could lead to farmers continuing to prosper as they age in place on their farms.
"I'm not a farmer by trade, I'm a hobby farmer," explained DePoy. "I have the luxury to afford what I need. But those who rely on their farm for their income don't have that luxury."
Disability services sound nice, if you don't need them…
According to DePoy, from her previous research with Richard Brzozowski of UMaine's Cooperative Extension, there are many services for disabled farmers but these services are underutilized.
"Farmers don't talk about how they are 'disabled' – they talk about not being able to do things," explained DePoy. "They don't say, 'I have a spinal cord injury' or 'I have glaucoma' – they say, 'I can't get up to the hayloft' or 'I can't see like I used to'."
DePoy is a perfect example of aging farmers' resilience and ingenuity. At 68 years old, she has no plans to retire from academic life or from running her horse farm. She talks about others in the community who not only want to keep farming – but need to keep farming – and how they rely on one another for advice and support.
"We talk more about these issues at the country store down the street than at an official meeting," said DePoy. "If Farmer Joe hurt his foot last week, he'll share what he did to be able to keep working and then everyone can make note: 'if that ever happens to me, I should try that.'"
Services need to relevant to be utilized
"This work by Dr. DePoy is an important example of the groundbreaking research on aging in rural communities taking place at the University of Maine, and the resulting programs and services created in support of those communities."

Dr. Kody Varahramyan, Vice President for Research and Dean of the Graduate School 
An online network of resources, such as a forum and/or collectives, is one potential way farmers could share stories and support one another. With their technological savvy, farmers themselves could develop and facilitate systems that others in the farming community would be likely to trust and utilize. Most available services have the best intentions, but if they are not used, they are wasted. She envisions a community of farmers using their knowledge collectively to support one another with ideas, online trade/exchanges and virtual messaging to share blueprints and imagery of their sustainable practices; such as strategies used in many other countries, according to DePoy.
Farmers, as demonstrated by DePoy and others, are committed to their work. Being able to stay safely in their homes into old age takes dedication to their livelihood because if they lose their workplace, they lose their home. DePoy wants farmers to have more relevant options to be able to age in place and continue to work and live doing what they love as long as they choose.
"I wish people knew that aging farmers are smart," said DePoy. "They're ingenious and love their work."
As she sits on her deck, overlooking the pasture, she gazes out on her farm and says, "It is nice here… Nothing like it."
And with her ingenuity and passion, she plans to age in place as she chooses.
DePoy's research project is funded by the Faculty Research Funds program through the Office of the Vice President for Research and Dean of the Graduate School at UMaine. She is a professor of Interdisciplinary Disability Studies for the Center for Community Inclusion and Disability Studies, Social Work and Cooperating Faculty, School of Policy and International Affairs and Mechanical Engineering.
---
Media Contact: Christel Peters