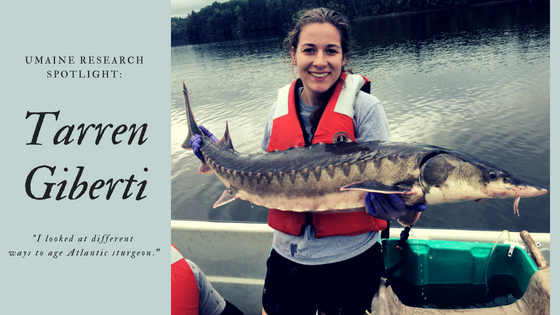 Alum to present research on endangered Atlantic sturgeon at upcoming national conference
Whether it's wrestling a four-foot sturgeon or trapping a four-inch minnow, Tarren Giberti is in her element.
Tarren Giberti loves fish. Big or small, she has a keen interest in studying their behaviors and anatomy. Her field work and research at the University of Maine provided ample opportunity to spend time with some of the larger species: Atlantic sturgeon. She was hooked.
Giberti graduated in May with a Bachelor of Science in Marine Science with a concentration in Aquaculture. As an undergraduate, she worked on a project with principal investigator, Dr. Gayle Zydlewski, titled, "Alternative aging methods for Atlantic sturgeon: Research to improve management of a pre-historic natural resource." This project, partnered with U.S. Geological Survey (USGS), aimed to obtain research data to better manage the threatened species.
According to Zydlewski, an associate professor in the University of Maine School of Marine Sciences, it is important to know how many sturgeon are present in a population – but just as important to know the ages represented in the population. In order to sustain the species, the population must have a good age distribution or the reproductive capacity could be limited. Similar to humans, the species needs young, middle-age and elderly individuals to thrive.
Until an accurate picture of the Atlantic sturgeon population is known, they will remain on the endangered species list. Until they are removed from the list, sturgeon fisheries will be closed.
How do we know the age of a sturgeon?
Traditionally, scientists age sturgeon by sampling the spine of their pectoral fins. According to Giberti, it's much like counting the rings on a tree to determine how old it is – except in the case of sturgeon, scientists analyze the banding patterns on the pectoral fin to estimate their age. This method can be destructive; removing the sample creates a weak spot in the fin that could result in the fin being ripped away from the fish if the notch were to catch on something.
The research team is testing a less invasive alternative method of learning the age of the sturgeon that is just as accurate. All of their work is done under an endangered species research permit from NOAA-Fisheries and approved by the University of Maine's Institutional Animal Care and Use Committee. The hope is to utilize this, or similarly less destructive methods, to enable agencies such as the Maine Department of Marine Resources (DMR) and NOAA Fisheries to manage the sturgeon population. Ultimately, scientists could use these findings and one day, Atlantic sturgeon would no longer be an endangered species. If that happens, fisheries could reopen and result in a new source of revenue for the state of Maine and beyond.
Undergrad to professional: research is life-changing
The methods Giberti developed have given researchers the preliminary basis for continuing investigations into sturgeon aging. This also provides an opportunity for UMaine to collaborate with other researchers to obtain a statistically rigorous sample. Students and faculty are building relationships with colleagues from Canada, the University of New England, the Maine Department of Marine Resources and the USGS as they continue the project.
Giberti will be presenting the project's findings at the National American Fisheries Society's annual meeting in August. Now working for the University of Wyoming as a fisheries technician, she credits her university research experience for giving her valuable insight into what she would be doing for the rest of her life's career.
Her advice for students: find research opportunities as a student and take advantage of exploring career options. "If you get the chance – do it," said Giberti. "It's life changing."
---
This project was originally funded by the UMaine Research Reinvestment Fund (RRF). Information on research funding opportunities can be found online.