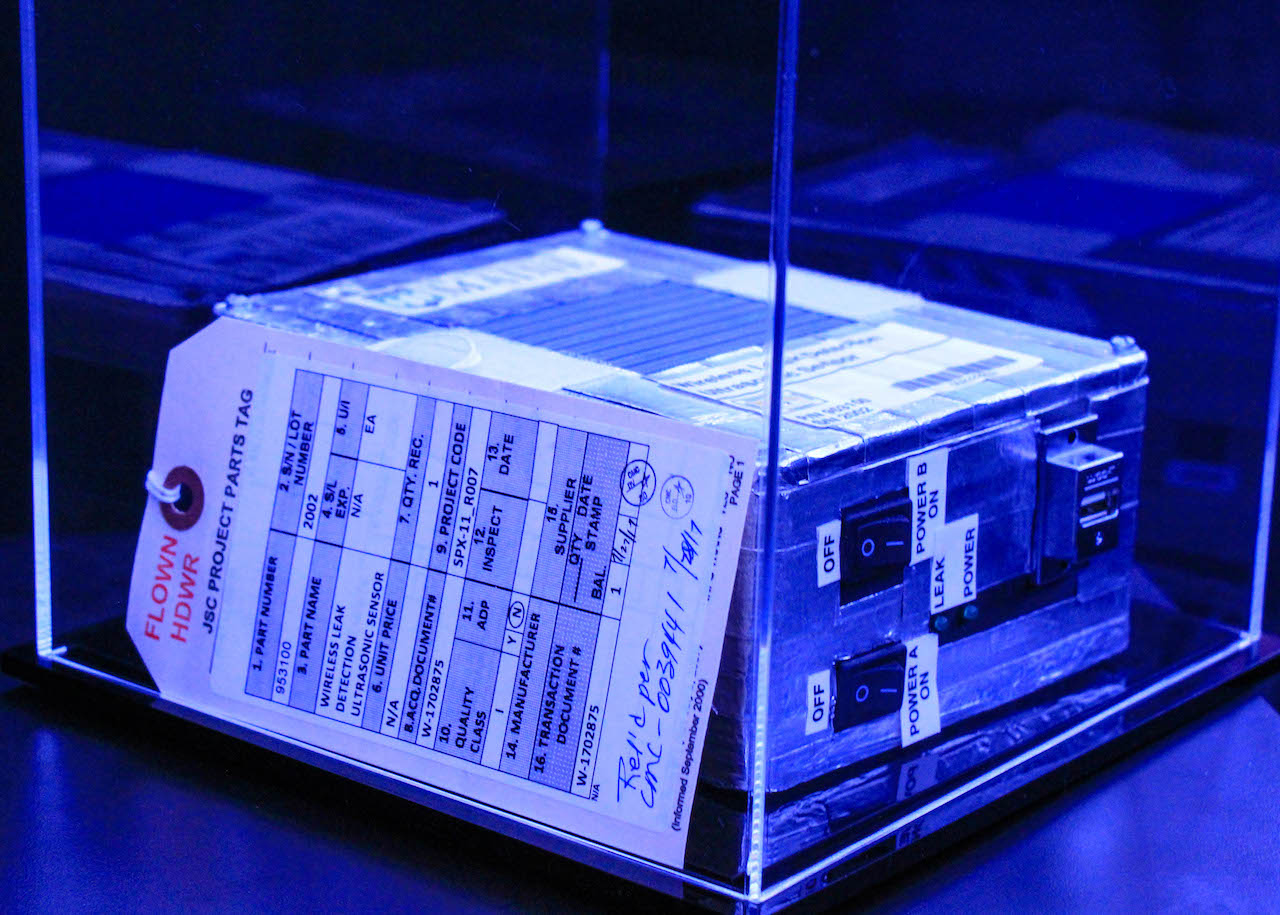 Celebrating UMaine's First NASA Payload: Wireless Leak Detector Now on Display
Impacting Space Travel – And More
In December 2016, the University of Maine's WiSe-Net laboratory sent technology to the International Space Station (ISS), a device developed by Dr. Ali Abedi, professor of Electrical and Computer Engineering, Dr. Vincent Caccese, professor of Mechanical Engineering and a team of student researchers. The Wireless Leak Detector (WLD) technology used ultrasonic wave sensors to detect and pinpoint the exact location of air leaks occurring in the space station caused by micrometeriods and orbital debris (MMODs). NASA astronauts successfully installed and utilized the WLD to send data back to Abedi's team for analysis.
Why is this technology important? Astronauts have only minutes to detect and fix significant air leaks that occur before having to shut down areas, or even evacuate, the space station. Right now, according to Abedi, the astronauts know a significant leak is occurring by monitoring the air pressure in the space station. When air pressure decreases, it suggests there is a leak and astronauts must rapidly search for the cause. Once they locate it, they can patch it.
The WLD reduces the time from minutes to seconds to find these dangerous air leaks. Astronauts could use this technology to become immediately aware of a leak, know its location and repair the leak in mere seconds – thus reducing the threat of having to suspend activities or even evacuate the station itself.
This technology is not limited to use in spacecraft. According to NASA, wireless leak detectors would also be beneficial for any pressurized environment where leaks are hazardous – such as submarines, airplanes, pipelines and fuel tanks – in creating safer work conditions for humans and safeguarding the environment.
Creating a NASA-approved Device
This is UMaine's first payload to be sent to (and returned from) space. The research and development of the WLD was one of five projects funded by NASA's ISS Technology Demonstration Office, according to Abedi. "Only two of the five projects actually finished products that went to space – and ours was the only university payload," he said.
Anything sent by NASA into space goes through meticulous analysis and planning to become flight certified. Abedi described the rigorous training, collaboration and documentation required to make the WLD and its functions conformed to NASA's strict guidelines. Luckily, Abedi had two excellent students working on the WLD to whom he gives credit for the success of this project.
"Casey Clark and Dr. Lonnie Labonte did such a great job," Abedi said with pride. "They really did the majority of the work and it took a lot of dedication."
"We had to iterate our design many times to meet NASA's safety requirements," said Clark. "Building devices for the Earth is much easier than building devices for space."
Listening for Air Leaks
The WLDs "listen" for air leaks with ultrasonic microphones, according to Abedi. However, it's not as simple as hearing the hiss of air leaking. The WLD must filter all other noise and interference to find the ultrasonic, high-frequency noises which emanate from a tiny hole. "You need to know the signature and the language," said Abedi. "There is a lot of software, a lot of mathematics behind it."
Working in the lab, the team was able to design a device that would be functional and easy to use for the astronauts.
"We used a relatively easy-to-use microcontroller system called an Arduino," said Labonte. "It allowed for simplistic programming and plug-and-play shields that really streamlined the design of the overall system. Of course, using a simplistic microcontroller had its limitations, but we were able to overcome these limitations with some clever engineering."
UMaine Research Work Impacts Future Careers
Clark and Labonte both describe their research work at UMaine with pride and appreciation. They have since graduated and embarked on successful careers in their related fields. Clark, of Old Town, Maine, earned his Masters in Electrical Engineering and now works as a ground segment engineer for SpaceX in California. Labonte, of Rumford, Maine, continues his work with NASA as a computer engineer at NASA Goddard Space Flight Center in Maryland.
"I am extremely grateful for Dr. Abedi and the years I spent at WiSe-Net Lab. I still use these hands-on engineering practices every day at work."

Casey Clark
Student researchers not only gain hands-on experience; they take away a greater understanding of how important research is for all – no matter how big or small.
"The work on WLD with Dr. Abedi showed me that even small universities can play a role in space travel and technology. This work inspired me to stay in the aerospace field; because of this I enjoy my job every day."

Dr. Lonnie Labonte
Displayed with Pride
Ultimately, Abedi's team sent three WLDs to the International Space Station. After testing was successfully completed at the space station, NASA returned the WLDs to Abedi; who in turn offered one of the three payloads to the Emera Astronomy Center for use as a permanent display in the lobby for everyone to enjoy. The exhibit was recently unveiled to an excited audience.
The center has eagerly followed the project from its beginning; it held a launch party when the payload package blasted off to the International Space Station in December 2016. According to Shawn Laatsch, Director of the Emera Astronomy Center and Jordan Planetarium, the center is the ideal place to showcase UMaine's first space payload as it hosts numerous public programs and school field trips each year.
"It is a great way to showcase how students from our university were able to get involved with NASA and space exploration, "said Laatsch. "It is amazing that this technology was developed here by Dr. Abedi and a team of undergrad and grad students.  The technology has benefits beyond space and is a great example of how science research can benefit our lives in numerous ways."
"I think it's great to teach the students at UMaine the possibilities that are available right at their school if they look in the right places," said Labonte.
Clark agreed. "I'm very happy & thankful this is now on display. Many students at UMaine are ignorant of the cool projects going on around them, and I hope this display can help them become aware."
The Future of WLDs
The research and development of the WLD created an important base for future models of this technology to be used in a variety of applications.
Clark explained the original goal of the WLD technology was to be an automated method to monitor space habitats, with the overall goal of increasing astronaut safety. Now, this technology can be utilized for many pressurized system monitoring needs.
"WLD research paves the way for the creation of a set-it and forget-it leak detection system for spacecraft and habitats for years to come," said Labonte.
An interesting graphic animation depicting the MMODs surrounding Earth. Spacecraft, such as the International Space Station, are bombarded by these particles constantly – making the WLD technology crucial for future space travel.
---
For more information contact Ali Abedi
For media information contact Christel Peters
Be sure to subscribe to the UMaine Research – IMPACT monthly newsletter for more stories like this.