UMaine Percussion Ensemble in Switzerland
Flâneries Musicales de Champéry
International Music Festival
Champéry, Switzerland
July 29 to August 12, 2001
High in the Alpine village of Champéry, nestled in an lush valley at the foot of the Dents du Midi peaks on one side and the Dents Blanches on another, the University of Maine Percussion Ensemble directed by Dr. Stuart Marrs, Prof. of Music, settled in for two weeks of concerts, master-classes, and percussion workshops. The ensemble was one of the featured groups at the Flâneries Musicales de Champéry, an international festival of music produced by a committed group of local organizers.
The UMaine Percussion Ensemble gave two outdoor concerts, one in a plaza by the Catholic church and one at the ski lodge, 1,000 meters above the village, accessible to us by jumbo cable car.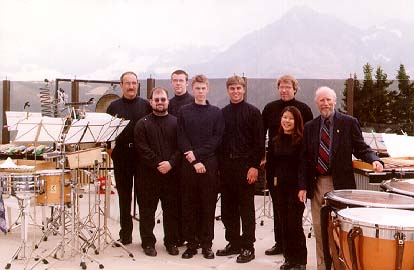 In addition to the concert series, the Flâneries Musicales festival offered two seminars: Percussion and Orchestra. There were percussion students from Switzerland, Costa Rica, Israel, and the United States. Except for performance days, each day began with master classes and presentations by two percussion faculty — Dr. Stuart Marrs and Prof. Siegfried Schmid. In the afternoon, diverse groups of seminar students rehearsed percussion ensemble works for the final seminar concert on August 12.
Jan Dobrzelewski, music director of the festival and Dr. Marrs form a violin and percussion duo. They presented a concert at the festival with music from their recently released CD "Percussion Continents I."
Some comments from UMaine Ensemble members: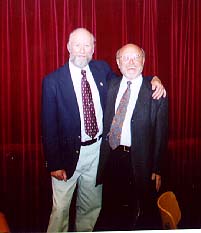 "All in all this was the experience of a lifetime. I had the chance to meet some really great musicians, hear some excellent solo artists, and learn a lot about the art of percussion. Traveling to a different country, a different culture, is something that everyone should do as much as possible. This helped me to see how other people live, but also gave me the insight I need to make myself the best musician I can." -Ryan Parker
"I want to go back……now!" -Ted Nokes
Members of the University of Maine Percussion Ensemble on the Switzerland tour were:
Dave Halvorson
Stephen Hay
Kevin Mania
Kiko Miura
Ted Nokes
Ryan Parker
Tom Schmidt