The Cracker Barrel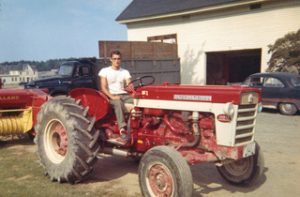 Memorial bench in memory of Robert and Phyllis Rhoads has been donated to the museum by their daughter, Ruth Anne Rhoads-Vigue, '78. The granite bench is inscribed,
"In Loving Memory:  Robert and Phyllis Rhoads:  Founders of the Page Museum and Life long educators and farmers:  Forever in the hearts of the family they loved so dearly"
Robert Rhoads, '50, '51(G)
| | |
| --- | --- |
| Degree | BS 1950 Coll.of Life Sci & Agr (Major: Agric. Engineering), MS 1951 Graduate School (Major: Agric. Engineering) |
Upon graduation from the University of Maine in 1950, Bob accepted a position in Detroit, Michigan, at a farm equipment manufacturing plant. He moved his wife and newborn daughter to Michigan, where they lived for one year, before returning to Maine to accept a teaching position at the University of Maine and raise a family.  Professor Emeritus of Bio-Resource Engineering.  Associate Dean Emeritus of Resident Instruction. Bob was a dedicated advocate for his students and was admired and respected by students and colleagues alike.  Advisor to Alpha Gamma Rho Agricultural Fraternity, establishing Maine Ag in the Classroom, and helping to found the Page Farm and Home Museum.  Bob was always willing to open his home to international students during school breaks and holidays. There was always room for one more at the Rhoads table.  Bob was raised with a love of farming. He spent his summers as a child on his mother's farm in Kentucky. This led him to want to give his children the same experience. He and Phyllis purchased a 140- acre horse farm in Old Town, which they transformed over the years into the beautiful Rhoads End Farm. It was here that they would raise their family.  Bob's family was everything to him. He worked hard to provide the best life he could for his wife and four daughters. He taught his daughters the value of hard work. For Bob, it was important to always do your best in everything you do in life. He also taught them the importance of giving to others. Bob would give the shirt off his back to someone in need. Bob was an active member of the Orono United Methodist Church, where he gave back to his community through many types of service.
Phyllis grew up in Portland and attended Deering High School. When she was a senior in high school, her family moved to Falmouth Foreside, but she finished her senior year in Portland. She spent her summers at her family's cottage on Pine Point. Here, she developed a love for the ocean that would last a lifetime. She was an avid rider and a member of the Deering High School Equestrian Team.  Phyllis went on to attend Chamberlain Merchandising School in Boston, Massachusetts, graduating in 1945. She loved the city life in Boston, but returned to Maine to attend Portland Business School. At a friend's wedding, she was reintroduced to her kindergarten classmate, Robert B. Rhoads, who would become the love of her life. They were married in 1948.  Phyllis worked for the phone company in Bangor to help her husband complete his degrees at the University of Maine. Bob's career then took Phyllis and their newborn daughter to Detroit for a year before returning to Maine to raise a family. Phyllis and Bob purchased a 140-acre horse farm in Old Town, where Phyllis devoted herself to making a beautiful and loving home for her husband and four daughters.  Phyllis chose to be a stay-at-home mom so she could always be there for her daughters. The smell of fresh baked cookies and bread was always in the air. The cupboards were always stocked with cans of homemade preserves and vegetables. Nightly dinners were a special time to share each other's company and enjoy a delicious home-cooked meal.
Bob served on the Museum Committee, est. 1986, to develop plans for an agricultural museum.  Bob joined the committee in 1989.  The Museum moved and renovated the main barn in 1991 and opened in 1994.  Bob served as the first Chair of the Board of Directors of the Page Farm and Home Museum.  He also served on the Endowment Campaign Steering Committee, which raised $1 Million dollars to support the operations of the Museum.  Phyllis stood by Bob in all his endeavors, offering both moral and administrative support.  The granite bench was installed on the Museum grounds in late 2020 and makes a lovely and fitting addition to the campus, which they loved so dearly.
Class of '63 makes gift to Preservation Project
"Hats off" to special guest Dana Dolloff and his fellow University of Maine Class of 1963 Alumni! The Page Museum would like to express our thanks for the generous donation given to us by this UMaine class and highlight their contribution to the Preservation Project. The Preservation Project is a campaign to fund the restoration and preservation of the historical structures that house our artifacts, and give insight into what Maine life actually looked like in the past. Thank you UMaine Class of 1963!
New exhibit!
The Friends of Dr. Edith Marion Patch have completed the installation of the Dr. Edith Marion Patch Exhibit.  Edith Marion Patch was the first woman scientist employed by the University of Maine. She arrived in Orono in 1903 to start the entomology department at the Maine Agricultural Experiment Station, but had to work for a year before the board would approve her salary. Some, it seemed, had doubts as to whether a woman could do the job! Edith Patch proved them wrong, and proved herself a dedicated and skilled scientist. She earned her Masters degree at the University of Maine in 1910, and her doctorate from Cornell University in the following year. She earned the respect of her scientific colleagues, who elected her a fellow of the American Association for the Advancement of Science in 1913, and president of the Entomological Society of America in 1930.
The Friends of Dr. Edith Marion Patch are working to preserve and carry on the scientific, environmental, and educational legacy of this internationally renowned Maine woman.  Their efforts include educational programs and publications for youth and adults, and rehabilitation of Dr. Patch's historic home, Braeside, just north of the campus of the University of Maine.  FMI on Dr. Patch or joining The Friends, visit: https://edithmarionpatch.wordpress.com/
Saint Distaff's Day, or the Morrow After Twelfth Day
But whereas women would recommence spinning on Distaff Day, the men did not return to the plough until after Plough Monday when their ploughs had been blessed. Robert Herrick, who in 1648 published a collection of his poems 'Hesperides,' describes young people, maids and ploughboys, playing and pranking at this time with the lads setting fire to the flax and in return, the maids soaking the men from the water-pails…
Partly work and partly play
You must on St. Distaffs Day:
From the plough soon free your team;
Then cane home and fother them:
If the maids a-spinning go,
Burn the flax and fire the tow.
Bring in pails of water then,
Let the maids bewash the men.
Give St. Distaff' all the right:
Then bid Christmas sport good night,
And next morrow every one
To his own vocation.
On tenterhooks
To be on tenterhooks (not tenderhooks) is to be nervously waiting to find out what is going to happen in a tense or perilous situation.
Literally, a tenter is a wooden frame used to hang newly woven woolen cloth in order to prevent it from shrinking as it dries. The tenterhooks, obviously, are the hooks on the tenter used to hold the cloth in place. The figurative sense, which developed in the late eighteenth or early nineteenth century, comes from the fact that cloth hung on tenterhooks is tense and stretched. Those adjectives might also describe the mental state of someone in anxious suspense over something.
Four-flusher
Four-flusher is an American idiom that first appeared around the turn of the twentieth century. An idiom is a word, group of words or phrase that has a figurative meaning that is not easily deduced from its literal meaning. We will examine the definition of the term four-flusher, where it came from and some examples of its use in sentences.
The term four-flusher describes someone who is a phony, a fake, someone who blatantly and unsuccessfully attempts a bluff. A related term is four-flushing. The term comes from the game of poker and refers to a person who attempts to pass off an incomplete flush hand as a winning hand. In poker, a flush consists of a hand of five cards that are all of one suit, a four-flusher is someone who attempts to pass off a hand that consists of only four cards of a matching suit as a winning hand. It is interesting that this was a common enough occurrence to justify a term for such an action. It wasn't long before this American term came to be used figuratively as an idiom. Note that four-flusher is properly rendered with a hyphen.