Brownie's Kitchen
From Brownie's Collection of recipes and Cooperative Extension home economics tips circa 1936:
Sugarless Recipes
Because of war conditions, a 5 pound sugar allotment must, at this time, last for 17 ½ weeks or 122 ½ days. Ten cups of sugar = 160 tablespoons = 480 teaspoons. 480 teaspoons/ 122 ½ days = 3.9 or 4 teaspoons a day.
How much sugar do you use on the table in a day? If you want your sugar to last, you must use less than 4 teaspoons per day. This is really one heaping tablespoon.
To help out on table sugar:
Try drinks without sugar.
Try breakfast cereals without sugar.
Slow cooked dried prunes put over a breakfast food give good sweetening.
Molasses hits the spot on some breakfast foods.
Salt brings out the natural sweetness of grapefruit, bananas and ripe berries.
Ripe fruits served whole need little if any sugar. Ripe apples, pears, plums, peaches served whole for dessert need no sugar.
You can make what little sugar you have go further
In cooking fruits, add it just before you take them from the stove.
Cook dried fruits with tart ones.
Cook raisins with a cooked cereal.
Crisp Molasses Cookies
½ cup molasses
¼ cup fat
1 ¼ cup all-purpose flour
¾ teaspoon soda
½ teaspoon ginger
1 teaspoon grated orange rind
Allow fat and molasses to come to a boil.
Cool a little.
Add flour, ginger, orange rind and soda and mix well.
Chill overnight.
Roll out on a floured board 1/8" thick or drop and stamp down with a fork or a glass.
Bake in a 375˚F oven about 8-10 minutes.
Soft Molasses Cookies
First mixture
1 cup molasses
Add 1 cup shortening, melted.
Mix well and add 1 egg.
Dissolve 4 teaspoons soda in 2/3 cup hot water.
Add dissolved soda mixture and stir well.
Mix and shift together:
5 cups shifted flour.
1 ½ teaspoons cream of tartar
1 ½ teaspoons ginger
1 ½ teaspoons cinnamon
½ teaspoon cloves
¾ teaspoon salt
Add these sifted dry ingredients to the first mixture. Let stand in a cold place for at least 1/2-3/4 hour. Roll to about 1/8 inch thickness. Cut and place on a greased cookie tin. Bake at 400˚F until done. Watch the baking as molasses products burn easily at this temperature but a softer cookie results. This is excellent for ginger boys or other cookies for children. Lard or bacon fat may be used as shortening as the molasses and spices cover the flavor of the fat.
Here is a recipe to make with kids!
This recipe was written almost 100 years ago.  I recommend using your favorite recipe for the crust or purchasing a pre-made crust.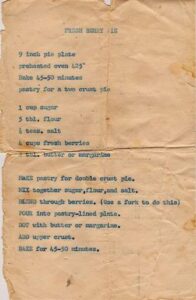 In 1939, Brownie Schrumpf served in the Maine Egg Meal Menu Contest. The winner would participate in the Cleveland Cook Off. While Brownie did not win, one of her recipes was quite interesting.
Daffodil Cake:
Makes a large cake and requires no icing:
1st Mixture
6 egg whites
½ tsp. cream of tartar
¼ tsp. of salt
Beat egg whites until stiff, add cream of tartar and salt. Sift four times.
Then we will need ¾ cup of sugar and ½ cup of flour which is added to egg white, then add Tsp. of vanilla extract. Put in bottom of large angel cake pan.
2nd Mixture
Mix egg yolks, ¾ cup of sugar. Beat 3 minutes then sift four times.
¾ cup of flour, 1 Tsp. of baking soda, add to egg yolks alternately with ¼ cup boiling water; add ½ Tsp. of lemon extract.
Place by spoonfuls on top of other mixture and bake in oven 350 degrees fahrenheit until done. Make sure to grease the pan well.
Honey & Vinegar Candy
I'm always looking for ways to use some of my infused vinegars, such as blackberry vinegar, and this easy honey candy recipe fits the bill perfectly! For the batch pictured above, I used blueberry infused vinegar (made exactly like the blackberry version.)
1 cup of honey
¼ cup of apple cider vinegar ( or fruit infused vinegar)
(optional) ½ teaspoon of pure vanilla extract
Pour the honey and vinegar into a heavy saucepan. Place pan over medium heat until mixture starts to boil. Adjust the heat lower if needed and let boil until honey reaches 300(hard crack stage)
Remove from heat, add vanilla, if desired. Immediately pour onto a parchment lined baking sheet. Place in freezer or refrigerator to cool.
Once completely chilled, break into long strips, then break those again into smaller, bite sized pieces. Store in freezer. These start off crunchy, but turn rather chewy after a few seconds!
Lumber Camp Molasses Doughnuts
(As made by Mr. Frank Crosby, Patten, ME)
Mildred Brown Schrumpf
In the following recipes, all measurements are level. Flour is sifted before measuring. Use standardized measuring cups and spoons for best results.
c – cup               t – teaspoon                  T – tablespoon
3 t = 1 T.              16 T = 1 c                      4 c = 1 quart
Sift together:   4 c (plus) sifted flour
1 ½ t soda
Beat together
2 eggs
1 t salt
1 t nutmeg
1 t cinnamon
little ginger
1 T melted lard
1 c molasses
½ c sugar
Add Alternately with
1 t lemon extract
1 c sour milk
Fry in lard. May be sugared lightly.
Looking for a use for all those potatoes you bought from our fundraiser?  Here is a recipe that comes from our Board member, Dr. Marianne Sarrantonio
The
potato-leek soup recipe
is partly from a Moosewood cookbook and partly from experimentation.  I generally start with a 1.5 or 2 gallon cooking pot, with about 2-3 tablespoons of butter melted in the bottom.  I cut up the leeks, using the bulbs and at least half of the green tops and saute them in the butter until the white part of the leeks start to turn transparent.  In the meantime, I cut up the potatoes into small cubes (I use the small colored heirloom potatoes if possible – they are less starchy and cook faster).  Then I add the secret ingredient to bring in a savory taste – it's a thick paste made from miso and ground up vegetables – it's a bit salty but it really gives the soup a great taste.  I put about 2 teaspoons of that in the pot to taste as it starts to do a slow boil.  And then I wait……but not long because it smells really good!