Going Green with Dryer Balls
August 17, 2019 @ 11:00 am

-

1:00 pm

|

$6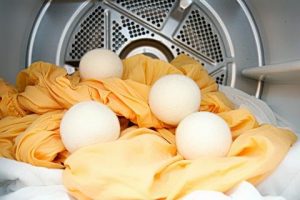 Stop using toxic dryer sheets and start using your own hand-made, natural, non-toxic dryer balls.
Why?
1) Dryer balls reduce drying time by 25% and help clothes dry more efficiently which saves energy and money.
2) Dryer balls replace both dryer sheets and liquid fabric softener.
3) Dryer sheets and liquid fabric softener can cause ezcema, and coat your clothing with chemicals.  Wool dryer balls are an all-natural, chemical-free alternative.
4)  Dryer balls fluff up your down items, such as jackets and blankets.
5)  Dryer balls don't have an artificial smell and can be scented with natural oils like lavender, citrus, etc.
6) Liquid fabric softener will coat your towels, making them less absorbent.
7) Dryer balls last 2-4 years and for over 1,000 loads which minimizes waste.  Dryer sheets and fabric softener containers must be thrown away frequently and take up space in a landfill.
Dryer balls are better for the environment and your health.
Come to the Page Farm and Home Museum and we can show you how easy it is to make your own.  Make up to three to take home for a material fee of just $6.  The workshop is free.  FMI or to register : 581-4100