Accessibility in the Outdoors
Adventuring with Mobility Challenges
Local Wheelchair Accessible Trails
Bangor City Forest
Acadia National Park

Jordan Pond also has a variety of small accessible trails. Although not quite a trail, the intertidal zone has parts between Bar Island and Bar Harbor that are wheelchair accessible

60 miles from campus
See the full accessibility guide for the park here
Resources for visual and hearing impairments are also available on request

Maine Coastal Island National Wildlife Refuge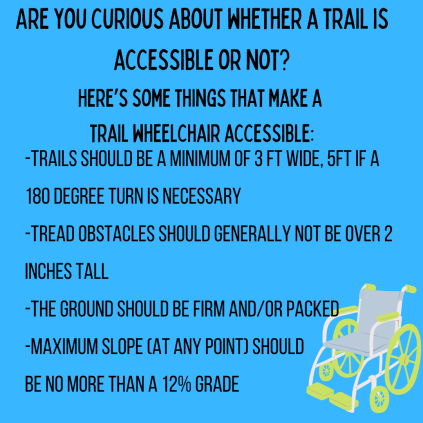 Additional Resources for Finding Accessible Trails
This site lists a wide range of accessible trails across the state of Maine with a ranking system to show if a trail is suitable for wheelchairs, or if it is suitable for limited mobility users that do not require a wheelchair. Information is available for other states.
What is a Braille Trail?
These are nature trails with aides to help visually impaired visitors independently experience the trail. These usually have braille informational signs, giving them their name. They also can have guide ropes, audio components, and other aspects such as tactile walkways
We have one here in Maine, the Lerner Garden of the Five Senses. This is in Boothbay, in the Coastal Maine Botanical Gardens. It features braille informational signs and a sensory garden.