2014 Outstanding Graduating Student — Meaghan Bradica
Bradica named Outstanding Graduating International Student in College of Education and Human Development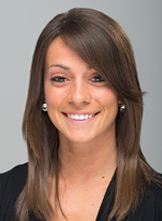 Meaghan T. Bradica of Stoney Creek, Ontario, Canada, is the Outstanding Graduating International Student in the College of Education and Human Development at the University of Maine.
Bradica majored in kinesiology and physical education, with a concentration in exercise science.
A member of the women's soccer team, she earned a Team Maine award for achieving the highest grade-point average on the UMaine women's soccer team, and she was named to the America East Commissioner's Academic Honor Roll, 2010–13.
Last summer, Bradica interned in a physical therapy clinic in Ontario and, for the last two semesters, was a teaching assistant for the UMaine adapted physical education class, led by Stephen Butterfield, professor of education and special education. She also was a peer tutor in chemistry and helped lead UMaine youth soccer clinics and youth summer soccer.
Tell us about the research, internships or scholarly pursuits you were involved in as a student
In the summer of 2013, I did an internship at a physical therapy clinic in Ontario, Canada. For this six-week period, I shadowed a physical therapist and learned more about different injuries and ways to treat them. Also, for the fall 2013 and spring 2014 semesters, I was a Teaching Assistant for Dr. Butterfield's adapted physical education class. My role as a teaching assistant was to evaluate students in the class based on how they interacted and worked with special needs children.
Beyond academics, what extracurricular activities occupied your time? (clubs, sports, etc.)
I am a member of the UMaine women's soccer team. I have also been a chemistry tutor for fellow student-athletes, have volunteered at UMaine youth soccer clinics and worked at UMaine youth summer soccer and hockey camps.
What are your plans after graduation?
After graduation, I plan on moving back home to Ontario and taking next year off from school to work, travel and volunteer. I plan on attending graduate school the following year, but I am still unsure exactly what type of schooling I would like to do.
What difference has UMaine made in your life and in helping you reach your goals?
Before coming to school, my goals were to obtain an excellent university education while striving to put forth my very best academically. The quality and dedication of the UMaine faculty has helped me to achieve these goals. They were not only very knowledgeable, but they were also very personable and approachable. Coming to UMaine on a soccer scholarship, I was also looking to have the best possible varsity athletic experience that I could. The coaching staff, my teammates and the athletic department certainly helped this goal to become a reality. Being a part of the UMaine women's soccer team helped me to not only learn more about the game of soccer, but it also helped me learn so much more about myself as a person.
Have you had an experience at UMaine that has changed or shaped the way you see the world?
In my junior year, I took an adapted physical education class that involved working with children with disabilities. This was definitely the most enjoyable class that I have taken at UMaine and it shaped the way I see the world. Every Wednesday for two hours, I worked with a 4-year-old girl with autism, teaching her motor skills in the gym and in the pool. By the end of the semester, I think I learned more from her than she learned from me. No matter what challenges she was faced with, she came to every class with a smile on her face, ready to learn and improve.
Why UMaine?
UMaine is a great school filled with wonderful faculty, hard-working students and successful Division I athletic teams. Most importantly, it is a friendly, safe environment and it has a wide variety of programs and facilities to allow every student to succeed.
How would you describe UMaine's academic atmosphere?
UMaine's academic atmosphere is one that sets up every student for success. There are so many support services available to students, such as tutoring programs and math and physics help labs. Also, the professors are very approachable and always have office hours for students to come in with questions or concerns.
Have you worked closely with a professor or mentor who made your UMaine experience better?
All of the professors in the KPE department definitely helped to make my UMaine experience better. They were all so friendly and approachable, and they truly cared about helping me succeed. In addition to their encouragement in the classroom, they also showed a lot of support for my soccer team.
What advice do you have for incoming students?
My advice for incoming students would be to become involved in the many different clubs, teams, events and activities that UMaine has to offer. Getting involved in campus activities and striving to be a contributing member of the university will definitely help you to explore a whole different dimension of college life apart from academics. It will allow you to learn and exercise real-life skills such as teamwork, leadership, communication and time-management. It will also give you the opportunity to have fun and meet new friends.