Class of 2014 Valedictorian — Sierra Ventura
Ventura named Valedictorian at UMaine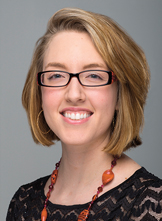 Sierra J. Ventura of Belfast, Maine, is the 2014 valedictorian at the University of Maine.
Ventura majored in music education. Her honors include membership in Phi Beta Kappa. Throughout her undergraduate career, she was active in UMaine's chapter of the National Association of Music Education, including two years as treasurer.
Her leadership roles on campus include serving as assistant conductor of the University of Maine Singers and of Euphony, the Orono-based chamber choir, both in 2013–14. The previous year, Ventura was the assistant accompanist of Collegiate Chorale. Ventura also was a member of other musical ensembles in the UMaine School of Performing Arts, including Opera Workshop, Concert Band and Athena Consort, and she worked on the technical and events crews.
Since 2009, she has had her own business, S.J. Ventura Music Instruction, teaching piano, voice, flute, clarinet and saxophone to 35 students. Ventura plans to pursue a Master of Music at the University of Maine.
Tell us about the research, internships or scholarly pursuits you were involved in as a student
During my undergraduate career I was very active my UMaine's chapter of National Association for Music Education (NAfME). I served as treasurer for two years, 2011-2012 and 2012-2013, and helped put together fundraisers that allowed our chapter to go to the Eastern Division NAfME conference last spring. We not only visited many different sessions, but also presented a session with our mentor Dr. Laura Artesani.
Beyond academics, what extracurricular activities occupied your time? (clubs, sports, etc.)
Beyond academics, my time was spent participating in virtually every different musical ensemble offered at UMaine, including University Singers, Collegiate Chorale, Opera Workshop, Concert Band and Athena Consort. In addition, I run my own business, SJ Ventura Music Lessons, teaching private music lessons during afternoons and weekends.
What are your plans after graduation?
My current plans are to continue my education at UMaine and pursue my master's in music education as well as continue my private music teaching business, SJ Ventura Music Lessons.
What difference has UMaine made in your life and in helping you reach your goals?
UMaine has helped me shape my pursuits in the music education field. I have discovered that I am more interested in becoming a music teacher than I am in becoming strictly a conductor or a performer. UMaine has also provided me the opportunity to connect with many veteran teachers and other professionals in my field throughout my undergraduate career as well as give me tools to become a better private music teacher for my students. During my undergraduate career I was also blessed to have met my fiancé during my time in University Singers.
Why UMaine?
During my high school years I came to the Maine Summer Youth Music (MSYM) camp at UMaine. This experience allowed me to get to know the music faculty as well as familiarize myself with the layout of campus. The music faculty was not only very impressive in their musical abilities, but also very friendly. It made a huge impact on my college choice. Before I was even accepted to UMaine I felt at home at the school.
How would you describe UMaine's academic atmosphere?
UMaine has a very supportive atmosphere for academics. There are always places around campus that you can go to study in peace along with resources to help you succeed in your classes, such as the tutoring program and study groups. Additionally, the library extends its hours during finals week each semester.
Have you worked closely with a professor or mentor who made your UMaine experience better?
Over my four years at UMaine, I have worked closely with Dr. Laura Artesani. She has been a great mentor with my musical endeavors. She has been an inspiring role model and has provided me with numerous resources and contacts that enhanced my education here at UMaine.
What advice do you have for incoming students?
My advice for incoming students is to follow your heart. Pick a major that you're passionate about and then figure out how you can take that degree and make a living using it. You'll have a much more fulfilling life if your career is something you're passionate about.