Class of 2014 Salutatorian — Chalmers
Chalmers named Salutatorian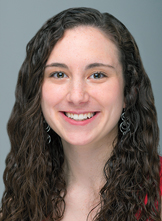 Jennifer Chalmers of Foxborough, Massachusetts, is the University of Maine Class of 2014 salutatorian.
The Honors College student majored in English and history, with minors in education and Spanish. She received highest honors for her honors thesis, a historical and literary research project titled, "Teaching Literature in America: Demonstrating Relevance in the Early Cold War (1945-1963)."
Chalmers is a member of multiple honor societies, including All Maine Women, Sophomore Eagles and Phi Beta Kappa. A UMaine Presidential Scholar Award recipient, she also received Roger B. Hill Scholarships in history and English and the Ellis Prize in English.
She has accepted a position with Teach for America and for the next two years will teach secondary special education English in southern New Jersey. She also plans to attend graduate school.
While at UMaine, Chalmers had two internships that advanced her professional writing skills. She was a human resources intern with the Massachusetts State Police in Framingham, Massachusetts and an English editorial intern with Pearson Higher Education in Boston.
At UMaine, Chalmers received a College of Liberal Arts and Sciences Undergraduate Research Fellowship. She was a journalist for the Maine Journal and a tutor for UMaine's Writing Center. She was a student supervisor for Black Bear Dining concessions and a clarinetist in the UMaine Symphonic and Pep bands. Her community service activities included volunteering, serving as a note taker for UMaine Disability Support Services and being involved in Autism at UMaine and the History Club.
What other scholarly pursuits were you involved in as a student?
I received a fellowship from the College of Liberal Arts and Sciences this fall and just had a poster at the Center for Undergraduate Research this year; in the fall I also attended a National Collegiate Honors Council (NCHC) conference in New Orleans and presented with a few other people from the Honors College.
What difference has UMaine made in your life and in helping you reach your goals?
The University of Maine has provided an environment in which I have been able to grow and achieve my goals. Since the moment I first visited UMaine, I have always felt at home. Almost every person I've met here has been spirited, upbeat and genuinely caring. My professors have been knowledgeable and motivating, and my friends have been inspiring and loving. I see signs that say, "UMaine. You're in a great place!" and I don't know if there's any more accurate way to describe how I feel at this school.
I'm particularly appreciative of the way my professors have been so willing to helping me achieve my goals and have always been on the lookout for opportunities that might be beneficial for me. I also really appreciate the wealth of opportunities that UMaine has provided outside the classroom.
I have had so many opportunities to join organizations that I genuinely care about, gain leadership experience and make lasting friendships. My coursework, jobs and activities at UMaine have provided me with the experience that I have needed to get scholarships, internships and jobs both inside and outside UMaine. The people, the organizations and the generally encouraging atmosphere at UMaine have been invaluable to my personal, professional and intellectual growth during college, and I know that taking advantage of the opportunities that UMaine has to offer has allowed and prepared me to achieve my goals. I cannot say enough about how much I love and appreciate the University of Maine.
Have you had an experience at UMaine that has changed or shaped the way you see the world?
My classes in English and history at UMaine have instilled in me a desire to analyze everything in the world from a variety of perspectives and to continually ask "why?" about the past and the present.
What are your favorite things about UMaine?
1. At UMaine, strangers smile at you as you walk by; you will rarely meet someone who is not friendly. I can only think of one or two times in the past four years, and I was shocked. Those two unfriendly people just didn't seem to belong at UMaine.
2. UMaine is the perfect size. There are so many opportunities to get involved, and you'll never be turned away because the organization is already full.
3. At UMaine, there are plenty of quality opportunities that will help you achieve your goals. Attending UMaine will teach you to take advantage of these opportunities, and you will learn how to succeed in life — by taking advantage of the opportunities presented to you.
4. My professors have been incredibly knowledgeable, and by trying hard to satisfy their expectations, I've learned the skills to succeed after college, even in two majors that often bring about the question, "What kind of job are you going to get with that degree?" My classes have given me such great transferable skills.
How would you describe UMaine's academic atmosphere?
UMaine has opportunities for students to succeed academically. There doesn't seem to be any limit to what you can achieve academically at UMaine. The opportunities are here. Every day, I'm challenged by students who succeed academically in every major. I appreciate the way that the academic opportunities at UMaine commonly unite students across the disciplines to create a cooperative and motivational academic atmosphere.
Have you worked closely with a professor or mentor who made your UMaine experience better?
I have had so many professors and mentors who have made my experiences at UMaine better. My professors have always been very encouraging during class, and outside of class many have greatly invested themselves in helping me succeed by seeking out opportunities for me to pursue and by writing me countless letters of recommendation. My honors thesis committee and advisers have also spent countless hours helping me to develop as a researcher and a writer. They have taught me practical skills and have helped me to grow tremendously.
Also, many other UMaine students have served as mentors and role models for me as well. Their success inspires me to try harder and gives me wonderful examples after which to model my behavior, especially in community involvement.
What advice do you have for incoming students?
My greatest piece of advice is to take advantage of opportunities that will help you to gain experience in many different aspects of your life while you're at UMaine. The personal bonds that I've formed and the skills I've learned have been invaluable to my happiness while in college and my feeling of fulfillment as this experience comes to a close.