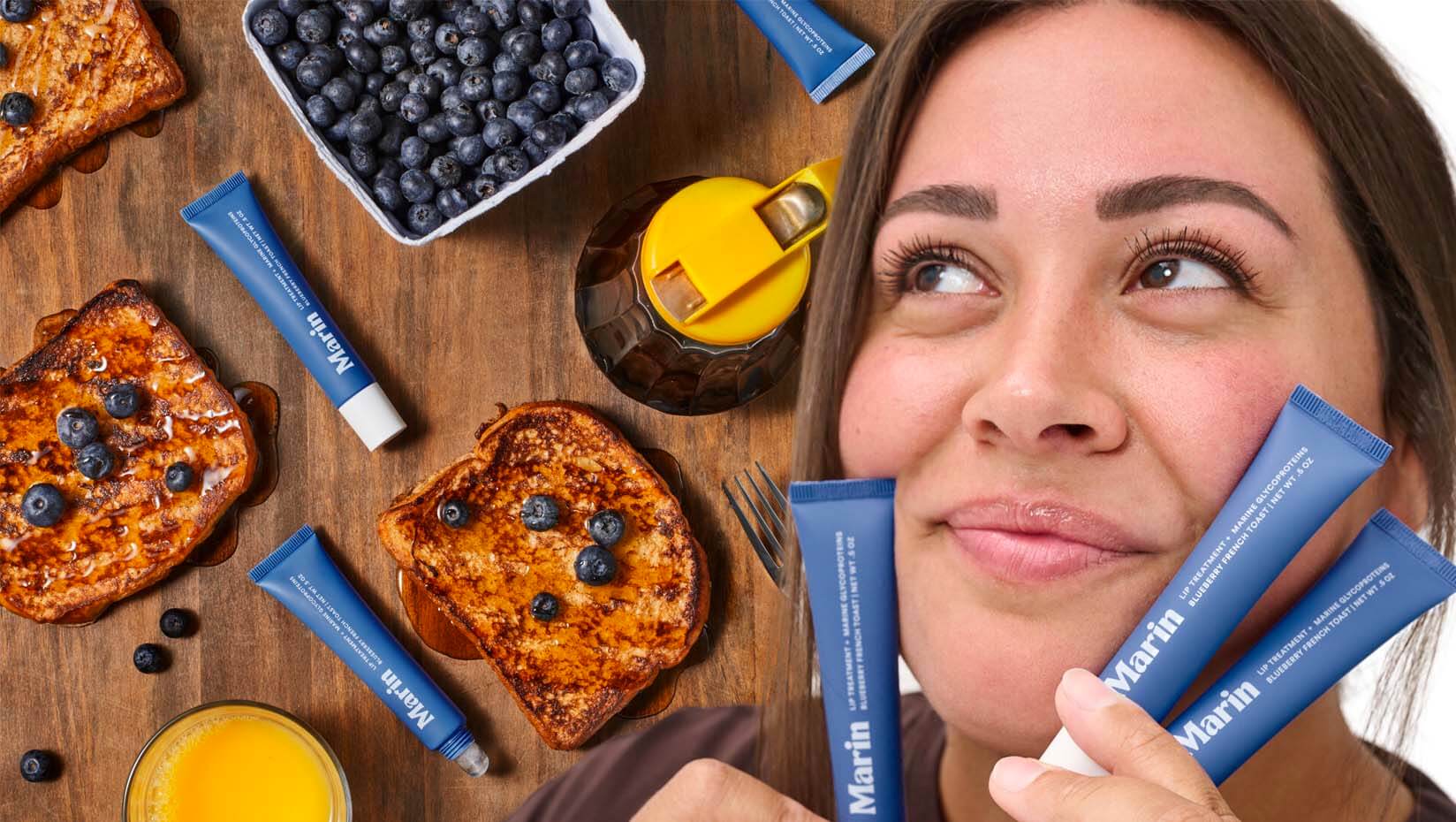 Lobster Lips: UMaine-spinout skincare brand launches lobster-based lip treatments
Marin, the Portland, Maine-based skincare startup and spin-out from the University of Maine, has launched a new lip treatment made with marine glycoproteins, an upcycled byproduct of lobster processing.
The company's new Glycoprotein Lip Treatment comes in two varieties, unscented and blueberry french toast, and drops just in time for dry skin season. Like Marin's Soothing Hydration Cream, otherwise known as the "Lobster Lotion," the new products employ marine glycoproteins as their active ingredient and are designed to help repair the skin barrier.
Robert Bayer, a former director of the UMaine Lobster Institute, was responsible for the initial research and discovery of glycoproteins' use cases for the skin. Marin co-founders Amber Boutiette and Patrick Breeding ('17, '19G) worked with Bayer while studying at UMaine as biomedical engineering graduate students, first exploring glycoproteins to treat Boutiette's stubborn and painful eczema.
When the results exceeded expectations, Boutiette and Breeding founded and incubated Marin at UMaine's Foster Center for Innovation, with mentorship from Foster Center and Maine Business School staff as they completed pitch competitions and accelerator programs affiliated with UMaine, including Big Gig, Top Gun and Scratchpad. They then partnered with B-Corp Luke's Lobster to collect the glycoproteins as a natural byproduct of existing lobster processing, purifying the protein in a lab they built at home. After launching their Soothing Hydration Cream in early October 2020, Marin sold out of their initial inventory within two months.
"It was so rewarding to see these glycoproteins from lobsters helping others in the same way they helped me, and it was just the beginning," says Boutiette. "My eczema was really bad not only around my eyes and face, but also on and around my lips, so I knew from experience that there weren't products that addressed this painful problem. There was a huge gap in the market for lip treatments designed to be safe and effective for this delicate area that everyone can use — we knew we had to introduce a lip treatment."
Marin's new product was meticulously developed to deeply hydrate, repair, smooth, soothe and protect lips, and can be used for both everyday dry, chapped lips and conditions like perioral dermatitis (eczema around the lips and mouth).
"We created the unscented lip treatment specifically to help with dry, cracked, flaky and irritated patches on and around the lips, and took it a step further with the blueberry french toast flavor as a nostalgic nod to heritage Maine flavors, reminiscent of a cozy brunch up at camp. It's as fun and indulgent as it is functional and effective."
As Marin prepares to launch their newest product, the company is quickly outgrowing their 3,000-square-foot office and warehouse space in Portland. They have added three new team members in the last six months, bringing their total employee count to six, and recent retail partnerships with L.L.Bean and Sea Bags have significantly expanded their distribution network. The company continues to source its key ingredient through the seafood company Luke's Lobster, a willing collaborator that seeks to help the lobster industry thrive through product diversification.
"We're humbled by what we've been able to build and the amount of impact we've had in just three short years with the support of UMaine, Mainers and beyond," says Boutiette. "Growing our business here, helping others, creating new jobs and adding value in parallel industries has been such a rewarding experience. This product launch represents the next step in Marin's evolution as a proud Maine brand."
Contact: Renee Kelly, rwkelly@maine.edu; Liz Soule-Tremblay, liz@marinskincare.com