Lives of Ukrainian soldiers explored in UMaine student's new documentary
Vita Tomakhiv of Kyiv never planned to leave Ukraine, but then the Russian military invaded. With help from the University of Maine, she left in June 2022, four months after the war broke out to continue her education.
As the Russia-Ukraine war raged on, Tomakhiv, a master's student in global policy, yearned to help the people on the front lines by sharing their stories. A year after she left, she returned to her home country to capture the experiences of Ukrainian soldiers through a media she had never worked in: documentary film.
In "The Dimension of War: those who hold the Independence of Ukraine," available on YouTube, Tomakhiv interviewed four members of the 67th Mechanized Brigade of the Ukrainian Armed Forces who were stationed in Kramatorsk, a city in the Donetsk region located next to the eastern front. The soldiers answered questions about the conditions of the front lines, the reasons they joined the fight, the lives they left behind, their work, their fears, the struggles of war and their hopes for the future.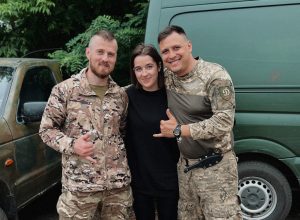 "For me, it was important to show that these people could have continued their lives as usual and their careers if not for this war," Tomakhiv says. "But they chose to go to the war, not because they hate Russia, but because they love Ukraine, and they want to protect what they love."
Tomakhiv filmed the documentary over the summer using only a smartphone and tripod to record interviews. She then spent 30 hours editing the footage with a smartphone app.
To pursue the project, Tomakhiv contacted a friend in the Ukrainian Armed Forces who, after an extensive process, secured her access to Kramatorsk and the troops. She then traveled 17 hours from Ternopil in western Ukraine, where she was staying with her parents, to Kramatorsk by train. During a layover in Kyiv, air sirens began to blare out and she and other people were escorted to a nearby basement where they stayed for a couple of hours for protection from potential bombings.
The documentary was not only Tomakhiv's first foray in film production, but also her first experience in an active war-zone, although she previously interviewed Ukrainian military personnel during journalism and government internships.
Kramatorsk was effectively transformed into a military outpost, with practically everyone in it dressed in tactical gear. Tomakhiv says she lost count of the number of buildings that were destroyed. Despite its close proximity to the front lines, the city offered some opportunities for respite, including a dining hall and cafe.
"The city was like a little island of civilization for military personnel," she says. "I felt more safe here than in other cities in Ukraine. Alarms went off frequently, I lost count of how many times I heard it. But because it was militarized, it felt secure."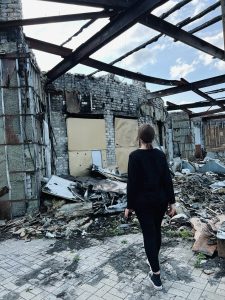 Wars are easier to forget the longer they ensue and people become more consumed by their daily lives, Tomakhiv says. Many people would ask her about the conditions in Ukraine last year, but now some only inquire about whether it's still happening. With the documentary, Tomakhiv aims to ensure people remember the invasion and the many lives it has changed forever.
"I love the documentary. It's an awe-inspiring and empathetic way to contribute to the war effort, talking to these guys on the front lines and bringing risk to herself to share their stories," says Jim Settele, Tomakhiv's advisor and executive director of the UMaine School of Policy and International Affairs. "The fact that Vita did this documentary on her own is a testament to the kind of person she is, a fighter and passionate learner who is eager to make a difference in Ukraine."
When the war broke out in February 2022, Tomakhiv was studying for her master's degree in political science at Taras Shevchenko National University of Kyiv. Days later, her two sisters fled to Poland and her university halted classes. She was eventually able to finish her degree online, but not before applying for the UMaine global policy master's program to continue her studies.
Tomakhiv says she likes how her coursework at UMaine builds on her previous coursework in Kyiv, which focused on national politics and theory, but also focuses on global issues and practical applications for what she learns. With peers from across the world, she says studying here has also exposed her to diverse perspectives on international policy and global events, and trained her to effectively and respectively debate with others.
"Studying here really teaches me how to communicate with people who have different opinions, but still remain in this diplomatic relationship with them and in the end, have some takeaways from a discussion," she says "Because when there is discussion, there are no winners and no losers. You have to understand who's on the opposite end of it, and be understood by them too."
Settele worked with the UMaine Graduate School and Office of International Programs to secure financial aid for Tomakhiv, opportunities they made available to other applicants from countries affected by war. When Tomakhiv arrived, she was hired as an assistant for the Graduate School of Biomedical Science and Engineering, a job that covers all of her tuition, half of her healthcare costs and a monthly stipend.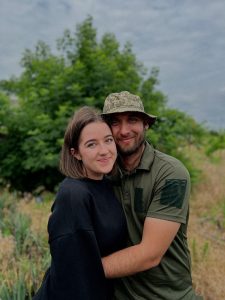 Tomakhiv says Settele housed her for 10 days and helped her find an apartment in Orono. He always lends an ear when she needs help, and his military background allows him to better understand her struggles involving the war, she says.
When Tomakhiv felt immense guilt about having fun with her peers at UMaine while some of her friends in Ukraine were fighting in the war, Settele assured her that her friends would want her to enjoy her time here and be able to live vicariously through her. For Tomakhiv, Settele "changed my life," she says.
"It was a hard choice for Vita to come here. She loves her country, loves her people and is so sad that what's happening is happening," Settele says. "She will do whatever she can to help end the war. She's passionate about having an impact and walking the walk to achieve it."
After earning her master's degree at UMaine, Vita hopes to work for a nonprofit or humanitarian organization dedicated to supporting Ukraine during and after the war from there or elsewhere. She encourages other Ukrainian students studying abroad to use whatever knowledge and skill they acquire to support their country in any way possible, and to never remain silent about the war.
"No matter what your major is, you have to use your voice as a Ukrainian," she says.
Contact: Marcus Wolf, 207.581.3721; marcus.wolf@maine.edu