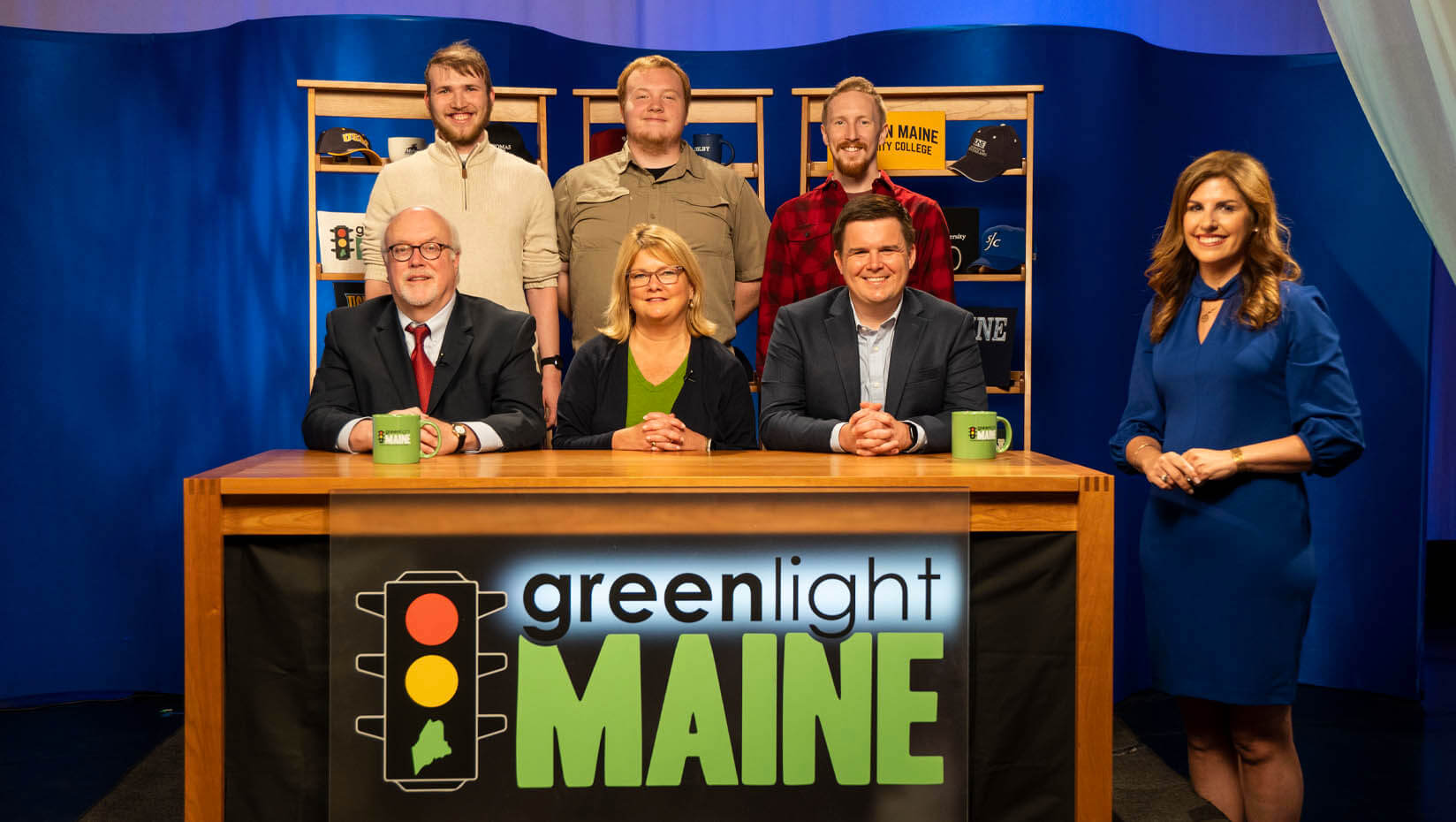 UMaine students competing in Greenlight Maine season finale
A team of University of Maine students will be featured in the upcoming season eight finale of Greenlight Maine College Edition, a show in which participants pitch their business ideas to a panel of judges for a chance to win funding, at 8:30 p.m. July 6 on Maine Public television.
In the episode, Alex Mehre, Dyllon Dunton and Jacob Wildes, all seniors studying engineering at UMaine, competed against other aspiring entrepreneurs from the University of New England and University of Southern Maine for the top cash prize of $10,000 to finish developing and launch their startup, My Pocket Workshop.
My Pocket Workshop is an online platform for streamlining product design and supporting upcoming entrepreneurs. The team launched a preliminary website to present their business concept. Once established, the website will take its users' sketches or descriptions of the product they wish to create and use artificial intelligence to produce a template and dimensions they can then refine.
Mehre, Dunton and Wildes also envision their platform being able to identify the materials their users would need and from where they can be purchased — primarily from Maine suppliers — and automate order forms. The team would then oversee the orders and provide quality control support.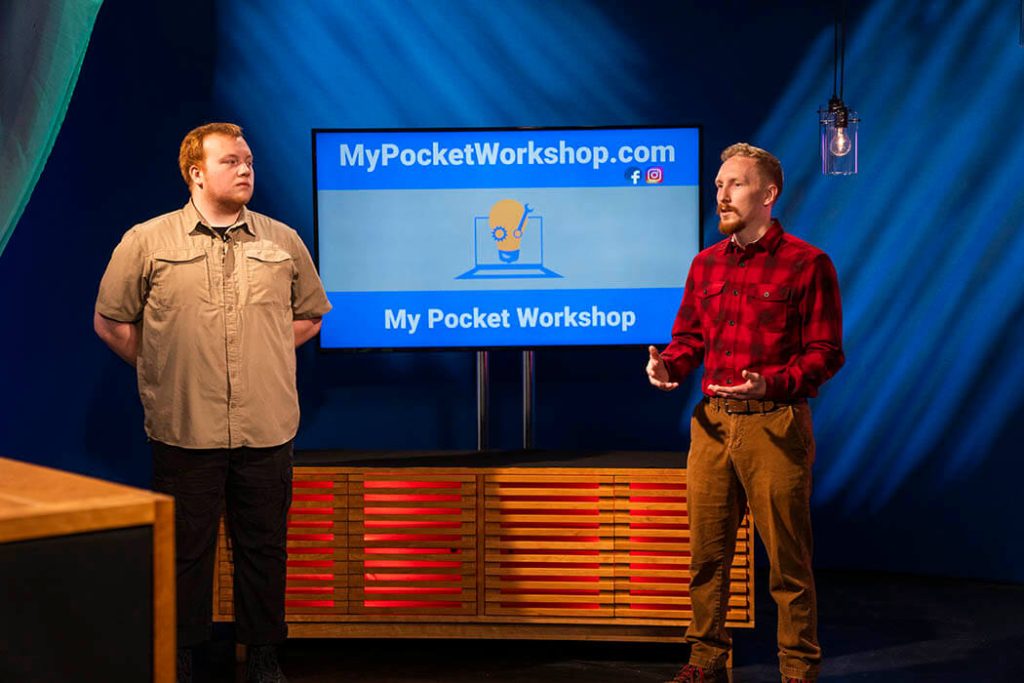 Mehre of Port Washington, Wisconsin, says My Pocket Workshop will empower aspiring product creators who lack in depth design knowledge and other skills to bring their ideas into reality. To support the business, he has connected with wood, sheet metal and piping suppliers in the state, but hopes to expand his team's business partners so they can offer 3D-printed materials, plastic and other materials.
"I've been kicking around the idea since I was 15 of how to enable aspiring makers to be able make things, because there are so many hurdles," says Mehre, a mechanical engineering major. "We're trying to make design fun again."
The three friends and business partners met each other early in their college careers. Wildes met Dunton and Mehre separately in class, and Dunton and Mehre met during an internship with General Electric. After becoming friends, Mehre decided to share his idea for My Pocket Workshop with Dunton and Wildes, and all three decided to build the business together.
All three serve now as officers of the Black Bear Robotics club, and Dunton and Wildes also work together as interns with the UMaine Advanced Structures and Composites Center. Mehre also is an intern with the company Andritz, an opportunity secured through the UMaine Pulp & Paper Foundation.
"I've been around the block a couple of times, and haven't gone anywhere because of the lack of opportunities. UMaine is a great place to get opportunities like this, just the fact that it's so conducive to connection," Mehre says.
For My Pocket Workshop, Mehre manages the business-side of the operation, including market research and connecting with manufacturers. Dunton and Wildes work together on coding, software and AI design, bouncing ideas off of each other and using their individual strengths to tackle development challenges.
"We've balanced each other out throughout the entire process," says Wildes, a computer engineering major from Carmel, Maine.
All three teams who competed during the final episode of the season received a cash prize, with third place earning $5,000, second place being awarded $7,500 and first place winning $10,000.
To make it to the finale, the team first competed in episode three of season eight of Greenlight Maine College Edition. After delivering their three-minute pitch and slides describing My Pocket Workshop, the judges chose for them to advance to the finale. While competing, Dunton says the judges provided constructive feedback that allowed them to improve their business model and design for My Pocket Workshop.
"We were able to build up the idea way more than if we hadn't gone," says Dunton, a computer and electrical engineering double major from Pittsfield, Maine.
Before competing on Greenlight Maine College Edition, the team visited the Foster Center for Innovation to present My Pocket Workshop and receive assistance with developing the business. Foster Center staff helped them develop a pitch, gave them $500 for participating in the center's Bring Your Own Brain hackathon and encouraged them to apply to compete on the television show.
"We are excited to see the progress this team has made, refining their idea in Bring Your Own Brain to reaching the finale for Greenlight Maine," says Foster Center Director Renee Kelly. "These students have taken advantage of the resources at the Foster Center to realize their entrepreneurial vision."
Students and community members seeking support services for developing a business or nonprofit can contact the Foster Center at uminnovation@maine.edu.
Contact: Marcus Wolf, 207.581.3721; marcus.wolf@maine.edu