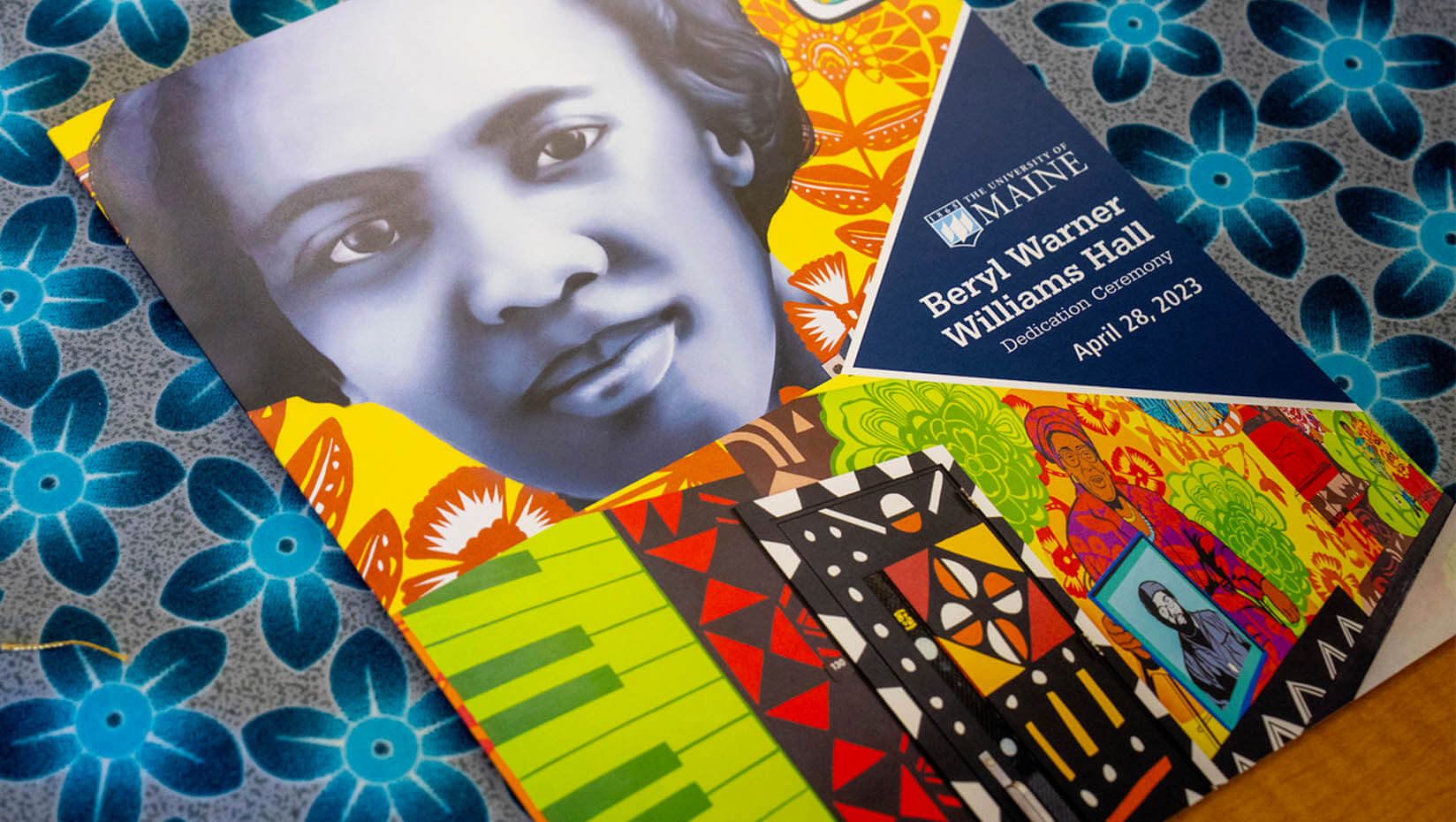 Williams Hall Dedication Ceremony video and photos available online
Photographs and a video recording of the Beryl Williams Hall dedication ceremony, which took place on April 28, are available to view online.
The video recording of the full ceremony is available on the University of Maine YouTube page. The photos are available for download on Google Drive.
In 2021, the University of Maine System Board of Trustees voted to change the name of C.C. Little Hall to Beryl Warner Williams Hall in honor of the first Black graduate to earn a degree in mathematics at UMaine in 1935, followed by a master's degree in mathematics in 1940. The hall now features two large-scale murals painted in March 2023 by artists Rachel Gloria Adams and Ryan Adams in tribute to Williams and as a celebration of Black heritage in Maine.
The 2023 ceremony included remarks by UMaine President Joan Ferrini-Mundy and presentations and performances by notable Black mathematicians, poets, artists, musicians and descendants of Bangor's Black community, including:
Leon Woodson, professor of mathematics at Morgan State University and executive secretary emeritus of the National Association of Mathematics.

Rachael Keri Williams, member of the Williams Hall Visualization Committee,

descendant historian

, founder and executive director of

SOAL: SavingOurAncestorsLegacy

, and Beryl Warner Williams' granddaughter.

Eve Elizabeth Williams, award-winning poet and Beryl Warner Williams' granddaughter, "Unfiltered," publications include AfroPunk, SonofBaldwin, KinfolkKollective,

Peach Mag

and

Sun Magazine

.

MYQ Farrow, singer-songwriter, street performer and reluctant poet, "Music is a joy, it is a revolutionary act, so joy is revolutionary," founder and lead of

FARROW

— P-Funk, Jam, R&B/Soul and Old-School Folk, Albums:

Agitate

and

Educate

.

Nancy Dymond, Bangor native, actor and educator, and first Maine-born African American to earn a bachelor's degree in education from UMaine to teach in Maine.

Scott Warner Williams, blacksmith,

publisher

,

poet and author

, professor emeritus of mathematics at the University at Buffalo and Beryl Warner Williams' son, recipient of Ford Foundation, Fulbright and National Science Foundation awards, African Americans of the Diaspora author who has given over 85 invited lectures, colloquia and seminars at 58 institutions in eight countries.