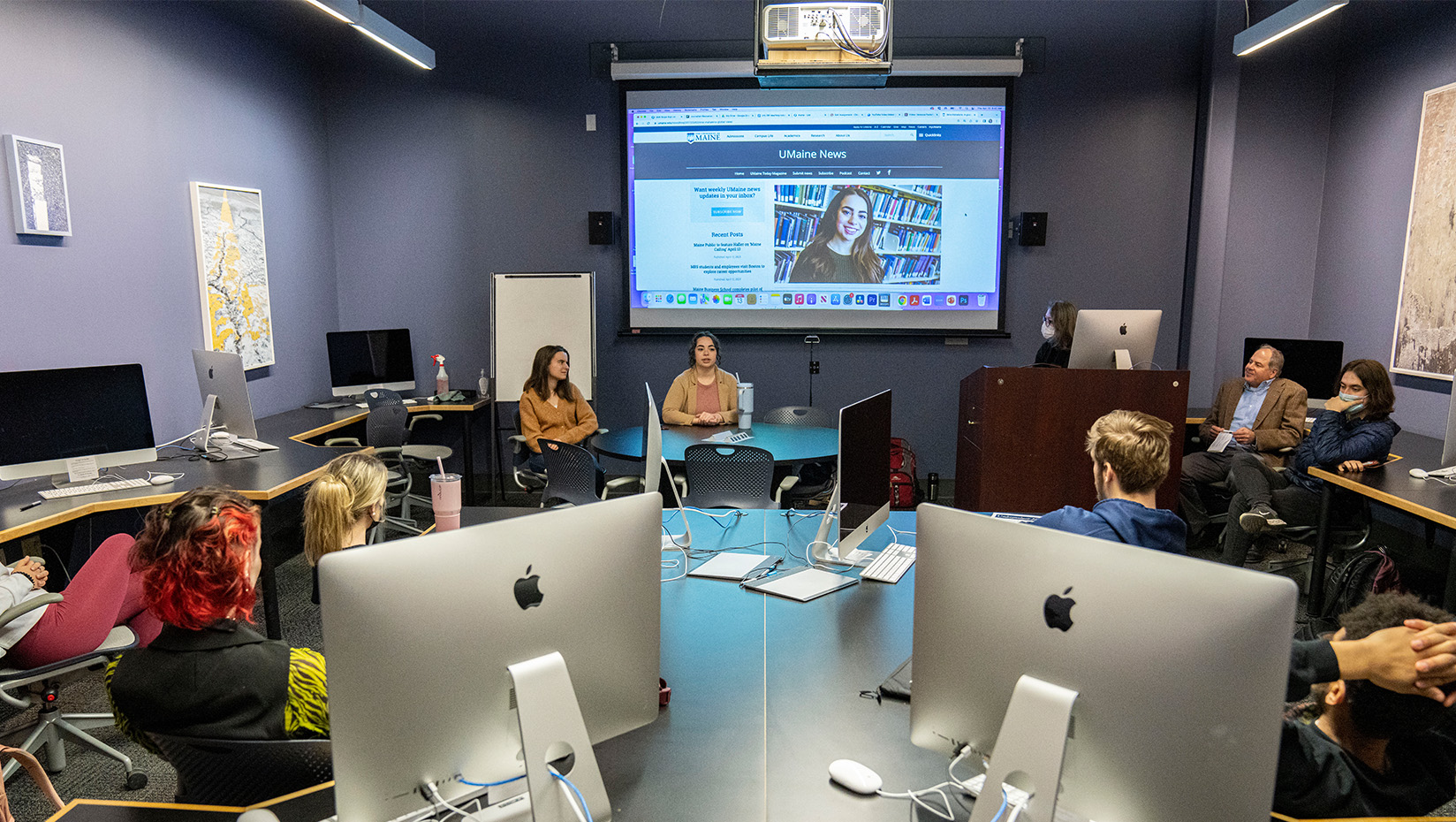 Journalism classes host 2023 Alan Miller Fund Visiting Journalists
The 2023 Alan Miller Fund Visiting Journalists attended University of Maine journalism classes on April 13–14, including CMJ 351 (Audio and Video Production), CMJ 330 (Copy Editing) and CMJ 489 (Seminar in Media Ethics), and had lunch with Maine Campus editors.
The visiting journalists this year were Nina Mahaleris, audience engagement editor of the Lewiston Sun Journal and a 2019 UMaine journalism graduate who double-majored in international affairs, and Vanessa Paolella, a staff writer at the Sun Journal primarily covering local education.
For Mahaleris, this was a homecoming of sorts — she was awarded the 2019 Brooks Hamilton Award by the faculty of the Department of Communication and Journalism for the graduating student who best exemplifies the spirit of journalism as embodied by Brooks Hamilton, a legendary Maine editor and journalism professor at UMaine. 
The Alan Miller Visiting Journalist Program was established in 2007 in memory of Alan Miller, a long-time professor of journalism at the University of Maine. The program is designed to bring working journalists into the classroom to inspire and educate our journalism students.
Previous visiting journalists have included Laura Helmuth, editor-in- chief of Scientific American; Kathleen Kingsbury, opinion editor of the New York Times; and Pulitzer Prize-winning journalists such as Mark Feeney and Amy Ellis Nutt.
"Journalism is changing so rapidly, my students in the media ethics seminar asked specifically if this year we could invite a journalist or journalists who graduated from college in the last five years or so for the program," says Michael Socolow, an associate professor in the Department of Communication who coordinates the program. "So we're grateful to Nina and Vanessa for visiting Orono and offering our journalism students an inside perspective on the realities of launching a journalism career in 2023."