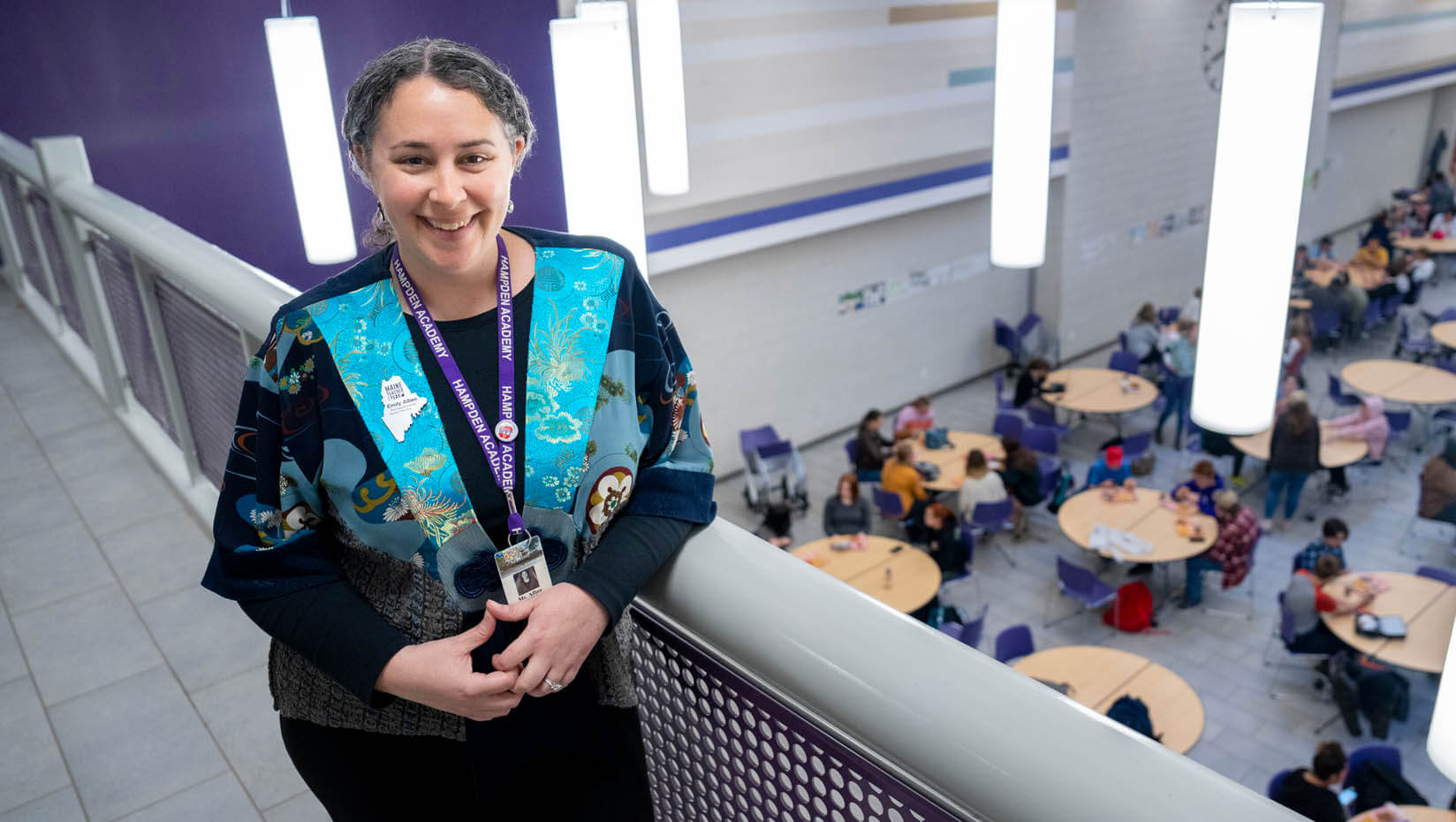 Emily Albee: 2022 Penobscot County Teacher of the Year found a passion for education and social justice at UMaine
Emily Albee ('06, '09G, '12G) says her high school students are often surprised to learn that she wasn't entirely prepared for college when she started attending the University of Maine.
The Hampden Academy social studies teacher is a self-described military brat who lived in Colorado, Hawaii and Maryland growing up. But both her parents were from Maine and they decided to move home around the time Albee graduated from high school.
"I wasn't sure what I was going to do, but my parents basically threatened me if I didn't go to college, and I am grateful they did because I spent 10 years at UMaine," Albee recalls with a laugh. "I had some cousins who had gone there, and it seemed like a good fit when I visited. But I really had no idea what I was doing at first. I learned how to learn at UMaine."
Albee was an elementary education and history double major. She joined Delta Zeta sorority, where she took part in leadership and community service opportunities. As a sophomore in 2003, she helped organize an on-campus talk by Francis Bok, a Dinka tribesman and former slave from South Sudan. Albee says the experience was transformative for her.
"I realized I have a passion for social justice," she says. "After that, a group of us worked through the Office of Student Life to start a Human Rights Awareness Week."
UMaine is also where Albee discovered a love of travel, which has brought her to destinations across the globe, including New Zealand, Cuba, China, Peru, Guatemala, Ireland and several countries in Europe.
When she finished her student teaching and graduated with a bachelor's degree in December 2006, Albee stayed at UMaine and rolled right into a graduate program. She got a job as a research assistant working in the Office of Research and Sponsored Programs and Industrial Cooperation. She was assigned to a grant managed by professor of electrical and computer engineering Bruce Segee.
"The project aimed to bring supercomputing technology for dynamic Earth modeling into middle school classrooms," she says. "I helped develop a curriculum for 7th and 8th graders, presented research findings at national conferences, and helped submit grants to various state and federal sponsors."
In May 2009, she earned her Master of Education with concentration in middle-level social studies. By this time, she was looking for a full-time teaching job, but there were virtually none to be found due to the fallout from the 2008 financial crisis. Albee ended up taking a 25 percent position as 7th grade social studies teacher at Reeds Brook Middle School in Hampden. She continued to work on the NSF grant with Segee and took a job as an education outreach assistant at UMaine's Foster Center for Student Innovation.
Not finished with college, she enrolled in two more graduate programs: A Certificate of Advanced Study (C.A.S.) at the College of Education and Human Development and an innovation engineering graduate certificate through the Foster Center.
"I was working and going to classes at UMaine in the mornings, then teaching in the afternoons," she says. "I did that for a year, and then got an additional 50 percent teaching position and eventually worked my way into a full-time job."
Albee split time between Reeds Brook and neighboring Hampden Academy for a year and started working just at the high school in 2011. She received a full-time teaching position there in 2015.
All these experiences helped foster Albee's interest and active involvement in local and state education associations.
"The benefit of going to UMaine is that you have access to all these incredible people," Albee says. "People like Jake Ward, Mike Hastings, and Bruce Segee. Phyllis Brazee, Barb Blazej, Ed Brazee and O.J. Logue in the College of Education and Human Development, Renee Kelly at the Foster Center, Nathan Godfried, Elizabeth McKillen and Stephen Miller in the History department. These are all dear mentors and friends."
In May, Albee was named the 2022 Penobscot County Teacher of the Year. She also was a finalist for 2023 Maine Teacher of the Year, which ultimately went to Matt Bernstein, a high school teacher in Portland. But she says the experience has allowed her to reflect on her teaching and given her an opportunity to get more involved in education policy issues that interest her.
"It's a year of service from when you are named county teacher of the year, and it has definitely filled my cup coming out of a few years of teaching during the pandemic," she says. "I'm willing to shout from the rooftop to shed light on the importance of education in Maine, and advocate for policies that I believe in like free school breakfast and lunch, and making sure the state continues to meet its obligation to pay 55 percent of the cost of K–12 schools."
Ultimately, Albee says the way she plans to keep contributing is by having conversations.
"We all want our kids to have successful academic and social-emotional learning experiences," she says. "If there's one thing I learned at UMaine, it's that talking to people about these issues — at the local, state and national level — and using your personal and professional network to solve problems can make a huge difference."
Contact: Casey Kelly, casey.kelly@maine.edu