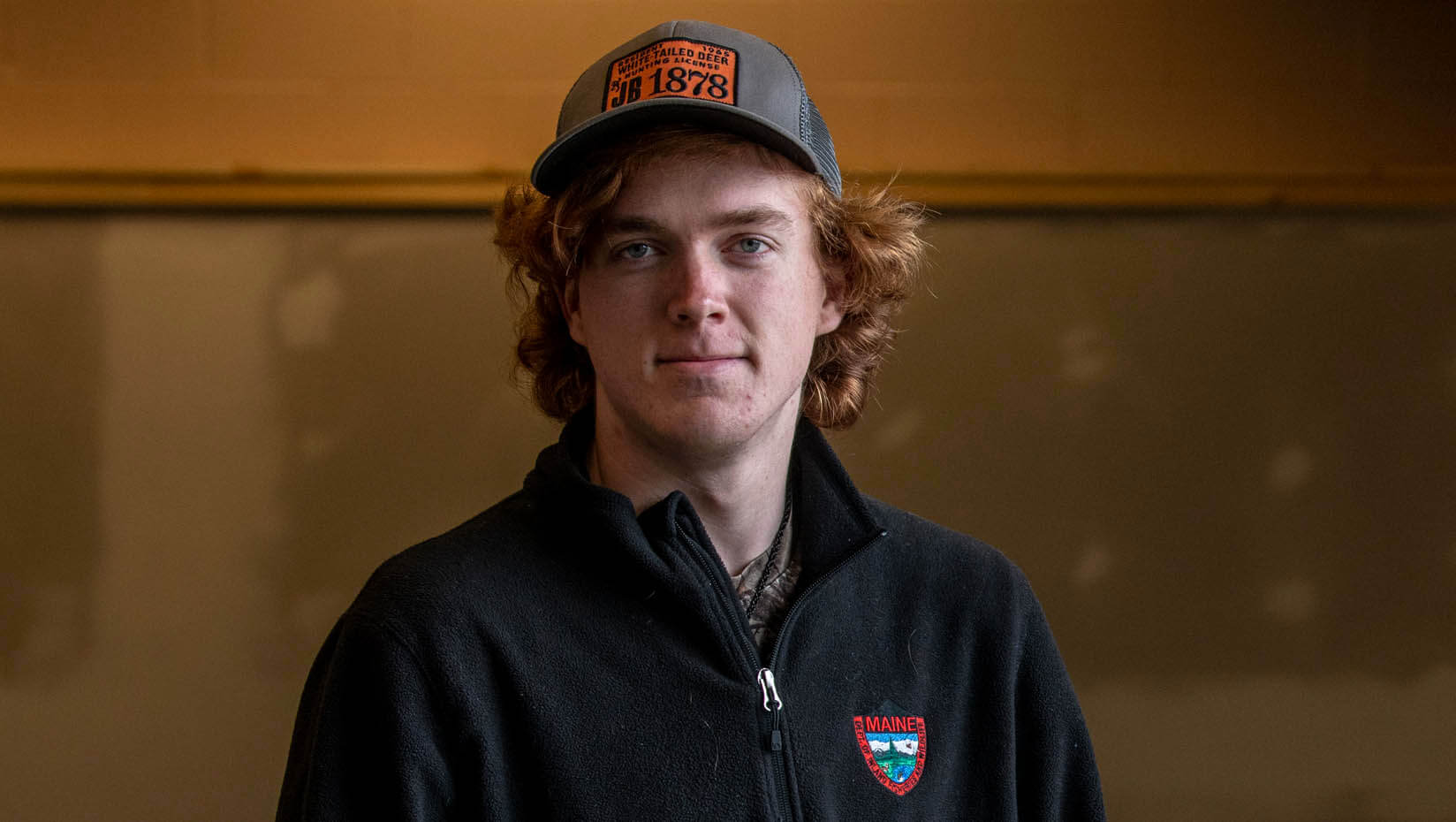 Nicholas Sanborn: UMaine Machias 2022 Salutatorian
Nicholas Sanborn of Standish, Maine is the 2022 University of Maine Machias Salutatorian. Sanborn is graduating with a degree in recreation and tourism management, with a focus on conservation law enforcement and natural resources.
Sanborn had not even considered applying to UMaine Machias until his senior year of high school, when an admissions counselor at a college fair pitched the conservation law program to the nature-loving teen. He set up a tour, and fell in love with the small campus — his tour guide seemed to know everyone on campus — and the fact that he was able to have lunch with the then dean of students Dan Gardner.
"It was the small campus feel and the efforts of those on campus to make me feel welcome that made me decide to go to UMM," Sanborn said.
At UMaine Machias, Sanborn pursued his passion for law enforcement and the outdoors, serving as both the Outing Club president and a member of the Student Security Team. He also served on the Student Senate, and held positions as a Resident Assistant and a campus lifeguard. During his time at UMaine Machias, Sanborn was awarded the Penobscot County Conservation Association Award, the Nathan C. & Dorothy W. Burbank Scholarship and the Edna Higgins Scholarship. He was also certified as a Wilderness First Responder in January 2021.
Sanborn said that almost every professor and instructor he crossed paths with at UMaine Machias worked hard to set students up for success. The professor that influenced him the most, though, was Karen Beeftink, coordinator of the Recreation and Tourism Management Program and the chair of the Professional Studies Division.
"Karen [Beeftink] has always pushed me to do my best and to always explore the options presented to me," Sanborn said. "She has given me many opportunities to lead and excel in the program. She has had me assist her in lab classes for many lower level classes that I have previously taken and I also assisted her as a peer mentor for the [First Year Seminar/Research Learning Experiences] class last fall. I would not be where I am today without her."
The class that influenced Sanborn most was Inclusive Recreation.
"Before taking this class, I did not see the reason to adapt the management of parks and spaces for the benefit of multiple groups of people," Sanborn said. "This class helped me see the benefit of adapting parks and spaces for all groups and individuals. Many groups of people use parks differently than traditional users. Parks can be adapted to fit the needs of multiple groups without sacrificing the use by traditional users."
Sanborn has already been using his UMaine Machias education to make the outdoors a more enjoyable and safer place for all. In the summer of Sanborn's junior year, he interned with Windham Parks and Recreation at Dundee Park with a focus on facilities management of a park beach as well as park administration, maintenance and improvement projects. Sanborn said that this internship "was one of the greatest experiences throughout [his] college career."
Since 2020, Sanborn has also been involved with the work to improve the Outback Trail on campus, when he started developing the new trail with an Outdoor Leadership class. Last spring, he helped develop the Interpretive Master Plan for the property, which included designs for waysides, trail signs and a kiosk to head the trail. Last fall, he worked with students to develop a trail monitoring program as part of a First Year Seminar/Research Learning Experience. Finally, as his senior project this spring, he has drafted a Trail Stewardship Plan to help guide future maintenance decisions on the property.
Sanborn currently lives in Tremont and after graduation, he will work at the Mount Desert Land & Garden Preserve in Seal Harbor as a member of the trail crew for the summer. In the late fall and early winter, though, he will begin working toward his goal of becoming a Maine Game Warden.
"I will spend much of my time this summer preparing for the application process for the Maine Warden Service," Sanborn said. "This includes the physical fitness test, general knowledge test and the oral board."
Sanborn says that current and incoming UMaine Machias students looking to succeed should always attend class, take good notes and complete the reading that professors assign.
"You never know when there may be a pop quiz, and the professors know when you're not doing the reading, even if you think they don't," Sanborn said.
The most important advice he can give, though, is to take "every opportunity that you can" — on campus and in the community beyond it.
"Take the classes that you want to take when they are available — you never know if they will be available again," Sanborn said. "Take time to get out and explore the greater Machias area, get out with friends and get out of your comfort zone. Meet new people and engage with the community. You would be surprised at the amount of resources there are within Machias."
Contact: Sam Schipani, samantha.schipani@maine.edu