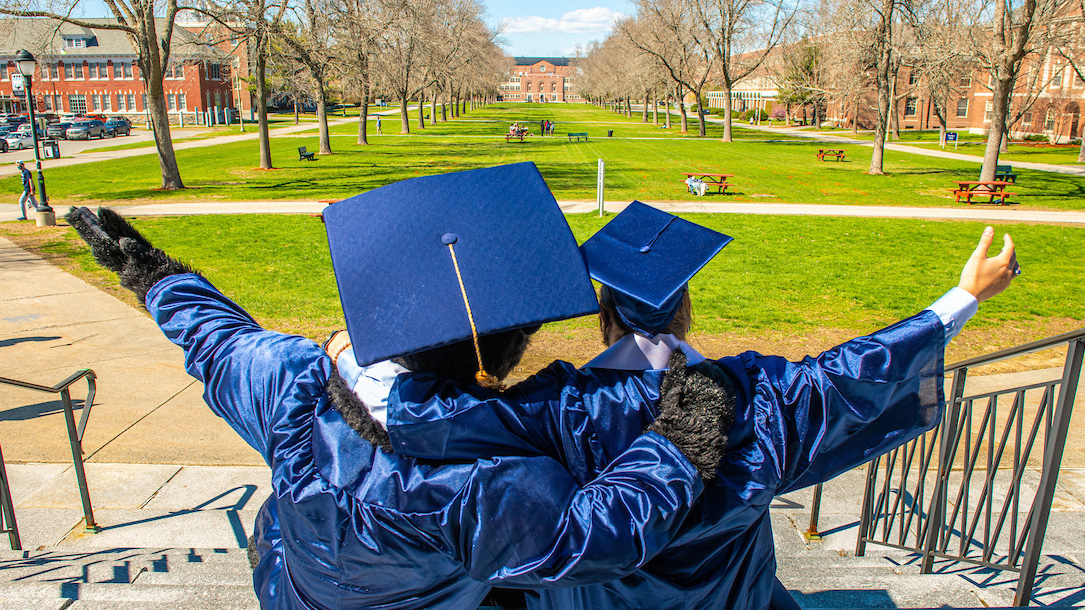 UMaine planning May commencement for COVID-impacted graduates
President Ferrini-Mundy appoints commencement committee, invites Classes of 2020 and 2021 to participate in survey conducted by UMaine Alumni Association
Editor's note: The first survey sent by the UMaine Alumni Association closed Dec. 1. UMaine graduates of the Classes of 2020 and 2021 who have questions can email um.commencement@maine.edu.
Planning is underway at the University of Maine to host a commencement ceremony in May 2022 for graduates of the COVID-impacted Classes of 2020 and 2021. Traditional commencement activities, including large, in-person activities, were not possible for these graduates due to pandemic-related public health guidance.
The university held virtual and hybrid events at the time to honor graduates.
"Commencement is one of the most treasured moments in a student's collegiate experience," said President Joan Ferrini-Mundy. "Our graduates who persevered through the pandemic are especially deserving of recognition and a chance to celebrate together with their friends and families. We plan to welcome the Classes of 2020 and '21 back to campus and formally into our alumni ranks with a commencement event in May 2022."
President Ferrini-Mundy has formed a commencement committee to make plans for a traditional-style ceremony in Orono this May. A survey of the class members is being conducted through the UMaine Alumni Association to inform planning and help shape an event.
A request to participate in a survey was sent to known email addresses of graduates earlier this week.
"As a member of the Class of 2021, I am thankful for the University of Maine allowing this chance to reconnect with my fellow graduates and honor our accomplishments," said Jillian Conant from Canton, Maine, who graduated with a dual degree in marketing and media studies in May 2021. "Graduating in the middle of a pandemic was no easy feat. I am glad we will get to see how far everyone has made it since then."
Final plans for the May 2022 ceremony and invitations to graduates and their families will come later in the academic year.