UMaine's Black Bear population reaches record high
University of Maine President Joan Ferrini-Mundy announced today that enrollment at UMaine for the fall 2021 semester is 11,989 students. The cohort of undergraduate, graduate and early college learners has increased 2.1% from fall 2020, when it was 11,741 students, according to enrollment census data compiled by the UMaine Office of Institutional Research and Assessment.
It is the highest Orono-based enrollment of undergraduate, graduate and early college students in the 153-year history of student enrollment. Programs at the Bangor campus that is now part of the University of Maine at Augusta contributed to UMaine's student population from 1970 to 1994.
"UMaine students participate in research, innovation and exploratory learning that defines tomorrow," says Ferrini-Mundy. "It is a fantastic time to be a Black Bear with new investments and opportunities coming to our flagship campus. We are pleased more students are choosing the comprehensive, success-focused educational experience we provide at the University of Maine."
In just over a decade, the number of students of color at UMaine has more than doubled, growing from 723 in 2009 to 1,654 in 2021. Students of color who have provided their race and ethnicity information make up approximately 15% of UMaine students in the fall of 2021 compared to 7.3% in 2009.
The international student population has also shown growth and now exceeds 450 learners at UMaine, a 16% increase compared to the fall of 2011.
Enrollment among undergraduate students at the University of Maine at Machias, UMaine's regional campus, has grown to 505 students, a 1% increase compared to fall 2020. Machias enrollment is not included in the tabulation of UMaine's record-setting numbers.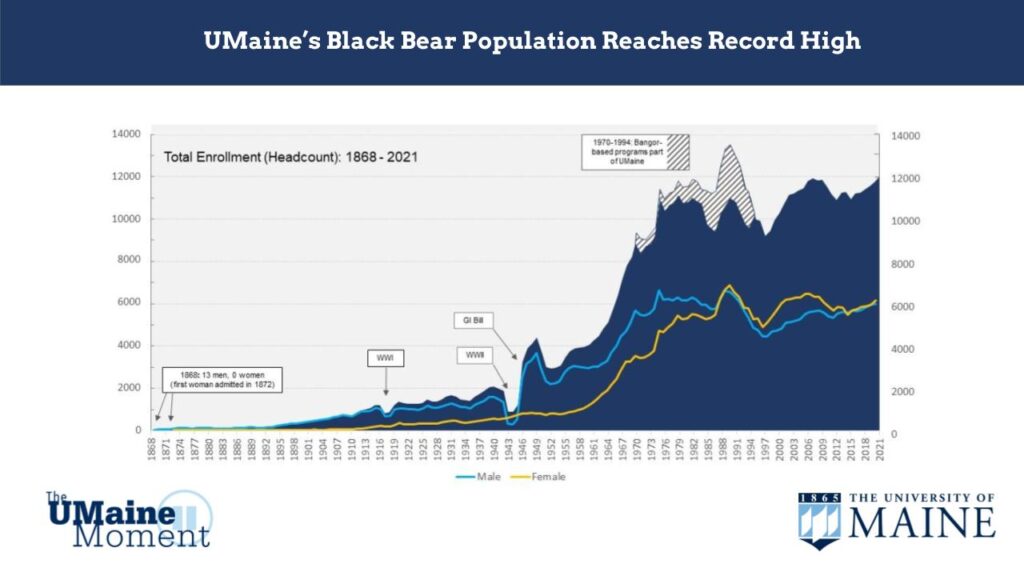 The growth in enrollment at UMaine comes at a time when national higher education enrollment has fallen 6.5% over the last two years, in part due to the impact of COVID-19. The number of students graduating from Maine high schools is also in the midst of a decades-long decline expected to continue until at least 2037.
First-year enrollment at UMaine this fall has climbed to 2,225 students, an 8% increase over last year's incoming class. The Class of 2025 is the fourth largest incoming class in the history of UMaine. Half of the first-year cohort has a high school grade point average of 3.5 or higher and the mean GPA for the new class of Black Bears is the highest in more than a decade.
Out-of-state enrollment at Maine's public research and land grant university has climbed to a record high of 4,524 students, a 5% increase from fall 2020. Powered by the 150% increase in out-of-state undergraduate enrollment since fall 2009, students from beyond Maine's borders now comprise 41% of UMaine's degree-seeking undergraduate student population.
"Student success is a strategic priority for us and we are thrilled that so many students have chosen UMaine," says UMaine's Executive Vice President of Academic Affairs and Provost John Volin. "Recruiting students here at home and attracting more talent to our state are important for Maine's skilled workforce. The vast majority of our students will have the opportunity to work with employers in internship, clinical or research experiences, which often lead to fulfilling careers here in Maine."
Contact: Dan Demeritt, 207.441.6962; dan.demeritt@maine.edu