Ellen Weinauer named dean of the Honors College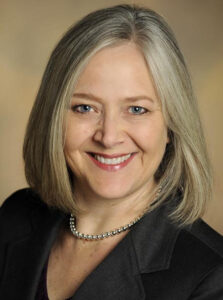 Ellen Weinauer, dean of the Honors College at the University of Southern Mississippi, has been named dean of the University of Maine Honors College, effective Aug. 16, 2021.
Weinauer joined the University of Southern Mississippi English faculty in 1994 and has served as Honors College dean since 2014. She led the Honors College through a number of significant initiatives, including the development of an innovative interdisciplinary curriculum and a revamped approach to admissions that has resulted in a diversified student body.
Prior to serving as dean, Weinauer also directed Interdisciplinary Studies, Graduate Studies, and Women's and Gender Studies at the University of Southern Mississippi.
"I am delighted that Dr. Ellen Weinauer will be joining the University of Maine as our new Honors College dean," says John Volin, UMaine executive vice president for academic affairs and provost. "Dr. Weinauer brings deep experience and knowledge in leading an Honors College."
"We look forward to working with her to further the goals of our Honors College as a leader in undergraduate research learning experiences, interdisciplinarity, creative exploration and community engagement, which are a cornerstone of a 21st-century honors education," Volin says. "I want to thank interim dean Stephanie Welcomer for helping to guide and lead the Honors College during this transition period."
Weinauer is a two-time recipient of the University of Southern Mississippi Excellence in Teaching Award and received a Mississippi Humanities Council Teaching Award. She has taught widely at the graduate and undergraduate levels, recently co-teaching an honors seminar on "Moby-Dick" and the oceans and leading a study abroad class to London and Paris to explore the Roaring '20s.
A scholar of 19th-century American literature, Weinauer has recently published essays on Poe, Hawthorne and the gothic. Her essay on Melville and masculinity is forthcoming in the Blackwell Companion to Herman Melville.
Weinauer, a Minnesota native, has a Ph.D. in English with a minor in Women's Studies from Indiana University.
"I am deeply honored to be chosen to lead the Honors College at the University of Maine at this moment of transformative change for the institution," Weinauer says. "I look forward to collaborating with the faculty, staff and students at the university, and to building on the amazing 85-year legacy of Honors education at the university. The institutional commitment to student development and to innovative approaches to teaching and learning is inspiring; I can't wait to get started."