Penny Bishop named dean of UMaine's College of Education and Human Development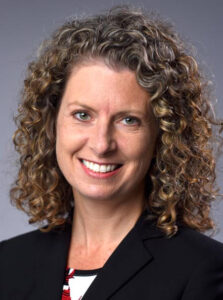 Penny Bishop, a professor of education and former associate dean at the University of Vermont, has been named dean of the University of Maine College of Education and Human Development, effective July 1.
Bishop, a member of the University of Vermont faculty since 1998, fills the dean position held in the interim for the past two years by Mary Gresham.
"We are very happy to announce that Dr. Bishop will be joining the UMaine community as the next dean of the College of Education and Human Development," says UMaine Provost John Volin. "Her leadership experience and expertise will help continue to advance the strong academic, service and research tradition this college is known for."
"I want to acknowledge and thank Dr. Gresham, whose more than 40 years of higher education experience and leadership were vital during this particularly difficult time," Volin says.
Bishop, who specializes in middle-level teacher education, served as associate dean in the UVM College of Education and Social Services from 2014–20. She co-directs the Middle Grades Institute, providing annual professional development to 200 educators.
For eight years, Bishop directed UVM's Middle Level Teacher Education Program and was founding director of the Tarrant Institute for Innovative Education from 2009–17.
Bishop's research, focusing on the provision of responsive learning environments for young adolescents, has received more than $13 million in external funding to improve education for this age group. She has co-authored six books on education reform, the most recent being "The Successful Middle School: This We Believe" and "Personalized Learning in the Middle Grades."
She is executive advisor to the Middle Grades Education Research Special Interest Group of the American Educational Research Association, former chair of the Research Advisory Board of the Association for Middle Level Education, and co-editor of the Middle Grades Review.
Her numerous awards include the 2019 New England Secondary Schools Consortium Champion for Vermont, and the 2017 James P. Garvin Distinguished Service Award from the New England League of Middle Schools.
Bishop has been both a middle school and secondary school teacher. She received a master's degree in curriculum and instruction, and an Ed.D. in educational leadership and policy studies, both from the University of Vermont.
"I am honored to be selected as dean of the College of Education and Human Development, particularly at a time of such innovation and growth at the university," Bishop says. "Throughout the search process, I was impressed by the deep dedication to student success that was conveyed by all involved. I look forward to building on this commitment, to collaboratively constructing vital research and education initiatives, and to amplifying UMaine's impact in the state, nationally, and beyond."