UMaine junior named a 2021 Goldwater Scholar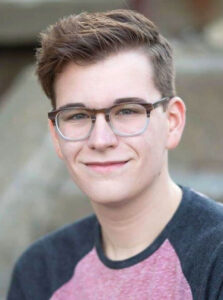 University of Maine junior Jacob Cote of Brewer, a double degree student in microbiology and biochemistry, has been named a 2021 Goldwater Scholar.
Cote is one of 410 scholars selected nationwide for the prestigious undergraduate scholarship, designed to foster and encourage outstanding students to pursue research careers in the fields of the natural sciences, engineering and mathematics, according to the Barry Goldwater Scholarship and Excellence in Education Foundation website. This year, there were 1,256 applicants who passed the nomination process of their institutions; among those 410 were chosen based on their likelihood to have a significant impact on their research fields.
Cote is a Maine Top Scholar who has received two UMaine Center for Undergraduate Research fellowships. Throughout his time on campus, he has been a student researcher in the laboratory of professor Sally Molloy, studying the impact of prophage — bacterial viruses integrated into bacterial genomes — on host fitness, specifically antibiotic resistance. His current project involves identifying and characterizing novel prophage in Mycobacterium abscessus. His other mentors are professors Melissa Maginnis and Edward Bernard.
On campus, Cote has been active in teaching as a peer tutor, teaching assistant, and a Maine Learning Assistant.
"Jacob is an absolute wonder," wrote Molloy in her nomination letter. "His curiosity and passion for discovery is infectious. He is possibly one of the most agile learners I have had in my laboratory and his potential as a scientist is limitless."
Molloy noted that this summer, Cote will take the lead on writing a manuscript for publication describing a novel group of prophages, integrated bacteriophage genomes, found in one of the most drug resistant bacterial pathogens, M. abscessus. Cote played a key role in identifying and extracting prophage sequences from bacterial sequences and worked collaboratively with other students to characterize the prophage genomes. Characterizing the genome content of these prophages will be key in better understanding how prophages are important drivers of stress responses and drug resistance in mycobacterial pathogens.
When he graduates from UMaine next year, Cote plans to pursue a Ph.D. in microbiology and conduct research in the application and development of phage therapy as a viable medical treatment to combat antibiotic resistance.
"I am so proud of Jacob for being awarded the Goldwater Scholarship," said Maginnis. "It has been an honor to work with Jacob as both his Maine Top Scholar mentor and an instructor. Since his first year in the Phage Genome Discovery course, he immediately demonstrated that he was incredibly bright, dedicated to academic success, and ignited by the challenge of research. He has maintained that momentum in the classroom and through his research in Dr. Sally Molloy's laboratory, being awarded two CUGR fellowships and making significant contributions to research. Jacob's combination of excellent critical-thinking skills and curiosity make him an exceptional student researcher. He is an excellent representative for UMaine and the Goldwater Scholarship."
We asked Jacob to tell us more about his UMaine student experience:
What difference has UMaine made in your life and in helping you reach your goals?
I was initially hesitant to come to UMaine as a freshman because I grew up a few minutes away and I wanted a different experience than high school, particularly when it came to classes and research. Small class sizes in my department combined with many active research labs and professors that really care about student success allowed me to become part of the research community at UMaine my freshman year. Being able to start my research so early was likely key to being awarded my Goldwater Scholarship and has allowed me to build a lot of skills and experience that I think will definitely help me with applying to graduate schools and beyond.
Have you had an experience at UMaine that has changed or shaped the way you see the world?
The ability to not only participate but influence the direction of our research in my lab has been very impactful. Antibiotic resistance is a huge problem for medicine in the near future and the ability to work alongside other research groups that are pioneering phage therapy as an alternative to antibiotics has really changed the way I interact with my research and motivates me to reach my goals.
Have you worked closely with a professor or mentor who made your UMaine experience better?
My mentor and lab professor Dr. Molloy. Dr. Molloy was a judge at the Maine State Science Fair where I got my scholarship to come to UMaine in high school. I guess in a way she started recruiting me for her lab before I even knew I was going to come to UMaine. Dr. Molloy has been an amazing mentor in both my research and academics and I've been truly lucky to be able to work with her and all the faculty in my department.
What advice do you have for incoming students to help them get off to the best start academically?
Make a plan. During the academic year it can be really stressful with classes, research, etc. so I have found it helpful to plan the classes I want to take months or years before so when signups come around, I'm not scrambling to find classes to take. Making faculty connections provide you the opportunity to get into research early and can often help you decide on classes and give advice on career goals. Get to know the students in your department, even upperclassmen. Your fellow students have many more eyes and ears than you do and sometimes will know about opportunities you didn't. Upperclassmen will have also taken the classes you will need to take and so they are sometimes the best resource to find out what classes to take and what you can expect.
Goldwater Scholarship applications are due in November each year. Students interested in learning more about this undergraduate funding opportunity can attend the Goldwater Scholarship information session organized by the Office of Major Scholarships at noon on April 27, or contact the campus representative Robert Wheeler at robert.wheeler1@maine.edu.
Contact: Margaret Nagle, nagle@maine.edu