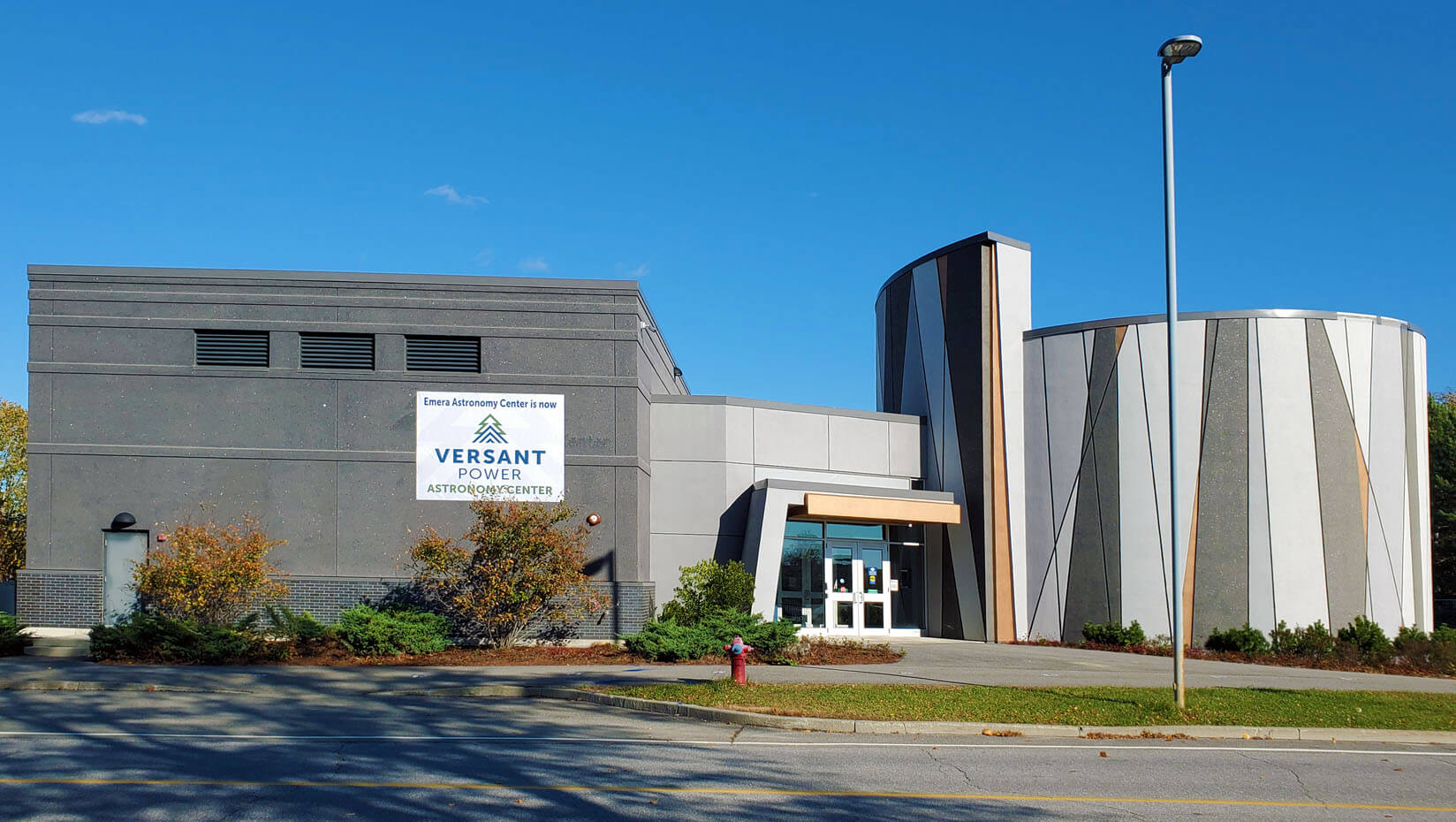 UMaine Emera Astronomy Center is now Versant Power Astronomy Center
The University of Maine Emera Astronomy Center will change its name to Versant Power Astronomy Center, reflecting the new ownership of the state's second-largest electric utility.
The University of Maine System Board of Trustees approved the name change at its Sept. 28 meeting.
Emera Inc., which donated $1 million toward construction of the center in 2013, reassigned the naming right to Versant Power. Through its corporate parent, ENMAX Corp., Versant Power will fund the center's name change as well as provide programmatic support. The company also will support the Richard H. Hill Power Engineering Scholarship established by Emera Maine.
The astronomy center is home to the state's largest planetarium, Maynard Jordan Planetarium. The $5.2 million center was made possible by a $3.2 million anonymous gift, part of UMaine's $200 million Vision for Tomorrow comprehensive campaign led by the University of Maine Foundation. The center's technology received a more than $200,000 upgrade in July with continued support from the same anonymous donor.
"The Versant Power Astronomy Center has a critical role in UMaine outreach to K–12 students, promoting science, technology, engineering and mathematics (STEM) education," says UMaine President Joan Ferrini-Mundy. "We are grateful that Versant Power is making this investment in our community of life span learners and explorers."
Versant Power President and Chief Operating Officer Mike Herrin noted: "We are proud to have such a strong, collaborative relationship between Versant Power and the University of Maine and to support its STEM outreach and academic programs to inspire the next generation of engineers, scientists and astronauts."
The planetarium recently reopened with new guidelines to keep visitors and staff safe during the pandemic. It is equipped with a state-of-the-art Sky-Skan Definiti 4K digital projection system, utilizing a specialized visualization, computing cluster under its 10-meter dome.
"Versant Power Astronomy Center continues the tradition of sharing the beauty of Maine's night skies with visitors of all ages, championing dark sky preservation so everyone can enjoy the wonders of our universe," says Shawn Laatsch, director of Versant Power Astronomy Center.
Information about planetarium shows, offered in accordance with health and safety guidance, is online. Face coverings are required; seating is limited to 11 visitors per program. Advanced tickets are required and can be purchased online or by calling 207.581.1341 during regular business hours.
Contact: Shawn Laatsch, shawn.laatsch@maine.edu