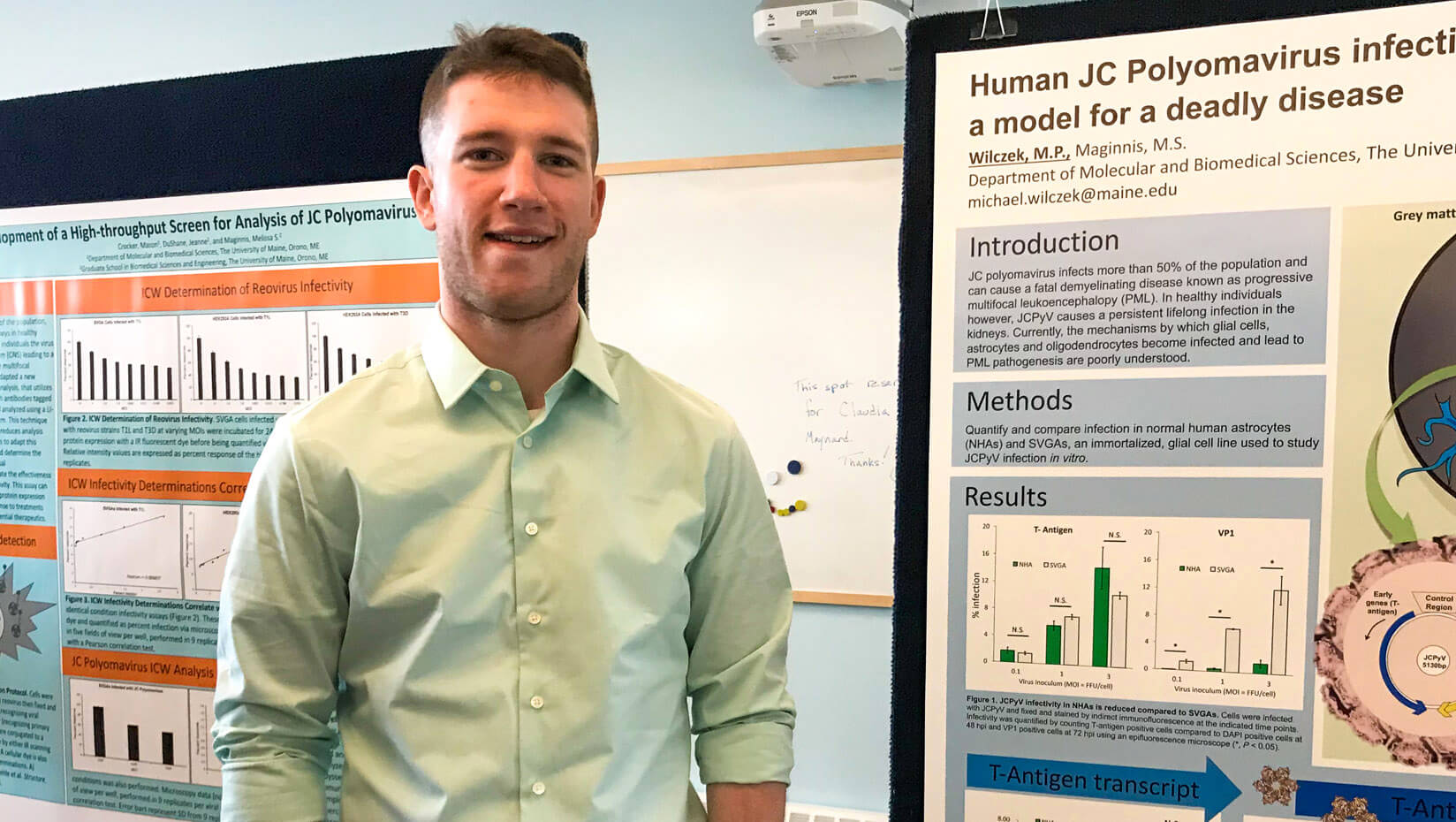 Mason Crocker: Dedicated alum, enthusiastic medical student
Mason Crocker graduated from Gorham High School in 2012. While he had an affinity for academics, particularly science and especially biology, his sights were not set on college while in high school. It was only with strong encouragement from his English teacher and guidance counselor that his application to the University of Maine was completed.
As a first-year student at UMaine, Crocker admits he "was not an easy student." As an 18-year-old and a first-generation college student, he followed a less serious path initially. He also worked multiple jobs, just to cover expenses and feed himself.
Crocker started off in the Biology Department and was a microbiology major by the end of his first year, taking the challenging Phage Genome Discovery course, where he struggled a bit. Deciding he needed more self-discipline, Crocker enrolled in the Army Reserve, delaying his schooling as he went through boot camp and combat training.
Then his unit was called up for deployment to Iraq and Kuwait, where he served for a year as a medic in a northern Iraq hospital and absolutely excelled. He loved talking with the general surgeons over breakfast, asking constant questions, while also practicing sutures and studying medical texts in his downtime. Those surgeons would later write his strongest letters of recommendation for med school.
Crocker returned to UMaine a self-assured student/future doctor.
Before deployment, Crocker had asked his future adviser, professor Melissa Maginnis, if he could do his capstone research project in her lab when he returned, and she accepted him.
"He performed capstone research in my lab for one year, assisting a graduate student with the development of a high-throughput system to measure viral infectivity, and (he) also co-authored a paper," says Maginnis, assistant professor of microbiology. "His goal was to attend medical school, but had a commitment to the Army Reserve in New Hampshire for two more years, so I encouraged him to apply to our M.S. program in microbiology and continue working with me.
"He applied and was accepted. In order to keep his momentum going, I helped him apply for a Maine Space Grant Consortium Fellowship (viral reactivation in space due to immunosuppression — rocket science stuff), which funded his summer between B.S. and M.S. degrees."
Crocker earned his master's degree in two years, serving as a teaching assistant for students in molecular and biomedical sciences. His research focused on testing antiviral drugs for reduction of viral infection, which can be applied broadly to the field of virology research. He wrote and defended his thesis remotely in April to complete his degree during the COVID-19 pandemic.
Crocker has no specific plan once he finishes medical school. He knows that a research physician can have a large impact by adding to the greater body of knowledge, but he is also passionate about patient care.
At age 26, he has time to accomplish a great deal.
When asked about his time at UMaine, Crocker spoke of the faculty.
"The people who teach at UMaine aren't there for themselves, but are committed to their students," he says. "Dr. Maginnis is a selfless person."
Maginnis says when she came to UMaine in 2014, "I fell in love with the place, with the students, and with my colleagues. This is a dynamic, energizing institution."
In July 2020, Crocker started as a first-year medical student at Tufts University Medical School in the Maine Track MD Program, offered in partnership with Maine Medical Center to provide Maine students the opportunity to work in rural health care at clinical sites throughout Maine, where there are shortages of physicians.
Crocker says his long-term vision is to return to Maine to give back to the state he loves.
Contact: Margaret Nagle, nagle@maine.edu