Secondary education major receives George J. Mitchell Peace Scholarship to study in Ireland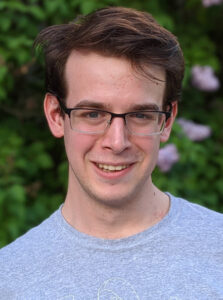 Tom Adams, a secondary education major with a concentration in social studies education, has been awarded the George J. Mitchell Peace Scholarship to study abroad in Ireland during the spring 2021 semester as part of the student exchange program.
Adams, who plays guitar, plans to use the semester at University College Cork to pursue his passion for music, and to soak up the social and cultural life in Ireland, which he hopes will benefit him as a future middle school social studies teacher.
"I've always wanted to involve music in my studies, but I just haven't been able to fit it into my academic plan," says Adams, a rising senior from Falmouth, Maine, who's also a student in the Honors College.
"In January, I stumbled across the Office of International Programs' listing for the George Mitchell Peace Scholarship, which specifically mentioned the music program at University College Cork as world-class, and I knew I had no choice but to apply," he says.
The competitive merit-based scholarship is made possible by an agreement between Maine and Ireland for a student exchange at the university level. It honors the 1998 Northern Ireland peace accord brokered by Sen. Mitchell between Ireland and the United Kingdom.
The University of Maine awards one semester-long scholarship each year, which allows a student to study at UCC.
Adams, who's minoring in both anthropology and political science, says he's interested in taking classes on music composition and improvisation, as well as traditional Irish arts during his study abroad. Courses exploring the system of government in Ireland and structure of the European Union also intrigue him.
The peace scholarship is "the greatest honor of my academic career," Adams says, adding that the experience "will provide me with the cultural perspective I need to be an effective social studies teacher."
For his Honors College thesis, Adams is working with adviser Rebecca Buchanan, assistant professor of curriculum, assessment and instruction in the College of Education and Human Development. His topic is Maine middle school social studies teachers' implementation of a standard that requires them to incorporate civic action and community service projects into their curriculum.
"One thing I appreciate about UMaine is how the university has several academic environments nested inside each other," says Adams. "As a member of the Honors College, I work in-depth with small groups of students from vastly different disciplines — biology, art, mechanical engineering and so on."
Another thing he says he appreciates is the amount of experience he's gotten in local schools through his education methods and field placement courses.
"I've been able to foster connections in the area that will make the transition to teaching so much easier than it would've been otherwise," Adams says.
A UMaine campus committee reviews applications for the George J. Mitchell Peace Scholarship. The criteria for selection include high academic achievement, leadership skills, commitment to community service and the ability to promote the scholarship to the academic and wider community.
More about the George J. Mitchell Peace Scholarship and other scholarship opportunities are listed on the Office of Major Scholarships website.
Other study abroad opportunities can be found on the Office of International Programs website.
Contact: Casey Kelly, casey.kelly@maine.edu