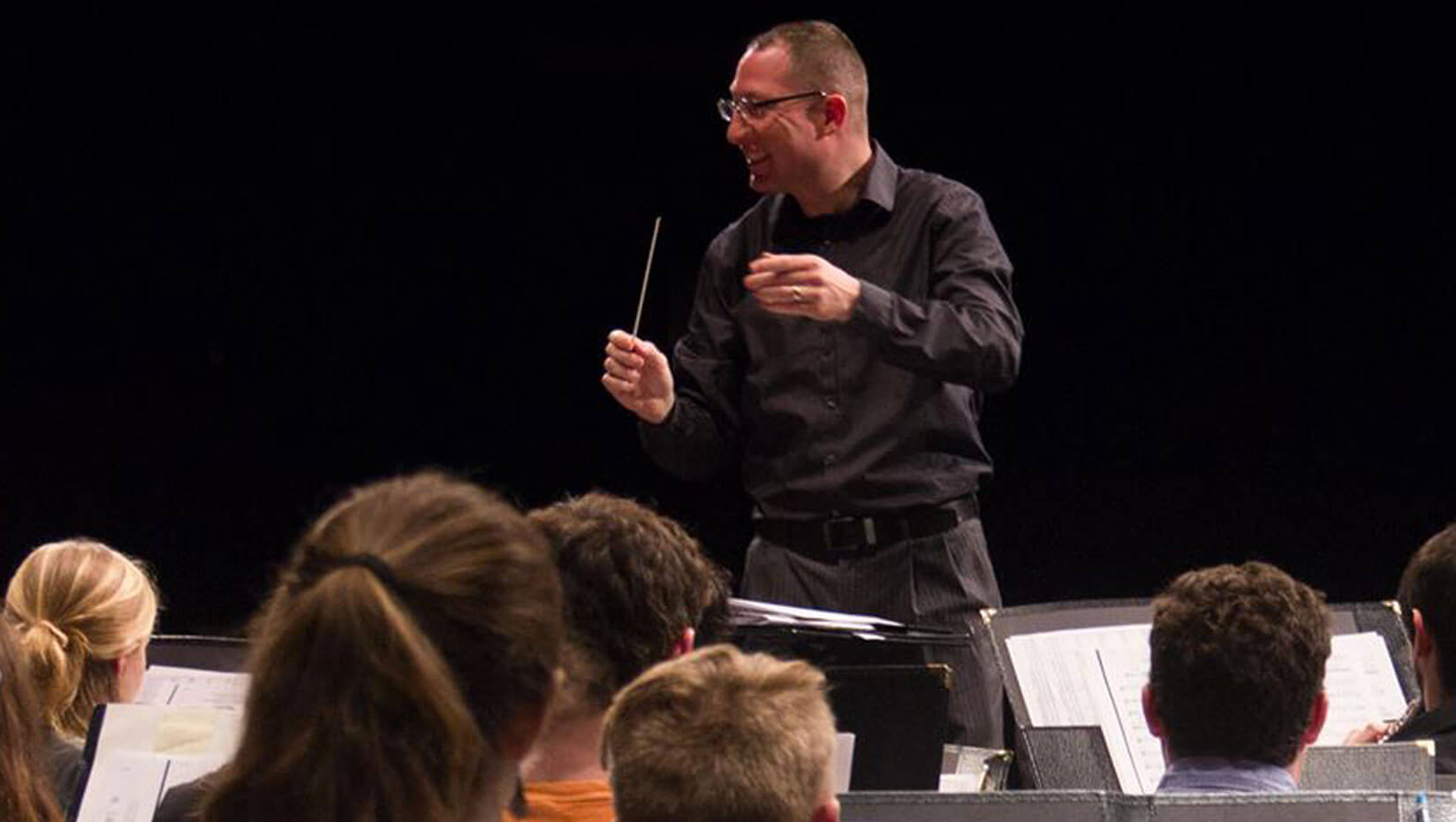 Edelman named co-recipient of Music Educator of the Year award
Philip Edelman, University of Maine assistant professor of music education in the Division of Music in the School of Performing Arts, has been named co-recipient of the Music Educator of the Year award at a virtual ceremony hosted last week by the Maine Music Educators Association (MMEA).
The other co-recipient of the Music Educator of the Year award is Caitlin Ramsey, director of bands at Cape Elizabeth Middle School.
Presented each year by the MMEA, the oldest recognized state music educators association in the United States, the award recognizes exceptional support and outstanding accomplishments by one or more MMEA members to the advancement of music education in the schools of Maine, highlighting effectiveness in teaching, commitment to educational innovation and investment in professional growth.
Nominator Marleina Schwenk Ford, a UMaine music alumna, introduced Edelman by commending him for his tireless and effective work on campus and throughout Maine as a music educator and conductor. Ford cited myriad letters of support for Edelman's nomination, quoting from them at length: letters highlighted his generosity, kindness and approachability.
One supporter described Edelman as one who gives of himself and asks nothing in return, while others described the work he does across the state, in large and small schools, and with a variety of community groups, with established music programs and developing ones — working with students of all ages through school visits, clinics and guest conducting engagements.
Letters of support highlighted the fruits of his labor in the university classroom, where Edelman teaches Woodwind Methods, Brass Methods, Conducting, and Administration of Secondary Music Performance Programs, as well as his impact on the next generation of music educators in Maine: as one teacher wrote, under Edelman, "Student teachers are more prepared, professional, and excited to teach than I have ever seen." Laura Artesani, chair of the Division of Music, characterized Edelman as, simply, "a positive and powerful force for music education in our state."
Edelman notes that the award "reflects the collaborative spirit of the music educators in our state. They have welcomed me with open arms into their classrooms, rehearsal spaces, honor-ensemble events, and performance halls any time that I have asked to attend." He also credits the culture of UMaine's Division of Music.
"My chairs and colleagues have made sure that my course schedule has been flexible enough for me to get on the road a few times each week to visit my colleagues in the field. This award is a testament to their broad support of this goal and their flexibility in allowing me to experience what is happening in music classrooms in our state."
Edelman, who in addition to his teaching and research, leads UMaine's Concert Band and co-directs the Bangor Band, is thoughtful about his future as a music educator and the future of music education in Maine: "It is my sincere hope that we are still in the beginning stages of a long and fruitful relationship between my colleagues in the field, my colleagues at the University who work to support them, and the broader community of music educators in our state," he says. "We all have the same goal: to create and maintain excellent music programs and experiences all across Maine. Each of our students is worth it. It is incumbent upon us to fight every day for comprehensive music education in each school."
"Here at the University of Maine, in collaboration with our colleagues in the field, we will work hard to continue to lead in that fight."
Contact: Brian Jansen, brian.jansen@maine.edu