2020 Presidential Awards announced
Two faculty members in the School of Marine Sciences and one in the College of Engineering are the recipients of 2020 Presidential Awards at the University of Maine.
Sara Lindsay, associate professor of marine sciences, received the Presidential Outstanding Teaching Award. Bob Steneck, professor of marine sciences, received the Presidential Research and Creative Achievement Award. Jean MacRae, associate professor of civil and environmental engineering, received the Presidential Public Service Achievement Award.
"All three Presidential Award winners are world-class teachers, mentors, researchers and engaged community members," says UMaine President Joan Ferrini-Mundy. "Undergraduate and graduate students fortunate enough to learn from and collaborate with Sara, Jean and Bob gain the valuable experience that comes from being at a research university with this caliber of faculty."
Lindsay, who also is a faculty member in the Maine Center for Research in STEM Education (RiSE Center), is recognized for the many classes she has developed and taught, her ongoing efforts to pioneer best practices in teaching, and her growing national reputation as a STEM scholar. Colleagues describe her as "an advocate, practitioner and producer of evidenced-based teaching strategies" who challenges students intellectually while providing the support they need to succeed.
Lindsay joined the UMaine community in 1998 as a research assistant professor. Three years later, she was the first School of Marine Sciences undergraduate coordinator, helping develop inquiry-based, hands-on courses that linked theory to real-life problems in marine sciences. In Introduction to Integrative Marine Science (SMS 203), many students learn scientific process and literature, and data analysis for the first time. Graduate teaching assistants collaborating with Lindsay and first-year faculty co-teaching with her learn how to foster learning.
"The best thing about teaching with Sara is that she truly cares about how students are learning, not just what they are learning," noted one graduate teaching assistant.
Her passion for quality educational experiences for students also is reflected in reenvisioned graduate courses in scientific ethics and in marine biology, and in her engagement with high school and undergraduate student researchers in the lab. In the Maine RiSE Center, Lindsay teaches a course for Maine Learning Assistants and a core course in the Master of Science in Teaching program. As a Fellow of the Partnership for Undergraduate Life Sciences Education she works to support departments across the nation interested in inclusive, student-centered, evidence-based teaching and learning.
Her research focuses on the ecology and biology of marine invertebrates, as well as on issues related to student learning and effective teaching practices in STEM disciplines.
Most recently, Lindsay is a co-principal investigator on a $1.2 million National Science Foundation (NSF) project, "Integrating Computing Into Science Teaching and Learning in Grades 6–8: A Diverse Partnership to Develop an Evidence-Guided Model to Serve Rural Communities." She also is on the education research team that is part of a $3 million NSF award: "Leveraging Intelligent Informatics and Smart Data for Improved Understanding of Northern Ecosystem Resiliency (INSPIRES)."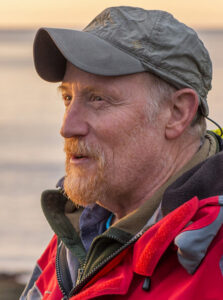 Steneck, a UMaine alumnus, is an internationally recognized marine ecologist whose research expertise ranges from coral reefs and kelp forests to fisheries and marine conservation and management. His Gulf of Maine ecosystem research includes extensive studies of the life histories and habitats of the American lobster. His research to identify key habitat needs and data on where lobsters spawn, settle and grow has contributed to the successful resource management of the state's iconic fishery through the past four decades.
Steneck's work on ecosystem dynamics has contributed to our understanding of the ecological and socio-economic consequences of fishing, including the shift from a groundfish- to crustacean-dominated Gulf of Maine. Similarly his work on how juvenile coral settle and grow on reefs, and why it is difficult for coral reefs to recover from disturbance, has highlighted the importance of developing an ecosystem approach to reef conservation.
His early publications on the evolution and fossil record of coralline algae represent key studies of how such ecological processes as predation and herbivory have changed to shape the structure of marine communities over geological time. Steneck's seminal research has informed the way overexploitation, species invasions and a warming climate in ecosystems from the Gulf of Maine to the Great Barrier Reef are addressed.
Steneck, who is based at the Darling Marine Center, joined the UMaine community in 1981. He was named an AAAS Fellow in 1995 and received a Pew Fellowship in Research Conservation in 1998. Steneck is one of the most highly cited marine ecologists of our time. One of his most well-known papers, "Creation of a gilded trap by the high economic value of the Maine lobster fishery," published in "Conservation Biology" in 2011, was selected by Faculty of 1000 Biology as among the top 2% of published articles in biology and medicine.
His research funding has included awards from NOAA, National Geographic, NSF, Maine Sea Grant and the Maine Department of Marine Resources.
Steneck's research informs his teaching and his community engagement. His classes are interactive and reflect his passion for the micro and macro views of marine sciences. His commitment to advocating for "fisheries science conversations in Maine" has long connected him to those who make their livelihoods from the sea.
MacRae is the founding faculty adviser to the UMaine student chapter of Engineers Without Borders USA (EWB-USA), which is dedicated to building a better world through engineering projects that empower communities to meet basic human needs and equip leaders to solve the world's most pressing challenges, according to the national organization's website. The UMaine chapter was established five years after the national organization formed in 2002. Since then, hundreds of UMaine students — both engineering and nonengineering majors — have been involved in EWB and contributed to design and fundraising, including dozens who have traveled to partner communities.
EWB-UMaine focuses on sustainably solving engineering dilemmas in developing countries through partnerships with local communities. The chapter has conducted service-learning projects in Honduras and Ecuador, where UMaine students collaborate with local professional engineers to develop sanitation infrastructure and propose solutions to providing clean drinking water. Often, these initiatives are undertaken in areas where conventional resources, including electricity and construction equipment, are unavailable.
The initiatives make a difference in public health and quality of life for the community members. The students gain an international perspective and real-world understanding of what it takes to undertake and succeed in such projects.
Prior to implementation, successful EWB-UMaine projects require relationship-building, planning and fundraising over multiple years. And that requires continuity of leadership and active engagement of student cohorts. "MacRae is the constant that makes this happen," one nominator noted. She also lends her technical expertise as an engineer and a researcher with a focus on microbial processes that affect pollutant and nutrient cycling, and issues related to sustainability issues, water quality and sanitation.
MacRae's contributions are global and local. Her research team has made important contributions to addressing water quality and solid waste challenges in Maine. She received an NSF CAREER Award for her research, and College of Engineering awards for teaching and excellence. Most recently, she received the Distinguished Service Award from the Association of Environmental Engineering and Science Professors. MacRae has been a member of the UMaine community since 1999.
Contact: Margaret Nagle, 207.581.3745