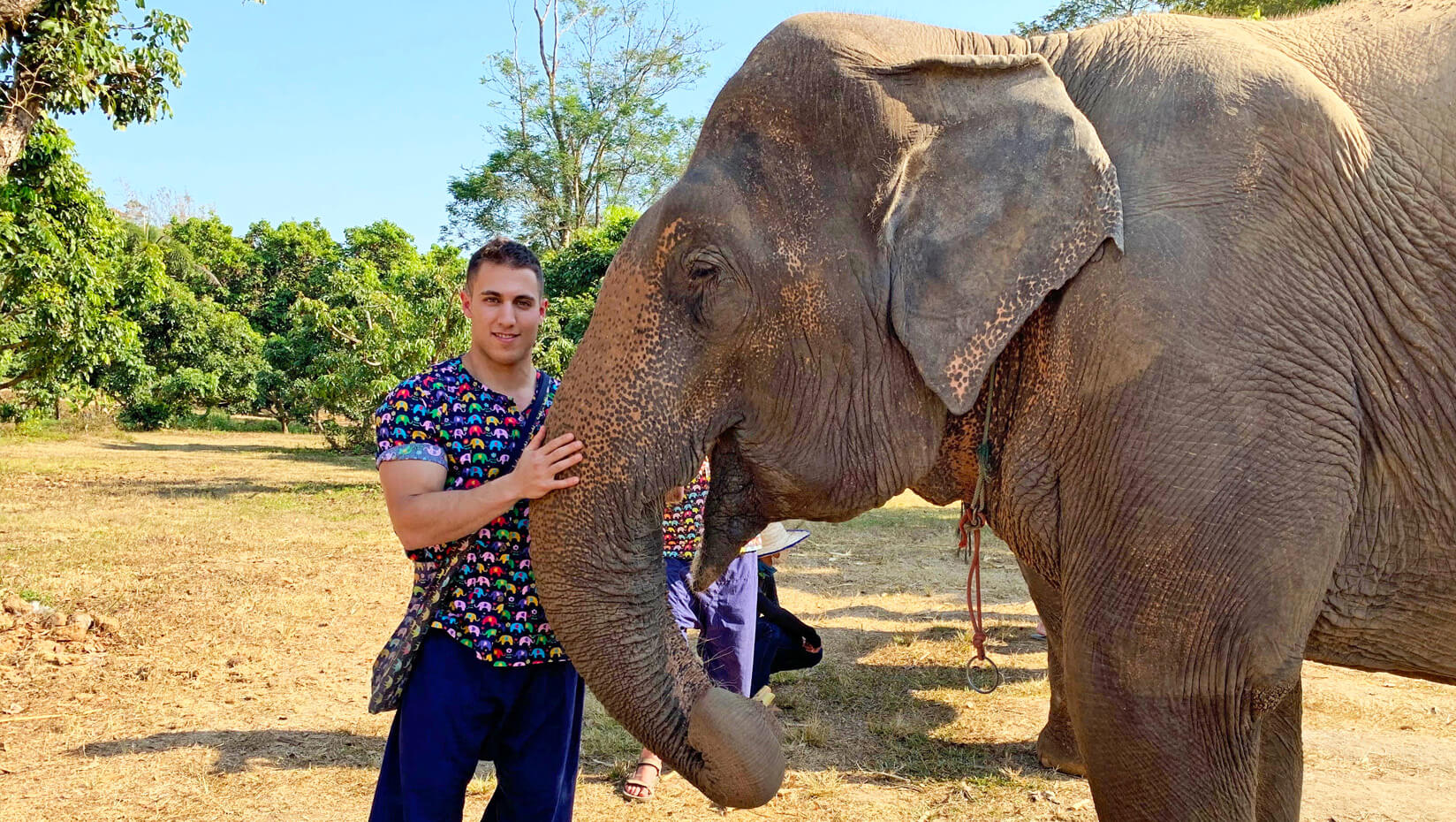 Falkner selected for Critical Language Scholarship
Noah Falkner was selected in March as a recipient of the U.S. Department of State's Critical Language Scholarship (CLS). He is the first student ever from the University of Maine to receive the award.
Falkner, a graduate student in the School of Policy and International Affairs (SPIA), had planned to study Mandarin Chinese in Tainan, Taiwan this summer through CLS's 10-week intensive language and cultural immersion program. Then the coronavirus pandemic struck and changed everything.
The U.S. Department of State decided to cancel all CLS Summer Programs for summer 2020 and asked students to reapply next year. The award was not postponed or deferred; however, all finalists and alternates for the 2020 program are encouraged to reapply for the CLS program for 2021, regardless of enrollment status in a degree-seeking program at that time.
The scholarship is a competitive national award funded by the Department of State's Bureau of Educational and Cultural Affairs as part of a wider government initiative to increase the number of Americans studying and mastering foreign languages critical to U.S. national security and economic prosperity. The program encourages students of all majors to engage in the study of these languages, and to be citizen ambassadors abroad as well as apply their critical language skills in their future professional careers.
Falkner, of Ashland, Oregon, majored in international affairs and minored in both economics and political science at UMaine. Now a 4+1 graduate student in SPIA, he is pursuing a master's degree in global policy, with a concentration in international security and foreign policy. Falkner has spent the entirety of his senior year abroad, studying in Chengdu, China during the fall and in Montevideo, Uruguay in the spring.
Falkner traces his interest in international affairs and global politics back to his experience competing in Policy Debate at a national level in high school.
"The debate topics that most captivated me usually had something to do with U.S. foreign policy," he says. "From there, my interest in politics and international affairs only deepened as my exposure to academia grew."
Falkner selected the CLS program in Chinese because he is drawn to the history and complexity of the Chinese language, as well as Chinese culture and food.
"As China becomes an increasingly prominent world power and cultural influence, speaking Chinese will play an integral role in advancing cooperative American interests in the international theater," says Falkner. "By improving my Chinese skills, I hope to increase my effectiveness as a future practitioner of foreign policy."
In response to the unexpected turn of events imposed by the global pandemic, Falkner expressed his disappointment, but also a note of optimism.
"I share in the frustration and letdown of all of my peers who have had their summer programs and hard-earned professional opportunities wiped out by the virus," he says. "However, I've also taken this time to reflect on the positives in my life and to feel grateful for all the opportunities I've been able to capitalize on up until this point."
Falkner strongly encourages students to take advantage of any and all study abroad opportunities.
"Living in a foreign context is one of the best ways to challenge our daily assumptions, and to learn and grow as both students and people," he says.
Falkner is not certain he will apply again for the 2021 CLS program, but he plans to continue his study of Chinese independently and is confident that he will return to China in the future.
In addition to China and Uruguay, Falkner has studied in Cremona, Italy as part of a summer exchange program in high school, and in Haifa, Israel for the spring 2018 semester. All of Falkner's university semesters abroad were coordinated and facilitated by University Studies Abroad Consortium (USAC), which partners with UMaine's Office of International Programs.
A list that identifies the U.S. colleges and universities from which finalists and alternates were selected for the current cycle is on the CLS website.
Contact: Cleo Barker, cleo.barker@maine.edu