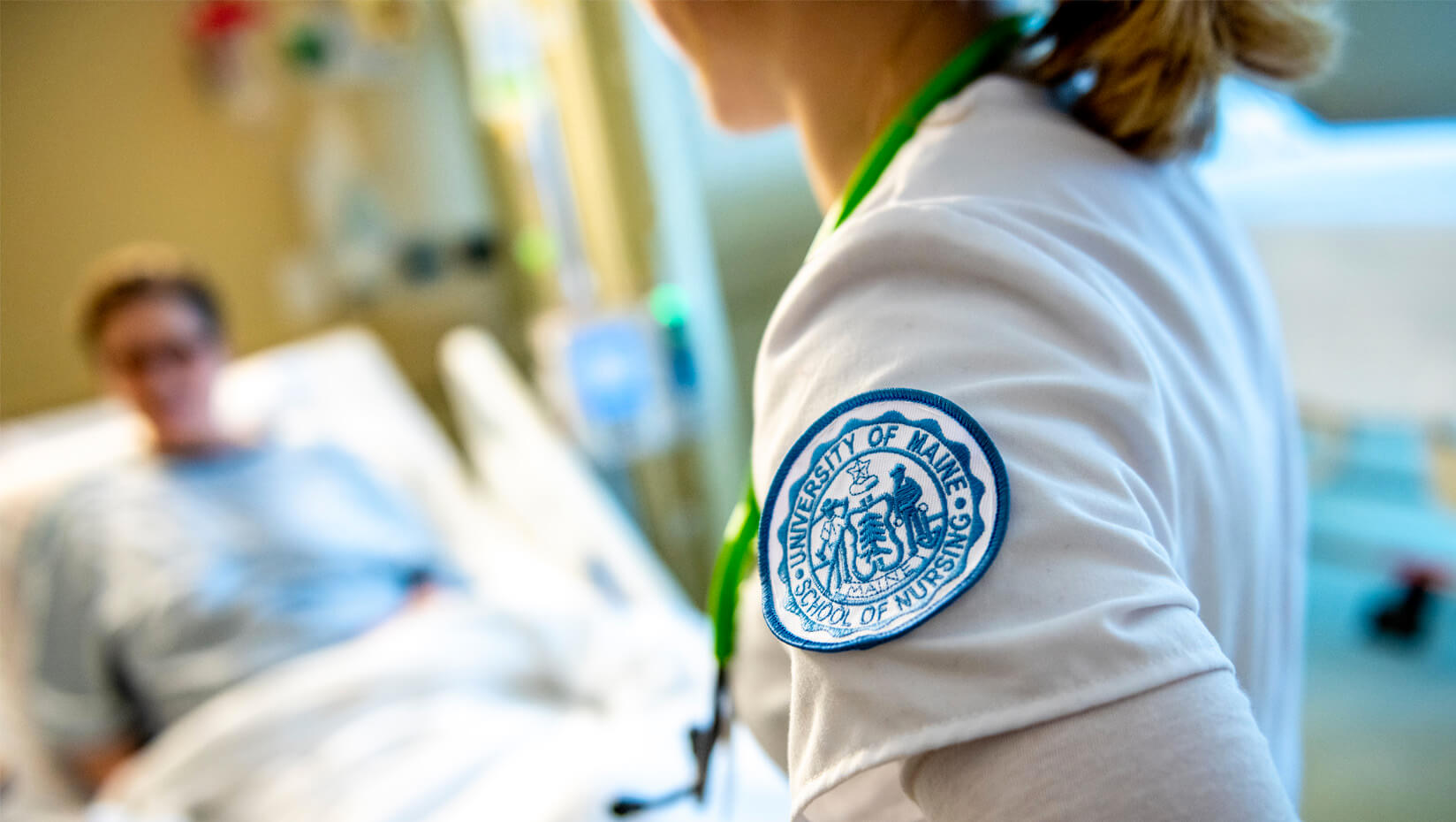 38 students in nursing to graduate early to address needs during pandemic
To help meet the health care needs of the state of Maine during the COVID-19 pandemic, 38 undergraduate students in the University of Maine School of Nursing will graduate April 28 — two weeks early.
Early graduation allows them to pursue their licensure sooner and, ultimately, expedite their entry into the workforce.
"The class of 2020 is a very resilient, dedicated group of graduates," says associate professor and registered nurse Kelley Strout, interim director of the School of Nursing. "I'm so proud of this class. They are committed to enter the workforce and provide patient care on the frontlines of the COVID19 pandemic."
The students will graduate with bachelor of science in nursing degrees. When they pass their national licensing exam, they become registered nurses.
The UMaine School of Nursing has a 95% first time national licensure exam pass rate; the average national pass rate for first-time test takers is 88%.
Thirty-three of the student nurses plan to practice in Maine. The other five will practice out of state, including two who are headed to jobs in nurse residency programs at The Johns Hopkins Hospital and Dartmouth-Hitchcock Medical Center.
"We are so very proud of these graduates," says UMaine President Joan Ferrini-Mundy. "We thank them for their incredibly hard work, their bravery and dedication to the health care field in Maine and beyond. The highly selective School of Nursing has very high standards, with faculty providing outstanding training and preparation for students who are ready to make a difference in the world. We congratulate the graduates on this fantastic achievement and wish them all the very best as they move out into the field to help all of us during this difficult time with the pandemic."
In UMaine's undergraduate nursing program, the last semester for seniors focuses on a partnership experience, Strout says. Each student completes nearly 200 hours working and learning one-on-one with a registered nurse partner in a hospital or community health care facility in Maine. Their typical 12-hour schedules include nights and weekends.
In March, the coronavirus pandemic protocols required some hospitals and health care facilities to discontinue clinicals for students. By that time, the student nurses had completed more than half of their required direct-care partnership hours. The Maine State Board of Nursing then allowed the School of Nursing to provide virtual clinical instruction with online and simulation resources along with weekly debriefing sessions in small groups with experienced faculty.
Faculty stepped up to provide the instruction, and students "worked around the clock" to complete the hours ahead of schedule, Strout says. The accelerated completion of coursework will allow final grades to be turned in April 20.
"I'm part of a group of health care leaders preparing for surge staffing in response to the pandemic. At the School of Nursing, we wanted to do all we could to support the health needs of the state and support our colleagues on the frontlines across the nation. I met with the students and they unanimously were interested in graduating early to support response efforts."
The School of Nursing truly pushes for its student nurses to be given the opportunity for success, says senior Katelyn Ford from Presque Isle, who is headed to the Weinberg ICU at The Johns Hopkins Hospital.
"Opening the door for us to graduate early is just another example of the constant motivation they provide us," says Ford. "Completing this program was a privilege and I am proud to be a future nurse that was educated by this well-respected program."
"I believe the University of Maine has prepared us as well as (it) can to enter the pandemic with an extensive foundational understanding of how to care for these patients," says senior Nicole Brown from Lamoine who will be working as a cardiac nurse at Northern Light Eastern Maine Medical Center when she graduates. "On the other end of things, all of the people orienting us to new jobs and mentoring us through this process have never lived in a pandemic."
"It's a learning process for everyone involved, but this is what I signed up for," Brown says. "I want to help people and I want to care for people sick with viruses like COVID-19. In this way, I'm excited to get my feet wet and see where this journey of nursing takes me in such a hectic time."
In the annual nursing pinning ceremonies, graduates traditionally receive a pin to symbolize the completion of their coursework and clinicals, and to welcome them into the profession.
This year, the School of Nursing pinning ceremony will be virtual, offered online at 7 p.m., April 25 on the School of Nursing Facebook page.
"We will do what we can to make the ceremony special, but nothing replaces the in-person event," Strout says. "It is the ultimate sacrifice of a nurse. They are sacrificing this ceremony to serve on the frontlines in a time of need."
Contact: Margaret Nagle, 207.581.3745